/ 2 /

artisans.
Founded in 2008, with origins in corporate gifting, by top Florist Designer, Purchaser and QC System Manager, each with over 20 years of experience in the industry. Our 2016 average florist experience is 11 years.
/ 3 /

trusted.
As of 2016 June, served over 2500 corporate accounts, and 50000 individual customers, many remain active and frequent clients, with happy and worry-free GGB gifting experiences, 2015 issues rate of only 0.5%.
/ 4 /

designs.
A design-oriented firm, with one of the most extensive active flower and fresh gift repertoire in Asia and Worldwide, over 2000 products in 38 catalogs, with weekly releases to stay close to customer needs and lastest trends
/ 5 /

freshness.
We purchase freshest flower 3 times daily, and fruits twice daily, just-in-time, no old stock and freshest quality. As we purchase in large volume we are in exclusive agreement with many suppliers to always get top and first batch.
/ 6 /

price.
Our strength of extremely low-overhead and large volume, is reflected in our pricing. Our gifts are so well-priced that we are the OEM supplier and fulfiller of choice behind many gifting platform, marketing agencies, international florists. We keep a small local boutique's footprint, to offer all products at corporate bulk-level price.
/ 7 /

agile.
Managed by modern systems, each florist station is equipped with a computer, shows your order instantly and can start making your gift immediately, finshed and QC'ed gifts are dispatched more than 15 times daily to various districts, we are tuned for same and next day rush orders 7 days a week
/ 8 /

exclusive.
With HK FEHD department food import license, we make direct import from Europe, UK, USA, Australia, Japan. We also review over 500 distributors and brands, over 10000 products annually. We are the largest HK gift-shop buyers to largest French Champagne supplier, international Chocolate brand, three 5 star hotels, luxury apparel and lifestyle food brand
/ 9 /

strive.
Consumer goods, crafting technique, style, trends and clients expectations are always advancing, each season we listen carefully, source better, take on more elegant designs, improve quality and consistency, protect gifts better at delivery, make shopping and paying easier, and learning and trying everyday for you
Give Gift Boutique has shops operating in three Asian cities, namely Hong Kong Headquarter ; Macau Shop ; Guangzhou China shop and auxiliary center
Hong Kong GGB Florist - founded in 2008, with current workshop at an industrial building unit spanning a few thousands feets in Mongkok (TST is accounting office). Orders processing, customer service, R&D, purchasing, sourcing, gift making, card printing, photo taking, QC and delivery are all done on-site, to ensure high quality and efficiency.
Macau GGB Florist - established in 2012, as a ground store in the Peninsula on Inacio Pessoa, serving many top gaming and hotel groups, banks and other organization's gifting needs. Our Macau florists have long served premium brands such as Cartier, Wynns, and LV providing store display flower and other floral services. Couple the craftsmanship with numerous luxury Wine/Gourmet/Hamper supplies from Hong Kong store, making it a great shop of choice. (Macau only serves from about 400 products from our catalog. Please note due to Transport costs/Purchasing Pricing/Order Volume, Macau store price is different from HK, on the average $150 to $300 higher).
Guangzhou China GGB Florist - established in 2012, located in the Design Campus in the Yuexiu district, which follows HK's successful model, quality and service. The Guangzhou office also manage our leather hamper factory in Baiyun district, monitor woven containers and ceramics supplies, prepares pre-production items such as ribbon bows and graduation teddy gowns, and other support tasks, and serve our mainland client's international orders and HK/Macau order needs.
GGB has since 2015 provided over a hundred gifts for Mainland China + Worldwide gift delivery, with gifts prepared and express shipped from Hong Kong.
GGB in 2015 has also setup company and bank account in Singapore, current functions to facilitate purchasing and our Singapore clients to make payment.

| | |
| --- | --- |
| Innovative designs and packaging is our company's expertise. However, packaging material might not always be environmentally friendly. As a caring company we try to use imported recycled material as much as possible. | |
| | |
| --- | --- |
| | Every year, our company's Asia division employees will participate with Friends of the Earth's tree planting event. |

| | |
| --- | --- |
| In addition to the company wide participation with Friends of the Earth tree planting campaign, all our staff have two days of paid volunteering days, to participate in the activities with community charitable and volunteer organizations. | |
Matching Donation Program -


If our employees choose to make any donation to recognized charitable organizations, our company will match the amount donated to the organization of choice. (Amount of $3000 hkd per employee per year)
Our company regularly supports the following organizations:


Doctors Without Border | World Vision | UNICEF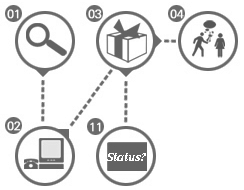 01. Browse products online
Online catalogue index of products, click to enlarge, click details for information and ordering.
02. Order Online or by Phone
Place order with online forms, or call 2736 6670 to inquire and place order.
03. Order production by top florist
Florist will specially order y our flowers from our suppliers the day of or the day before, and will package arrangement on the day of.
04. Delivery
After the product is made, delivery of the product and your personal message to the recipient is immediate.
11. Customers can track the order details
Customers can login and check the progression of their orders and see the photo of the product sent.