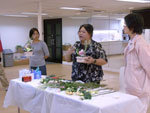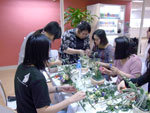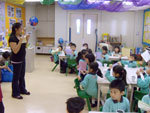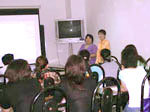 Hong Kong Give Gift Boutique Flower Shop co-hosts various floral arts classes with Winnie's Flower Design School, which has over 10 years of experience in floral art education. Classes are offered for corporations, their departments, school, nonprofit groups and individuals, including:
Floral arrangement and floral art
Wedding bouquet, Orchids, Home decor
Stress relieve, Team building floral class
Professional DFA certification courses
Youth classes, Family classes
Flower shop management classes
Event venues decoration classes
Holidays (Mother's, Valentine's, CNY)
Please send us an email for inquiries.
Over half of Hong Kong Give Gift Boutique Flower Shop customers are corporations, their departments, SMEs, professional organizations and nonprofit groups. We understand organization's custom needs for gifts, and have strong experience in designing the right product combination at the right budget, and handling bulk orders. Whether it is gifts, lessons, or office decoration projects, our staff take extra care from inquiries to delivery, to post delivery details, with written proposals and documentations. Corporate clients can also pay through corporate channels including company cheques, down-payment, and payment after delivery. Our online system is comprehensive, and can handle various automated invoicing, P.O., receipts needs.

We also offer employees and members benefits programs to selected corporations, professional groups, and charitable groups, in addition to other Joint Promotion activities, please feel free to call for details.
Residential Floral Design - Below are field photos of a household decoration project done by GiveGift florists, which is featured in the TV program "Living Up" and "Living Up Deluxe Edition" on the TVB channel. Our florists tailor each design with the interior decoration setting of the home, and offer floral design subscription, please call for inquiries.





Malls and Reception Decoration - Below are field photos of shopping malls and major venues decoration projects done by GiveGift florists, with experience also for hotel conferences and common areas in residential complexes. The projects involve natural flowers, man-made flowers, and custom design vessels and accessories, assembled and tuned by professional florists and installation staff.





Office Decoration - Below are field photos of office premises that contracts with GiveGift for interior floral designs, ranging with larger demos at 1M to 2M tall, to desktop flower in vase, to desktop artistic design. Each premise subscription includes live site visit, with at-location photos, to produce clear written proposals for selection. From single point reception flower arrangement at less than a thousands dollars a month, to complete office decoration proposals, GiveGift is ready to help look into ways to liven the work environment.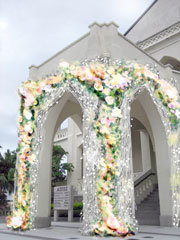 Our comprehensive wedding services will be rebranded and open in 2017. Our florists specialize in floral decoration, and has completed projects in the venues below:
Peninsula Hotel, Kowloon
Intercontinental Hotel, Kowloon
Harbour City Hotel, Kowloon
HKJC Club House, Shatin
Royal Pacific Hotel, Kowloon
Tao Yuen Restaurant, Kowloon
Hong Kong Catholic Cathedral, Caine Road
Lady of The Rosary Church, Kennedy Town
Hong Kong Give Gift Boutique Flower Shop currently carries a few Wedding Bouquets and Buttonholes, for your perusal. Inquiries welcomed.