90% of our Give Gift Boutique customers submit orders online, with just a few clicks, and filling in sender and receiver information, easy and convenient (no need to provide payment details/credit card when submitting online order). Within 30 minutes of submitting the online order, our customer service agent would confirm your order with phone or email, and send you email with payment details in it (* we would contact you next morning if order is submitted after hour). There are three steps to submit an order online:
Click on "Buy Online" button (right side of product you want)
Select delivery district
Fill out order form (your contact and delivery details), click on "Submit Order"
Below is a screen-by-screen walkthrough.



Step 1 : Click on "Buy Online" button
Step 1 : Click on the product you are interested, click on the "Buy Online" button on the right side of the enlarged product photo, you would be taken to the shopping cart page in Step 2.
If multiple gifts need to be ordered for the same recipient, at this point you can go back to any product catalog page, select another product and click on "Buy Online" again, then the gift would be added to the same order.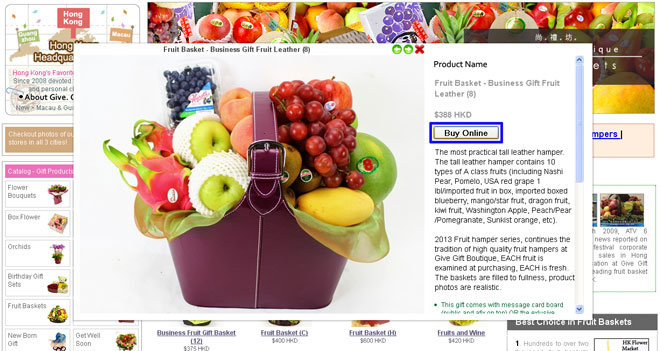 Step 2 : Select delivery district
Step 2 : As shown below is the shopping cart page, listing ordered products, with a select box for you to select the delivery district. After clicking on the box a list of districts would appear, select the right one, then the invoice total would be updated with the shipping charge right away. You can now click on "Proceed to Order Form"
There are plus and minus buttons on the shopping cart also, that you can use to add or remove items.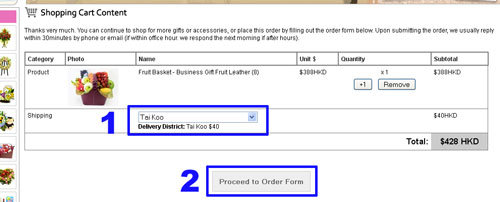 Step 3 : Fill in order form and Submit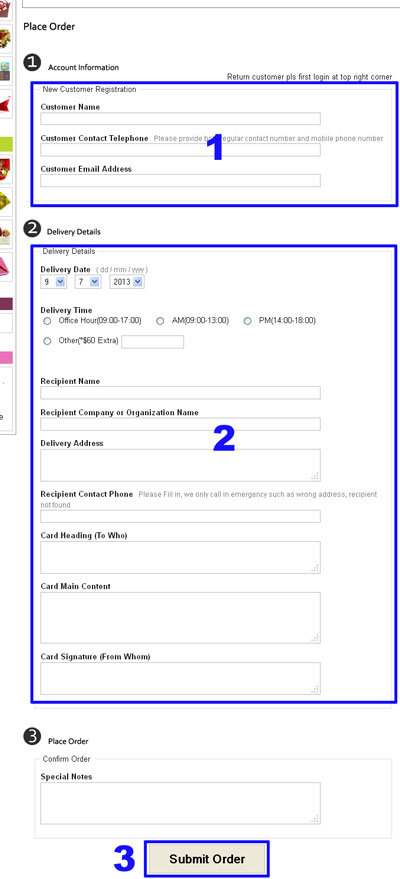 Step 3: Fill out order form (your contact and delivery details), click on "Submit Order", then we would contact you by phone or by email to confirm the order as soon as possible.
If you are a return customer, you can first login to your online account first with the mini-form on top right of the website then all your orders past and new could be managed under one account, and that can saves time, not needing to fill out your contact information again.

The form only requires the following information
Contact info of orderer(you)

Name of orderer
Contact phone of orderer
Email of orderer

Recipient/Delivery info

Delivery date
Delivery time *
Recipient name
Recipient company/organization name
Recipient's phone number
Delivery address
Message card heading, content and signature

Click on "Submit Order"
* If there are special instructions for the order, you can enter into the "Special Notes" section before submitting
* Delivering at a specific time could incur an additional $100 or higher charge or higher, please first contact us regarding special delivery arrangements