Flower fillers are the backbone of any good flower bouquet and while they may not be the main attraction, the bouquet wouldn't be the same without them. Flower fillers set the visual mood or appearance of a bouquet and can drastically change how a bouquet looks with their arrangement and selection. Here are 10 different types of unique flower fillers to consider in your next floral arrangement!
Snapdragons
Snapdragons have a unique colour and appearance with their long stems and numerous vibrant buds. They add height and colour to a bouquet or vase arrangement and are visually pleasing enough that they make great arrangements all on their own.
Spray roses
Roses are often the center of attention and while spray roses are beautiful enough to be in a bouquet of their own they also make great filler pieces. Spray roses have numerous and small blooms on one stem which lend really well in filling out a flower bouquet. As spray roses come in a variety of colours, it makes them one of the most versatile flower fillers.
Matricara
These daisy-like beauties are from the same flower family as chamomile and are also commonly know as mayweed. These tiny blooms work really well in spring and summer inspired bouquets and décor.
Yarrow Seed
Yarrow seed is a boring name for this underrated flower. The blooms of yarrow seeds cluster close together and come in beautiful array of colours. They make stellar filler flowers for their ability to fill out a bouquet or vase and with their unique shape and detailed features.
Dusty Miller
Also commonly known as silver ragwort, this whimsical fern adds a touch of fantasy and mystery to any flower bouquet. They work really well in winter and fall-inspired bouquets and pair nicely with both dark and light coloured flowers.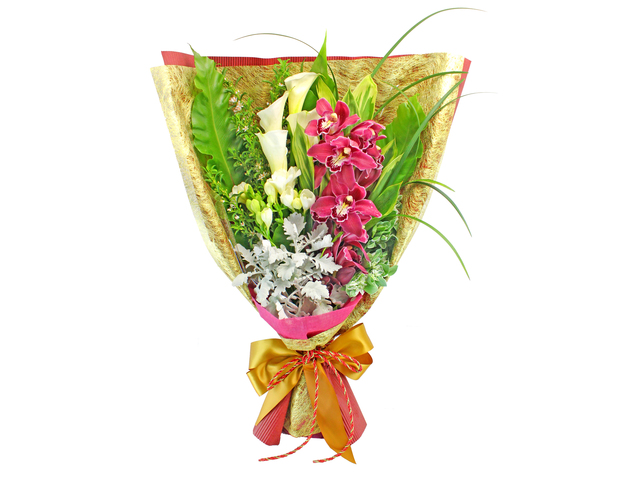 Cymbidium orchid bouquet with calla lilies with dusty miller filler and matching greens.
Statice
Also commonly known as sea lavender, this vibrant bunch of flowers is wonderful filler flower for its beautiful purple colour as well as its large and full blooms that can be broken into smaller stems. This elegant flower pairs well with roses and other elegant flowers.