Hong Kong has a unique environment with its sub-tropical climate making it a perfect home for a variety of plant and flower species. In fact, according to the Hong Kong Herbarium, Hong Kong is home to over 2000 different native flower species, many of which were new to science at the time of their discovery. One of these special flowers even found its way onto the Hong Kong flag at its creation in 1997. While some of the species of flowers are vulnerable now and under conservation, many of them can still be found in Hong Kong's country parks and gardens. Like the city itself, the flowers and plants that grow here are unique and colourful and can inspire imaginative floral arrangements perfect for gifting, homes, offices and flower deliveries. Give Gift Boutique Hong Kong has gathered up some great ideas to help add a touch of native-flowering Hong Kong to your home or business.
Hong Kong Orchid Tree
Dendrobium orchids at Kadoorie Farm and Botanic Garden in Hong Kong. Photo by © Dr Stephan Gale.
The Bauhinia Blakeanaor or as it's more commonly know as, the Hong Kong Orchid, is a beautiful hybrid flower that graces the trees of Hong Kong as well as its flag. After the handover in 1997, this flower became of a symbol of old and new as well as the one country, two political systems that was agreed upon between China and Britain. The flower is a mix of two different species, the B. purpurea and the B. variegate. While no one knows how the original hybrid came to be, the flower was discovered in the late 1800s and has since been cultivated by hand.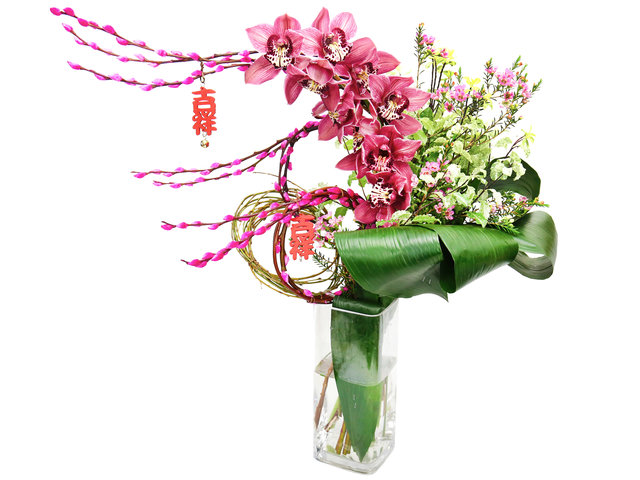 These pink cymbidium Chinese flower vase arrangement resembles the shape and colour of the Hong Kong orchid and captures the hybrid-feel of the flower.
Orchids
Dendrobium orchids at Kadoorie Farm and Botanic Garden in Hong Kong. Photo by © Dr Stephan Gale.
Hong Kong was once home to 130 different types of wild orchids though you would be lucky now to find any out in the wild outside of gardens and greenhouses as they are now considered an endangered and vulnerable species and are under stringent conservation.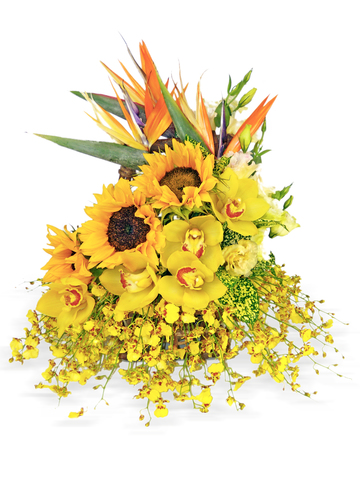 These bright yellow dendrobium orchids wonderfully assembled in this flower arrangement are the same type that are now being grown in many gardens here in Hong Kong and that were once a wild species.
Hong Kong Lily
Lillium Brownii. Photo by 阿橋 HQ F on Flickr.
The Hong Kong lily, Chinese lily, or lilium Brownii is a flower that's common across of Asia. This gorgeous family of flowers is also a commonly used in flower arrangements! You might catch a glimpse of these flowers in the wild in shaded mountain area here in Hong Kong. They are also popular among the many gardens and greenhouses here in Hong Kong.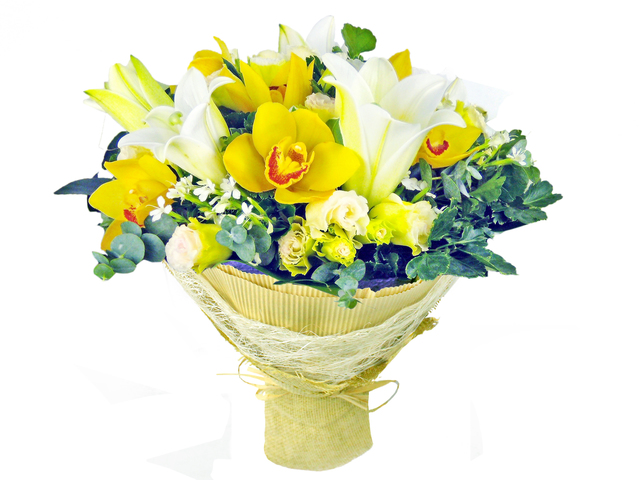 The white lilies are of the same family as the Chinese lily in this flower bouquet are near match in size and colour to the Hong Kong lily. This bouquet also has bright yellow dendrobium orchids which are also native to Hong Kong.
Hong Kong Azalea
White Hong Kong Azalea. Photo from Hong Kong Herbarium
The Hong Kong Azalea or Rhododendron hongkongensis is a white, pink and purple flowering shrub that was discovered in Hong Kong between 1847 to 1851 as it was misidentified as a different species. It is considered a vulnerable species and is protected in most country parks and if you're lucky you might still catch a glimpse of one in Ma Shan On.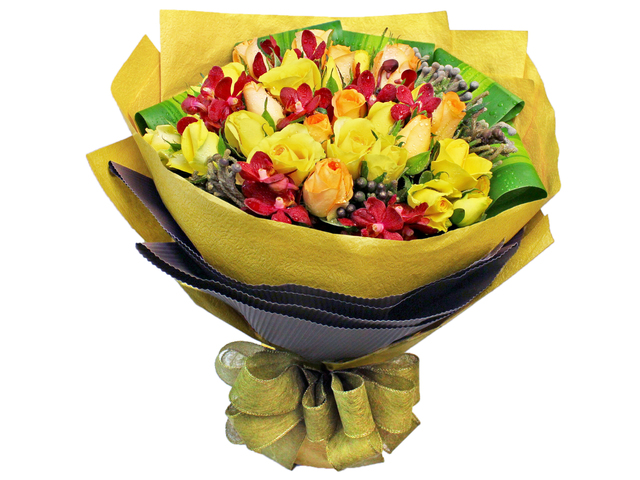 Want a taste of this beautiful Hong Kong flower in your home? The bright red colours of the Mokora flowers in this bouquet resemble some of the features of the Hong Kong azalea.
Aspidistra
Aspidistra. Photo by KENPAI on Wikipedia.
Aspidistra is a winter flowering plant that can be found natively in Hong Kong in shaded areas and is often used in flower arrangements, though not for its flower! The lush green leaves of the aspidistra make wonderful accompanying greens to flower arrangements and bouquets.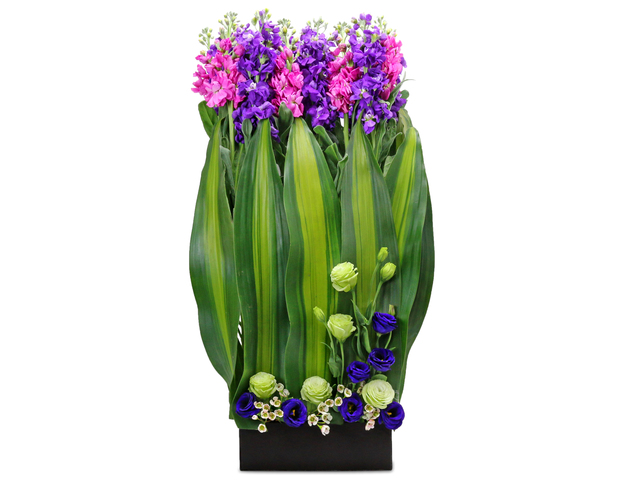 Aspidistra is at the heart of this gorgeous flower arrangement with its wonderful and vibrant green leaves.
Hong Kong Iris
Hong Kong Iris. Photo by Hong Kong Herbarium.
The Hong Kong Iris or the iris speculatrix, was discovered in 1849 in the Aberdeen area and is still the only area you can find these vibrant purple and patterned flowers in the wild here in Hong Kong, though many gardens and greenhouses also house them.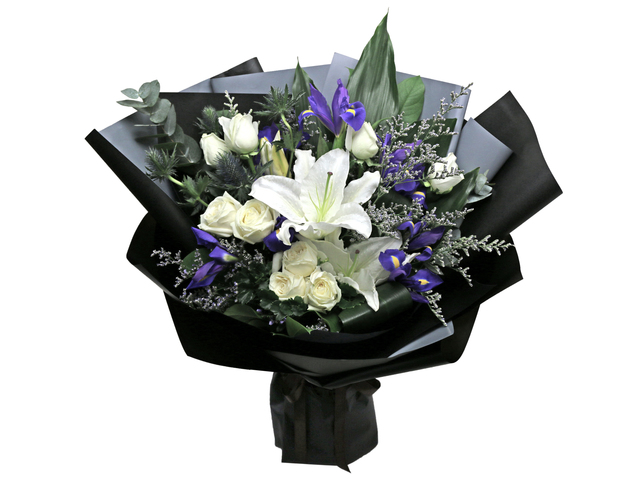 The purple popping out of this flower arrangement is from the same family as the Hong Kong iris.
This is a Hong Kong GGB original '
Flowers Native to Hong Kong
' blogpost.