Autumn is one of the best times of year in Hong Kong, the weather is cooler and the humidity is down but it's still warm enough to enjoy. While autumn may not be as dramatic in Hong Kong as it is in many other parts around the world it's still worth commemorating with decorative flower arrangements, especially with Halloween just around the corner. Autumn flower arrangements take on more earthy tones and make use of more dried flower material to represent the change in seasons. Yellows, oranges, browns, and deep reds are the most popular colours and if you're looking for that extra Halloween-style black and white colours can add a spooky vibe.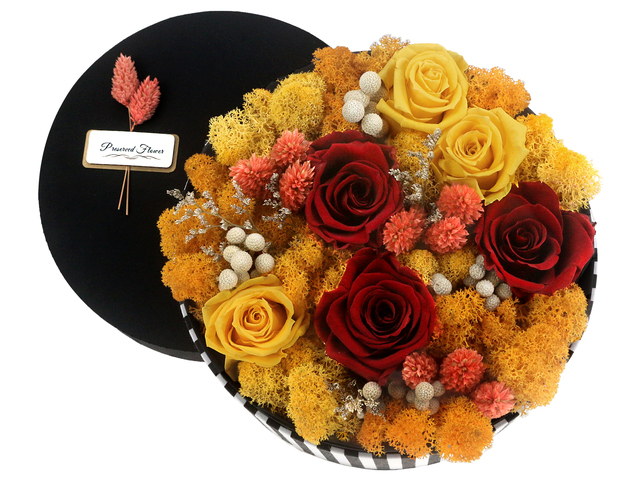 Preserved flower box with red and yellow roses, moss and dried plant material.
This preserved flower box is a wonderful example of autumn décor. It shows how dried plant material can help shape the tone of a flower arrangement and how much it can add to an arrangement. The varying shades of autumn yellows makes the deep red of the roses really pop. This versatile flower arrangement can be easily delivered worldwide and would look lovely as a table centerpiece of adorning a work desk.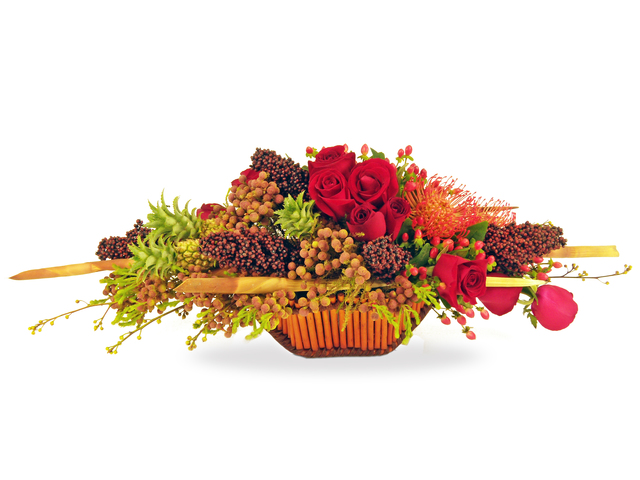 Red roses, mini pineapples, hypericum and matching greens in a wooden vessel.
This beautiful fall arrangement is the perfect fall flower arrangement for an office reception or for a home entrance way. The browns, yellows, and reds of this arrangement compliment the subtle green of the piece giving it a rustic feel but with a touch of the tropics from the mini pineapples.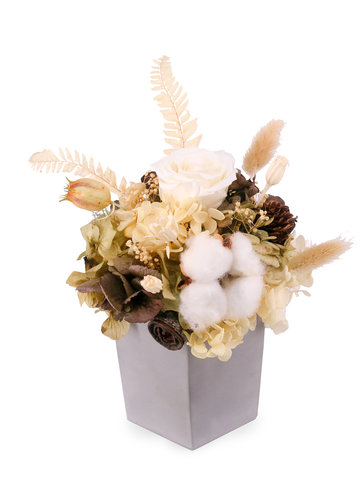 An eerie, yet beautiful preserved flower arrangement of hydrangeas, roses, and more.
Want to celebrate Halloween with stylish décor? This beautiful and whimsical preserved flower arrangement meets both of those needs. The white and cream of the roses and hydrangeas and the darker earthy shades of the other dried materials fit in perfectly with the spooky Halloween-feel without having to sacrifice in style.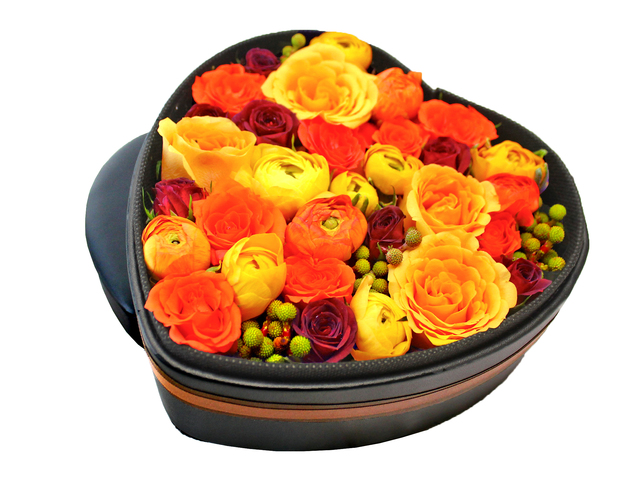 Fresh orange and yellow Kenya roses with berzelia lanuginose and matching greens.
This fresh flower box gives off all the warm colours of fall in decorative heart-shaped box making it an ideal gift for an autumn romance. It also resembles a quaint box of Halloween sweets making it a fun gift alternative for a Halloween get-together or party.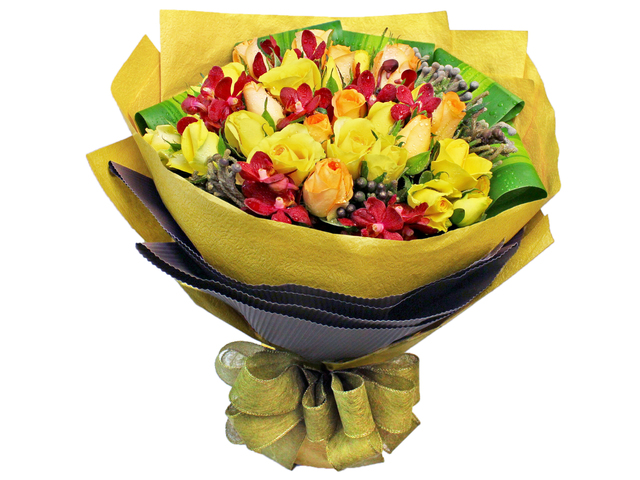 A lovely bouquet of yellow and orange roses with red mokora and matching greens.
Autumn flower arrangements can still be bright and colourful, just have a look at this stunning flower bouquet of orange and yellow roses with vibrant mokoras. Add this bouquet to a dining room table surrounded by Halloween treats or Thanksgiving dinner to complete that welcoming autumn feeling.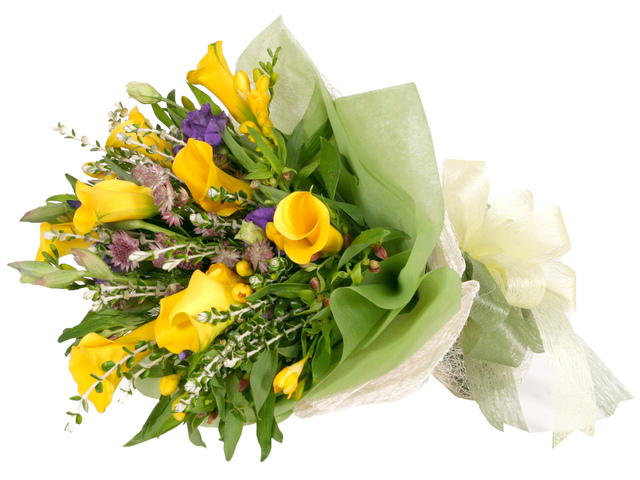 A bouquet of yellow calla lilies with matching rustic greens.
Calla lilies have a wonderous shape that lend themselves well to the autumn and Halloween season, especially when they're paired with rustic greenery or dried flower materials. Add this flower bouquet to your kitchen or workspace to get you in the mood of the season or as a gift during a Thanksgiving get together.
Want something customised for your autumn, Halloween, or Thanksgiving gathering or celebration? Contact Give Gift Boutique Hong Kong Flower Shop for all your flower needs.
This is a Hong Kong GGB original '
Fall, Thanksgiving, and Halloween Inspired Flower Arrangements
' blogpost.