Spring really is the best time of year, especially in Hong Kong. The weather warms to a perfect picnic-weather temperature and the flowers and the butterflies return start to return. Spring is a good time to clean and spruce up your home or business and to bring the bright colours and freshness of spring in with flowers. Tulips, roses, daffodils, daisies, hyacinths and peonies are in season during spring and are a wonderful way to welcome in the spring season. Looking for a specific spring look? Ideal spring colours include lots of vibrant pinks, bold yellows, pastel blues and purples with a pop of crisp white. Take a look at these colour-coordinated spring suggestions from our expert florists!
Pink
Blush pink roses accompany bright pink daisies in this perfect spring flower arrangement. The pinks are encircled by hyacinth, red Queen lace, Thai red orchids and lush spring greens. This arrangement would freshen up a bedroom, office workspace, or small kitchen area.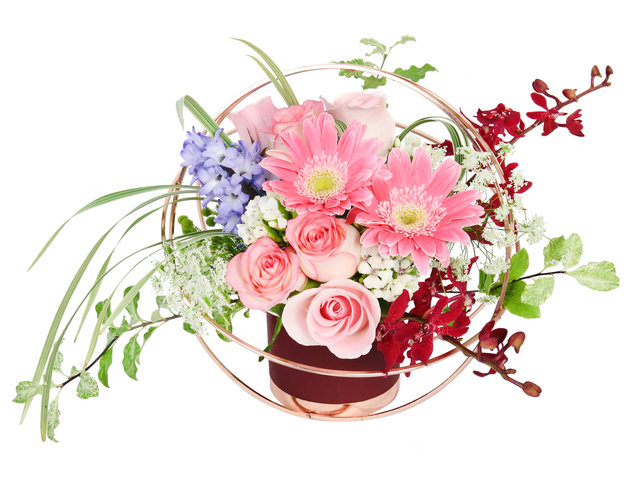 Roses are one of the iconic flowers of spring for their fresh, vibrant bloom, and comforting aroma. The lively pink roses in this arrangement are highlighted by the subtle white of the orchids and pale accompanying greens. This spring flower arrangement is a great reception piece for an office or bank or an ideal spring gift.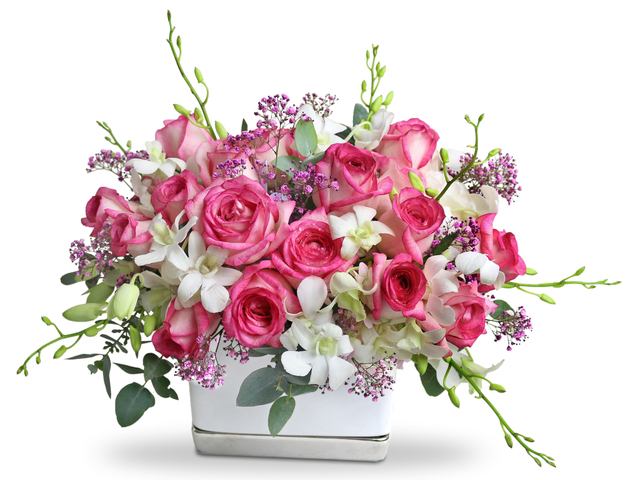 Yellow
Yellow is the colour of warmth, sunshine, and smiles so it's no surprise that this amazing colour is a symbol of spring.
The delightful and bright yellow of the sunflowers and Gerber daises in this mid-sized arrangement are enough to fill a large room with a springtime vibe. The birds of paradise additional to this arrangement make a loud and luxurious statement that would work well for a professional environment like a hotel, bank, law firm, or corporate office.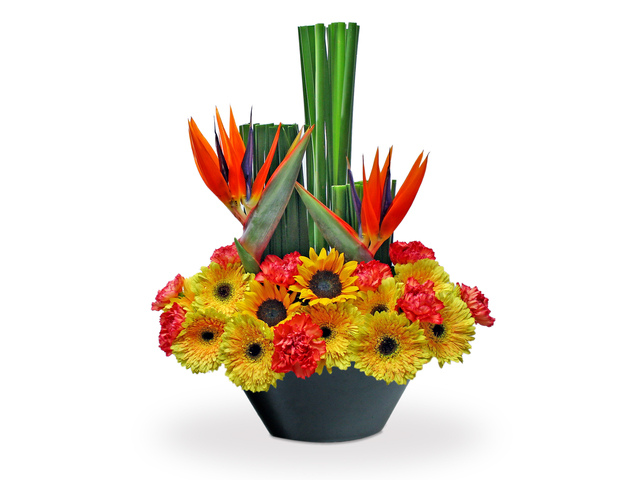 The yellows in this flower arrangement are subtle, delicate and warm. Highlighted by the beauty of the champagne roses, this flower arrangement would look ideal in a home in front of a well lit window.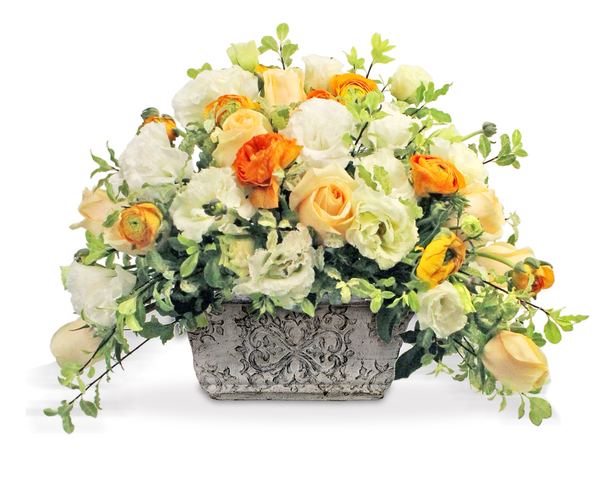 Blue
The pastel blue of these hydrangeas make for an animated spring bouquet that's complimented by the pastel pink of the roses and mokoras. This decorative piece comes in a spring-styled basket to liven a desk or kitchen table.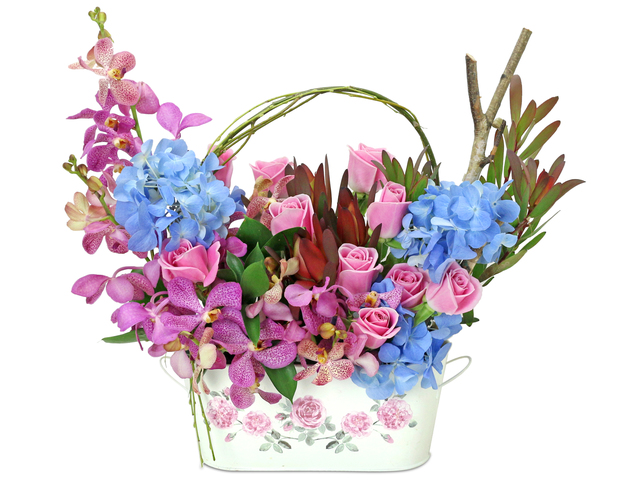 This small and delicate of arrangement of 12-18 blue roses is a striking statement to spring. The matching greens, basket and bow make for a great surprise flower delivery to celebrate spring.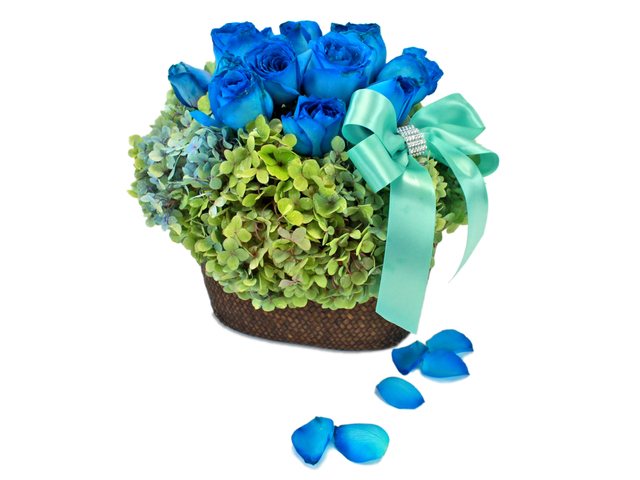 Purple
This elaborate arrangement focuses on the wonderful hydrangea and its extensive colour varieties with the draw to lush purple colour variety. The green and white add that additional touch of spring while allowing the lively purple to shine through.
This purple arrangement contains roses, deep pink ping-pong chrysanthemums, eustoma, and forget-me-nots. This aromatic flower arrangement is all the comforting shades of purples and spring all in one.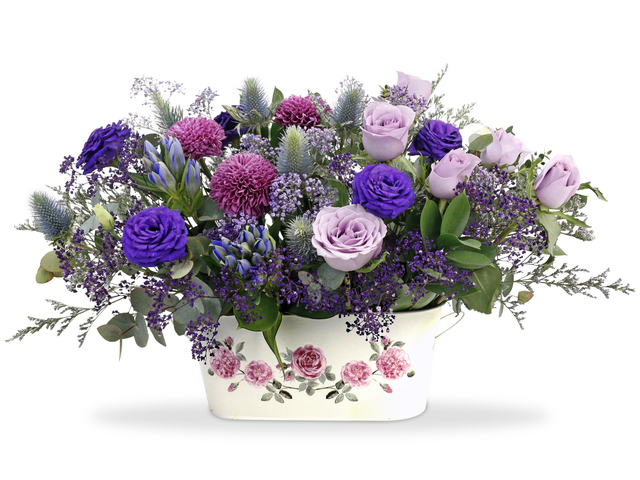 White
While spring is often associated with bright and vibrant colours, white is also appropriate for spring as it is the colour of fresh new beginnings and birth.
This French-inspired arrangement contains white roses and eustoma with a small touch of blue hydrangea to bring this fresh spring arrangement together.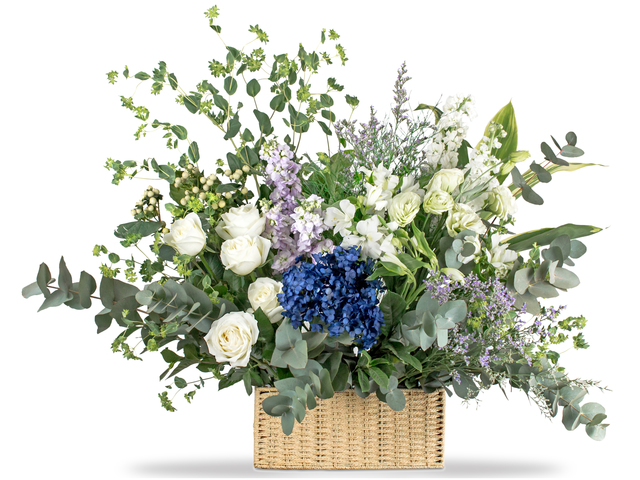 White roses, white lilies, and white orchids make this an extremely elegant spring flower arrangement that would compliment any spring wedding, celebration, or anniversary.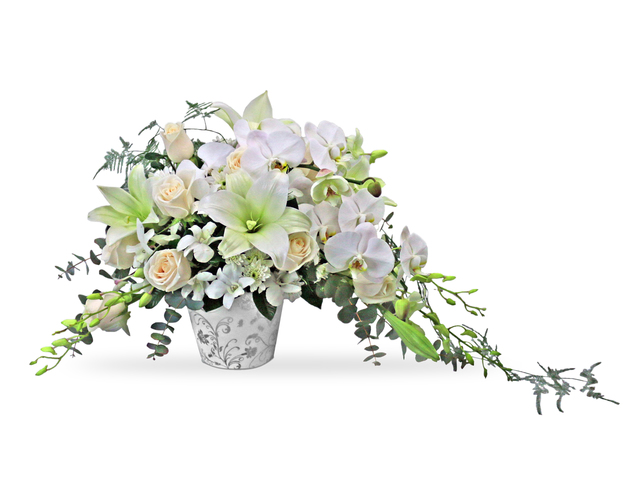 Hong Kong, make use of our expert florist's knowledge! We can cater and customize any floral arrangement to suit your needs. We even do rush and next day delivery so let's have a chat to discuss all your flower needs. Contact us! Give Gift Boutique
This is a Hong Kong GGB original '
Spring Flowers to Brighten Any Space
' blogpost.