More and more friends around us have become a mother. As their friends, we are not quite sure what kind of gifts to give to celebrate the newborn babies or as baby shower gifts. Those who are not yet parents themselves might choose to buy baby diapers or baby clothes as gifts for the cute babies, but as the gift trend is becoming more and more creative and practical, sending diaper gifts or baby clothes may seem a bit old-fashion and boring. The bundle of joy is like a little angel, bringing us countless happiness and laughter. Therefore, we want to send these cute little ones trendy and practical gifts to show our love and care.
Give Gift Boutique takes baby boys, baby girls, and baby twins as examples to make a list of newborn baby gift recommendation for our readers.
Gifts Hamper for Baby Boys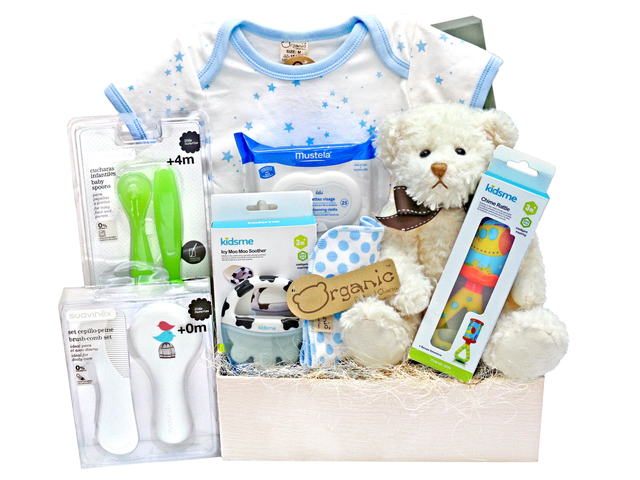 Baby Gift Basket z13 is a lovely and useful baby gift basket. The skin of a newborn baby is fragile and sensitive, so adults need to make extra efforts to care for them. The best way to do it is to use natural, healthy and non-irritating baby clothes, baby bath products and baby tableware.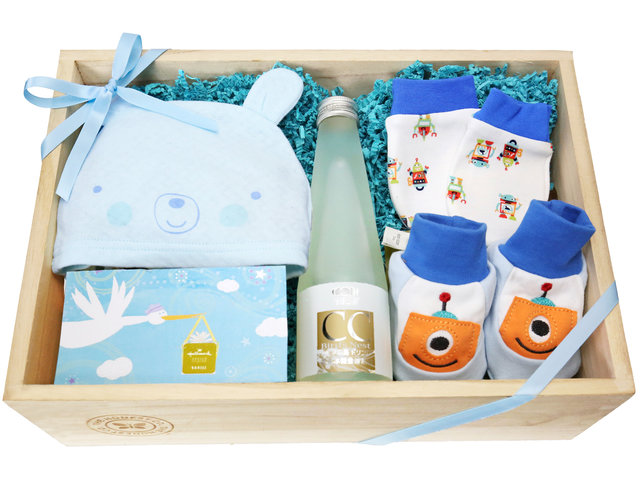 Baby Hampers 13A4 contains six exquisite baby gift items (including exclusive hand-made newborn baby card and wooden box gift basket with a gunny bag). The American high-quality brand of baby clothes Hallmark Babies is favored by many parents; as the weather gets cooler, babies need full-body protection, so the Hallmark Babies collection of baby caps, baby mitts and baby booties are perfect gifts and thus make the babies look more adorable. The baby gift basket also adds health care gift for the mothers, that is, the Hong Kong Bird's Nest tonic, which makes a finishing touch to this unique baby gift set.
Gifts Basket for Baby Girls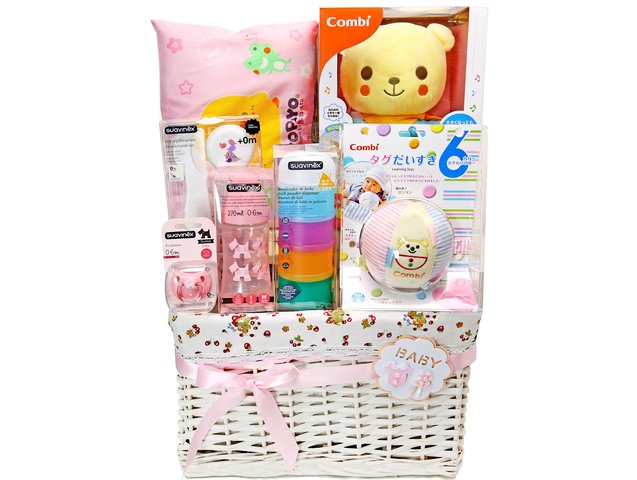 Baby Gift Set 4A3 is a whole package of your baby's favorite toys and baby daily necessities. The Japanese Combi multi-function friendly bear is the highlight of this baby gift basket, the soft music in the bear can soothe the emotion of the baby. What's more, the organic cotton pillow helps the baby to sleep well and there are plenty of other small toys and baby care gifts that can be used in the development of the baby.
The Gift Baby Car is a great gift for newborn babies with innovated design by Give Gift Boutique. The container of the baby gifts is a baby carriage, and there are fresh flower arrangement and baby essentials in it. The stylish pram gift basket is loaded with Pampers nascent premium cotton diapers. The diaper is the most practical gift for babies. GGB Florist combines flowers with BB diapers to create a unique baby gift carriage. It is indeed the most amazing baby gift so far.
Gifts Set for Baby Twins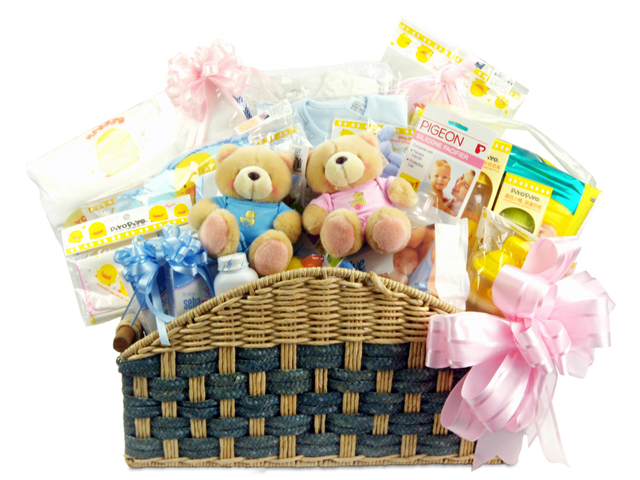 BB Basket (Twins) (A) is made up of the brand name baby gifts, together with the cute teddy bears and lovely gift basket, this baby basket is a nice gift to share your love and thought to the newborn and mommy. There are 18 trendy baby gift items (plus gift baskets), including Piyopiyo, Sebamed, Pigeon, Hallmark Babies, and other high-quality brands. Sending such a sincere gift is sure to add extra joy to the baby twins and their family.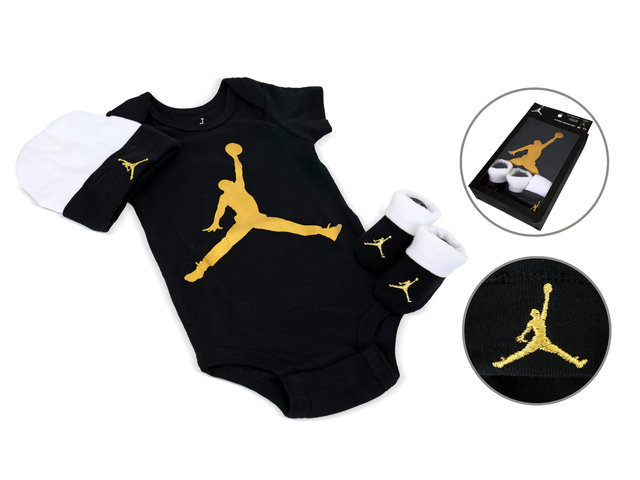 Jordan Baby 3-Piece infant Set including bodysuit, cap and booties are popular outfit choices for the cool babies. The fashion baby outfit is full of character and eye-catching, making the babies look like tiny athletes and expressing your very best wishes to them.
5 Best Birthday Gift Collections for Kids/Children
5 Best Birthday Gift Sets for Mother
5 Best Birthday Gift Ideas for Father
This is a Hong Kong GGB original '
6 Best Gift Baskets for Newborn Babies
' blogpost.