Nowadays, fruits are considered one of the necessities in our daily life. Many people think that they should have some fruits after eating the main meals so as to reinforce the importance of fruit in food. As the saying goes, "an apple a day keeps the doctor away". Everybody knows apples, and they are so easy to get; but these also reflect that apple is a normal fruit in the fruit kingdom. So today we are not going to discuss too much about apples, instead, we will introduce a unique exotic fruit for you, which might not be familiar with many people, and its name is-- Kirin fruit.
Kirin fruits mostly come from Colombia and Ecuador in Southern America, but the ones from Colombia are more well-known by people. In fact, Kirin fruit is the relative of dragon fruit. In other words, Kirin fruit is a dragon fruit with yellow appearance. Although its outer appearance doesn't look very nice, its nutritional flesh makes it up. The flesh of the yellow dragon fruit is soft and tastes like bird's nest; it's as sweet as the sugarcane with natural aroma, and it is rich in plant albumin and anthocyanins which are rare in ordinary plants. Besides, albumin has a protective effect on the stomach; the rich vitamin C in Kirin fruit also helps to reduce free radicals and whiten the skin. What's more, yellow dragon fruit is rich in fiber and low in energy, it is good for lowering cholesterol, lubricating the large intestine and preventing colorectal cancer, etc. The seeds of Kirin fruit have a good effect on digestive health too. The meat and the juice from the stem of Kirin fruit can control tumor growth and have a positive effect on the immune system. The amount of iron contained in yellow dragon fruit is unusually abundant, which is higher than that of ordinary fruits. Iron is an indispensable element for the manufacture of hemoglobin and other iron-containing substances and plays an important role in human health.
How to choose Kirin fruit? Here are some tips. When choosing a Kirin fruit, remember to choose the ones with dark yellow skin as well as the bigger and heavier ones as they are more nutritious. Because Kirin fruit is a low-energy and high-fiber fruit, so ladies can use it to keep fit and the elderly use it to reduce constipation. However, be careful not to overeat this fruit at the beginning, to have a whole one or half per day is enough, eating too much may cause diarrhea. And the ones with diabetes should not eat too much to avoid high blood glucose levels.
After reading the article, do you know more about Kirin fruit? If so, you might want to buy a fresh and good quality yellow dragon fruit right away. Hong Kong Give Gift Boutique can help you out. We choose various fruits to combine a unique Harvest Moon 2 fruit basket for you, the fruits include the best Columbia Kirin fruit and seven other types of expensive fruit, such as greenhouse webbed melon, Japanese apple, Japanese persimmons, orange, etc, in the hoping of providing you with an affordable luxurious fruit experience.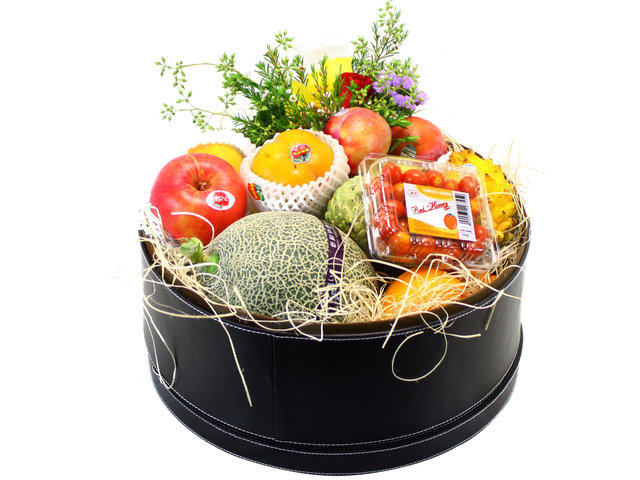 If you want to know more about fruit baskets in Give Gift Boutique, please visit our GGB website.
This is a Hong Kong GGB original '
About Kirin Fruit, How Much Do You Know
' blogpost.