So you need some flowers? Perhaps it's for a big event like a wedding in which you need the perfect wedding flowers and décor in a specific colour or mood. Or perhaps your looking for a flower shop to put together some flowers for a large corporate event or office in which you're looking to have flowers delivered on a regular schedule. Whatever the big occasion it's important to do your research to find a florist that works best for you, has the most expertise, and can offer you the best flower-buying experience. Be sure to give yourself enough time to do the research so that you can plan and consult with the florist beforehand to ensure you get the absolute best flowers gifts that suit what ever occasion you need them for.
Related: Flower Delivery for Every Occasion
Establish Your Style and What You're Looking For
Take note of what sort of style you like when it comes to flower arrangements. Do you prefer something with an artistic modern flair or something more rustic and country? Some florists have a specific style that they're good at and enjoy working with so have a look within in the flower shop or the online flower shop's website to get a feel for their style.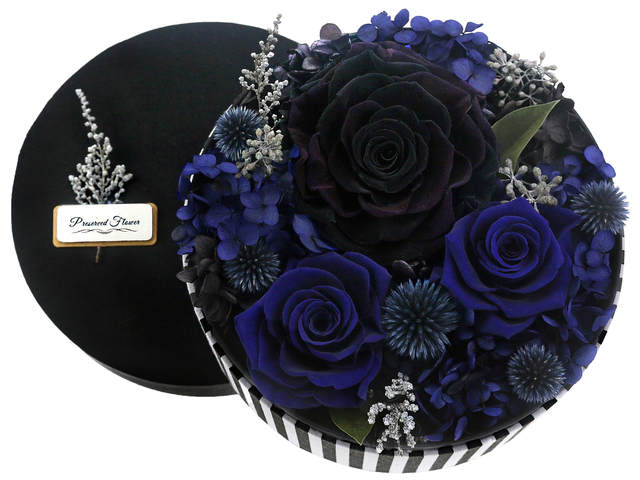 Gothic-style preserved flowers in a box
Florist Reputation
This is an essential step in choosing a florist so be sure to ask these questions: How much experience do the shop's florists have? What sorts of guarantees does the flower shop have on their products? Is their online shop certified and safe to make online purchases? Also, see how long the shop has been in business to get an idea of how established and experienced they are.
Florist Reviews
Do some quick research to see if you can find real customer reviews on the flower shop. What do others say about the flower shop? Did other customer's have a pleasant experience? Ask for suggestions from friends and family too. Make sure the majority of the reviews are good and consistent in terms of customer service, quality, and flower delivery before making a selection.
Quality, Freshness, and Selection
Find out how often a flower shop orders in their flowers and where they get them from. Ask how long the flowers are warehoused, if they use flowers that are in season, and if they offer a quality guarantee on their flowers. Flowers that are ordered on regular basis and that are in season will offer the best quality blooms. Also have a look into the selection of flowers the flower shop carries on a regular basis and if they offer any unique varieties too. It's always good to check if they offer additional gift items as well, such as teddies, chocolates, card personalisation, balloons etc. especially if they have unique or locally crafted items.
Price
Talk to the flower shop to get an idea of their prices for the selections of flowers that you're interested in. See if they offer discounts for corporations, bulk orders, and flower subscriptions. Make sure that flowers or theme that you're looking for are suitable for your budget and see if the florist is able to offer any low-budget alternatives if you're concerned about price. Additionally, for large orders ask how the flower shop handles deposits, payments, and refunds and make sure you're clear with the methods in the contract before agreeing to the terms of payment for a large order or special event.
Customer Service
Going inside the flower shop or contacting them will give you a good idea of the florist's professionalism and how they treat their customers. Ask if they offer free consultations and make sure you get along with the florist so that you're on the same page with the vision you have for your flowers. See if the florist is flexible or has substitution policies in terms of the colours and varieties of flowers that you're looking for.
Convenience
This one is especially important if you're looking to order flowers on a regular basis. Check that the flower shop has an online website that allows you to have an account to keep track of your orders. Also make sure that the flower shop website is straight forward and easy to navigate as well as offering lots of options in terms of different types of payment and delivery options.
Flower Delivery
Having prompt flower delivery options is important, especially if the flowers are for a big event. Does the flower shop offer rush or same day delivery? Do they have a delivery guarantee? Are the delivery fees laid out and easy to understand? Make sure that the flower shop can also deliver to your area too as sometimes there are restrictions or additional fees.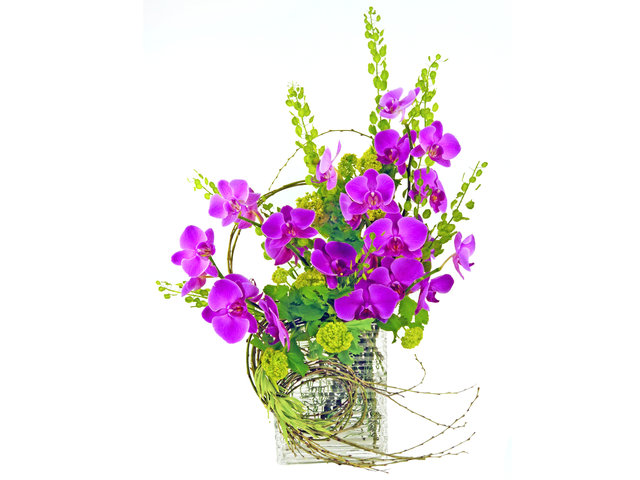 Purple orchids in a reusable glass vase.
Eco-Conscious and Giving Back
It's important, especially in these modern times, that a flower shop makes an effort to reduce their impact on the environment. Ask the flower shop if they use post-consumer recycled and recyclable materials and if they find ways to give back to the community with staff events or charitable donations. A flower shop that is passionate about the environment and their employees are noteworthy qualities to have when looking for the perfect flower shop.
Give Gift Boutique Flower Shop has been serving Hong Kong since 2008 and are a leading gift and flower boutique in Hong Kong. The florists at Give Gift Boutique are experts in their field with the average florist on staff having 12 years experience. Give Gift Boutique orders flowers three times daily in a wide variety of types and styles from all over the globe, to ensure the freshest and best quality stock. Give Gift Boutique Florist has served over 3000 corporate clients and over 50,000 individual customers with a variety of requests, needs, and events. They offer reliable international shipping as well as rush and next day shipping for Hong Kong, Macau, and Guangzhou with their modern computer and delivery systems. Give Gift Boutique also makes a conscious effort in giving back to the community in offering their employees paid time to volunteer through out the year as well as participating in tree planting events, charitable donation matching, and by using as much post-consumer recycled material as possible in their flower arrangements and gift hampers.
This is a Hong Kong GGB original '
How To Choose The Perfect Flower Shop
' blogpost.