Giving flowers to our mom on Mother's Day has always been a way of expressing love by sons and daughters. Among all sorts of flowers, carnation is the most popular one and is often chosen as Mother's Day flower gifts for this special occasion. You may know that carnation flowers are supposed to be given to mothers on Mother's Day, but do you know why carnations are suitable for Mother's Day?
It's been more than a century since Mother's Day was established, but why can carnation remain the most popular flower for Mother's Day for such a long time? What little-known stories are behind the fact that carnations are symbols of Mother's Day?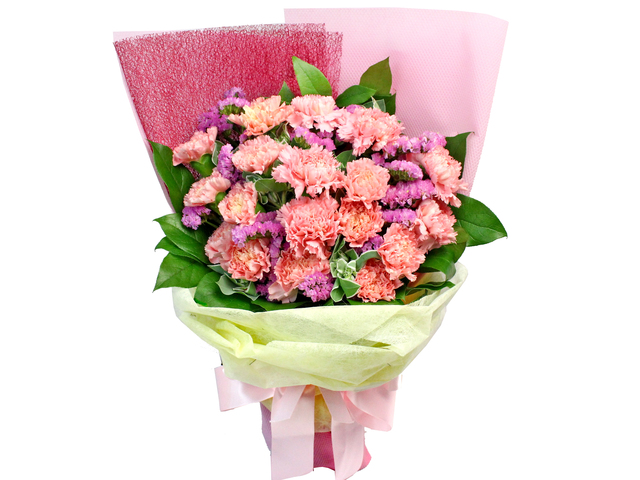 Origin of Mother's Day and the Tradition of Giving Carnations
Mother's Day is a celebration especially set up for the purpose of expressing gratitude to mothers, and its founder was an American woman named Anna Jarvis. Since childhood, Anna has had a close relationship with her mother who was a kind and compassionate person. She always wanted to set up a memorial day to compliment those who dedicated themselves as mothers; but unfortunately, she died before she could achieve the goal. In spite of this, her daughter Anna was determined to finish her unfulfilled wish and spent the rest of her life promoting legal establishment for Mother's Day. At last, in 1913, Mother's Day was recognized as the legal holiday by the United States Congress which falls on the second Sunday in May each year.
Carnations were the favorite flowers of Anna's mother during her lifetime. Anna herself once said in an interview that "The carnation does not drop its petals but hugs them to its heart as it dies, and so, too, mothers hug their children to their hearts, their mother love never dying." Therefore, carnations have become the symbol of Mother's Day flowers. As the influence of Mother's Day spread all over the world, sending carnations as gifts has become a tradition.
Do you know? Not all countries in the world celebrate Mother's Day at the same time, for example, the legal celebration of mother's day in Norway falls on the second Sunday of February each year.
Color and flower language of carnations
Red Carnations: Wishes for health and long life; Affection, warm and sincere love.
Pink Carnations: Stay young and beautiful forever; Touched; Motherhood; Mother's love
Yellow Carnation: Gratitude to mother; Thank you mom forever
White Carnation: In memory of the deceased mother; Respect, mourning.
Notice: Carnations of the above colors can be used as Mother's Day flower gifts to send to mothers to express your love and appreciation; however, please do remember that there's a huge difference between the red and white ones regarding their symbolic meanings- the white carnations are used to commemorate the deceased mothers.
The carnations are exquisite and graceful, dignified and elegant, with bright and varied colors and aromas. They have longer flowering period and are suitable for various forms of floral arrangement. In addition to the classic flower bouquets, the preserved carnations flowers which can be kept fresh for longer time and have good meanings is also very popular among the flower lovers in recent years.
This is a Hong Kong GGB original '
Interesting Facts about Carnations | Why do We Send Carnation Flower to Our Mothers on Mother's Day?
' blogpost.