Located in the heart of Tsim Sha Tsui, the Former Marine Police Headquarters have been rejuvenated and re-integrated into the urban fabric of the surrounding area. The 130 year-old historical development has been revitalized and transformed into a cultural and shopping landmark in Hong Kong – "1881 Heritage".
Following extensive renovation and conservation works by CK Asset Holdings Limited, "1881 Heritage" now features luxury shops, fine dining establishments and hip bars, a heritage hotel, and a Heritage Hall which allows visitors to discover the history of the site.
With the prime location on Canton Road, "1881 Heritage" is at the centre of the Tsim Sha Tsui cultural and shopping hub. It is only steps away from Hong Kong Cultural Centre, Hong Kong Space Museum, Hong Kong Museum of Art, and Kowloon Park. "1881 Heritage" can be conveniently reached by various modes of public transport, including by MTR, ferry and bus.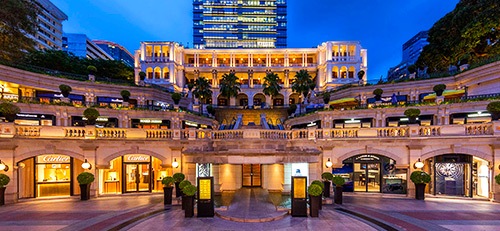 Address: 2A Canton Road, Tsim Sha Tsui, Hong Kong

1881 Heritage Telephone: 2926 8000

Hotel Flower/Gift Ordering Telephone: 2736 6670