Kowloon Funeral Parlour Information
Maps, MTR/Bus Direction, Flower Wreath Orders, Service Hall Lookup
Kowloon Funeral Parlour Information
Kowloon Funeral Parlour is located in Tai Kok Tsui and started services since 1958, which was the first funeral parlour in Kowloon.
The 3-storey KFP provides 16 parlours. Three large halls on the G/F can accommodate 160-320 people. Halls 201-208 on the 2/F provide various sizes of venues, generally for performing Buddhist or Taoist rituals, where some of the halls can be merged to accommodate more guests when necessary. The 3/F has been set aside as a Quiet Zone with five chapels, only used for Christian or Catholic rituals, which are the first and only funeral chapels in Hong Kong.
Kowloon Funeral Parlour is near to Prince Edward and Nam Cheong Stations. It takes about a 12 - 15 minute walk. KFP also offers shuttle bus service to Prince Edward Station from 6:00pm to 21:30pm, 30 minutes per departure. In addition, there are shopping malls and public car parks in Metro Harbour View which is adjacent to the KFP, convenience for making getting utilities or parking.
We offer funeral wreath and flower basket series for Kowloon Funeral Parlour. Other than providing professional Kowloon Funeral Parlour delivery service, we can also arrange inquiry for the vigil / funeral information of the deceased.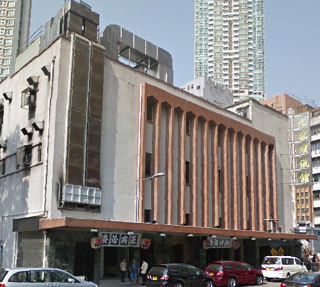 Address: 1A Maple Street, Tai Kok Tsui, Kowloon

Kowloon Funeral Parlour Telephone: 6996 2992

Funeral Wreath Ordering Telephone: 2736 6670

Kowloon Funeral Parlour Most ordered funeral flower basket (last 30 days)
funeral_wreath
funeral_stand
funeral_coffin_top
Kowloon Funeral Parlour Map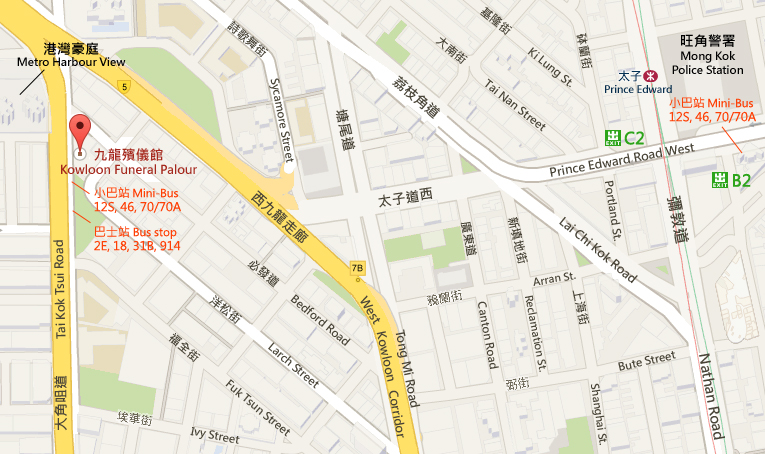 Kowloon Funeral Parlour How to reach by MTR
Interchange minibus 12S/46/70/70A at EXIT B2 of Prince Edward MTR Station; or
12 minutes walk from EXIT C2, Prince Edward Station
15 minutes walk from EXIT D1, Nam Cheong Station.
Kowloon Funeral Parlour Directions by Bus and Mini-bus

KMB 2E

Pak Tin Est. <> Kowloon City Ferry

via: Jordan, Hung Hom

KMB 18

Cheung Sha Wan <> Oi Man Est.

via: Mong Kok, Ho Man Tin

KMB 31B

Shek Lei <> Olympic Station

via: Cheung Sha Wan

KMB/NWFB 914

Hoi Lai Est. <> Causeway Bay

via: WHT, Central, Wanchai

mini-bus 3

Tsim Sha Tsui <> Cosmopolitan Estates

via: Austin Station, Yau Ma Tei

mini-bus 12B

Mong Kok East Station <> Metro Harbour View

via: Mong Kok Station

mini-bus 12S

Tai Kok Tsui <> Mong Kok East Station

via: Prince Edward Station

mini-bus 46

Richland Gardens <> Olympic Station

via: Kowloon City, Prince Edward Station

mini-bus 70 / 70A

Diamond Hill Station <> Olympic Station

via: Kowloon City, Prince Edward Station
More about Kowloon Funeral Parlour
Kowloon Funeral Parlour was established by Mr. Siu Ming, the founder of Hong Kong Funeral Parlour, in 1958. It was the first large-scale funeral parlour. The late movie star Bruce Lee's funeral was also held there.
In 2008, Kowloon Funeral Parlour underwent phased renovations. A number of modern equipment was added so as to enhance the quality of services. In 2009, the 3/F was even set aside as "Quiet Zone" equipped with wooden pews, electric organ, arched windows and audio-visual facilities, providing a serene atmosphere and condolence space for Christians, Catholics and people without religions, to conduct western-style funeral services or memorial services. It is the first funeral parlour in Hong Kong who sets up a chapel for funeral purposes.
Kowloon Funeral Parlour and the residential area in Tai Kok Tsui are just across the street, so for many years, there have been complaints from residents about the smell produced from incense burners and air pollution caused by ashes. In addition, the noise during the funeral rituals also constituted noise problem. In view of this, the District Council proposed an exchange for land in 2009 and relocated the parlour to Hung Hom. Later, those issues were left unsettled.
| | | |
| --- | --- | --- |
| --- | About Our Funeral Flowers | --- |
●
| | |
| --- | --- |
| | Thanks to customer support, we now have orders going to all major funeral home every day, therefore we offer Free Shipping to the following funeral parlours (rush orders may not qualify) |
●
●
Professional Funeral Flower -
Our florist are experienced in western and eastern funeral flower stands, here to assist you with product selection and wordings, please feel free to call us anytime. All wreaths and baskets are made fresh in our workshop, then delivered to funeral homes in Hong Kong.