Diwali, also known as the Deepavali, is one of the most popular festivals in India. It symbolizes "the light defeats the darkness, the good fights against evil, and the knowledge overcomes ignorance." The Diwali festival is influential in the world. It was originally celebrated by Hindu, Jain and Sikh worshippers. Later, some Buddhists regarded the Indian Diwali as "the light of the heart", so some Buddhists will also celebrate Diwali Festival. However, Diwali is very popular not only in India but also in Fiji, Guyana, Malaysia (except Sarawak), Mauritius, Myanmar, Nepal, Singapore, Sri Lanka, Suriname, Trinidad etc. and it has been designated as statutory festivals by the local governments. During the five-day Diwali festival, every Indian family prepares the Diwali celebration in an ancient and traditional way. There are five traditional customs you need to know about Diwali.
1. Shopping
Before the Diwali festival, housewives in India go to the stores to buy a lot of beautiful new clothes and wear them every day to show respect for the Deepavali. In addition, they also need to buy plenty of food and gifts for friends and family during the festive celebration.
2. House Cleaning
On the first day of Diwali, the Indians begin to clean up their houses because they believe that Goddess Lakshmi would walk in only if their houses look very clean. At the same time, Indians like to buy gold and silver jewelry on the Diwali festival as they think that it is very auspicious.
3. Diwali Sweets
Diwali Festival is a feast of Indian cuisine, but the most special one of them is the Diwali sweets. They are mostly made of crispy dried fruit and they are seen as the representative of foods in Diwali.
4. Diya and Rangoli
The third day of the Diwali celebration is the most exciting time. Every household in India will light up the Diya or oil lamps because they symbolize brightness, prosperity and happiness; when the lights are on, the view is very spectacular. Rangoli is a traditional Indian art painting, usually drawn by hand and hung at the door of a house or at the entrance of a temple. The Rangoli that is displayed during Diwali is colorful with strong Indian style.
5. Exchanging Gifts
Exchanging gifts during Diwali is a tradition of Indian families. Indians will bring well-prepared gifts to visit relatives and friends. Gifts are generally made with Indian specialties. Sweets are an essential gift for Diwali.
HK GGB Diwali Gift Hampers Recommendation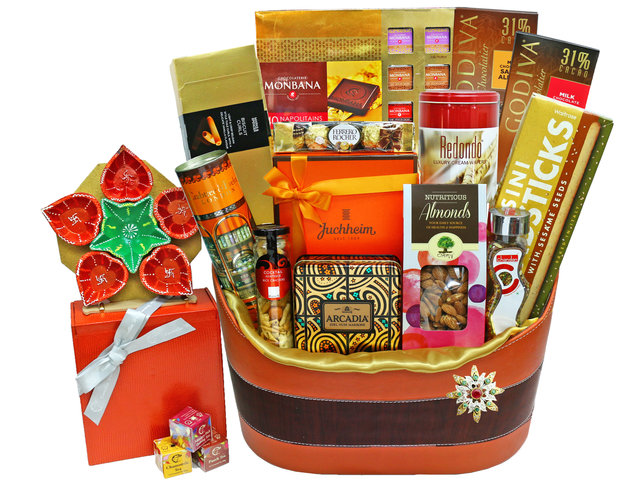 The Diwali luxury gift 8 contains 15 items (including container) , with brands Godiva , Wah Fong Tea House(5 Stars Hotel supplier) , Marks & Spencer etc. This Diwali gift basket not only has traditional Indian sweets and Indian Diya, but also the world-famous brand of snacks. It is a practical and decent gift whether for gift-giving or personal use.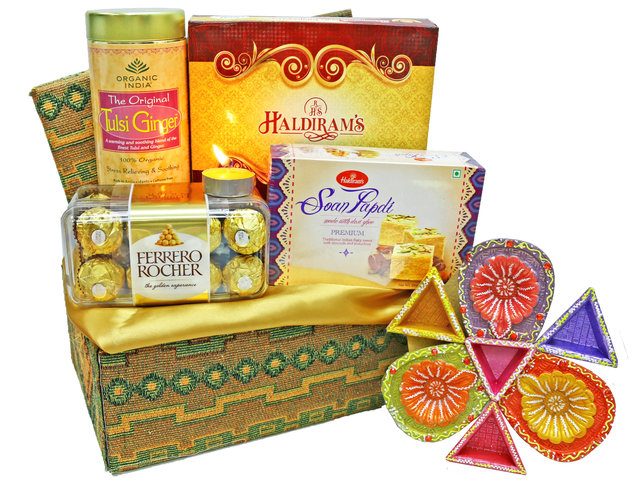 The Exquisitely packing Diwali gift basket 3 contains 6 items (including container). Haldiram's India traditional sweets, Haldiram's, India, premium Soan Papdi (Traditional Indian sweet with almonds and pistachios.), Ferrero Rocher chocolate 16-pcs gift boxes, delicate Indian Diya and Indian fabric-style square gift baskets are all neatly designed with attention to detail.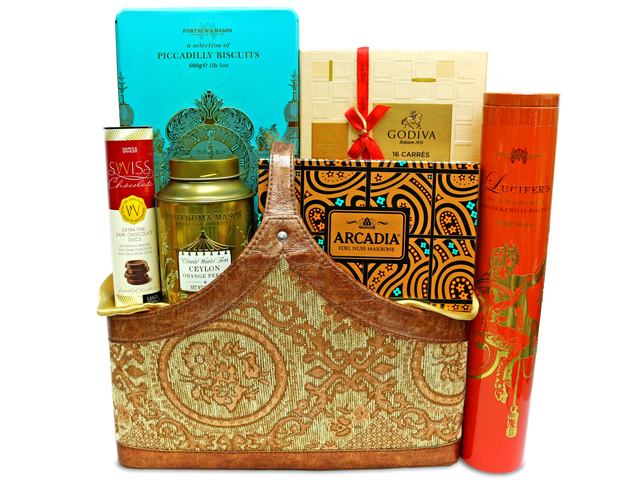 The Diwali premium hamper 9 contains 8 items (including container) , with brands Fortnum & Mason , Godiva, Marks & Spencer, Morozoff Arcdia. The entire gift hamper looks expensive and is the first choice for Diwali business gift-giving.
For more Diwali gift basket selections, please visit the Diwali gift basket of GGB.
This is a Hong Kong GGB original '
5 Facts You Should Know About Diwali in India
' blogpost.