Hong Kong is wonderful place to live with customs, cultures, and people from all around the world. This unique blend of traditional Chinese and imported gift giving traditions means that Hong Kong has some unique gift giving rules and etiquette. While any gift given in Hong Kong will generally be appreciated, it helps to know some of the gift giving rules if you're not familiar with them to avoid any discretions or cultural misunderstandings. Give Gift Boutique Hong Kong Florist has gathered up some of the most useful gift giving tips that make sure your gift is always well received.
Never give these two types of gifts:
Clocks/Watches – The Cantonese word for watch or a clock is homophonic with the Chinese funeral rites and has a symbolic meaning of "running out of time" making gifting them an extreme form of bad luck and bad form.
Shoes – The Cantonese word for shoes is homophonic with the word "rough" or in Mandarin, "evil", meaning that giving this gift is ominous of bad or rough times ahead. It can also signify the end of a relationship or friendship. If you're looking to give clothing as a gift, try a pair of trousers as it is homophonic with the Cantonese word for "wealth".
Related: Hong Kong Chinese New Year Gift Giving Customs, New Year Traditions and Celebrations
Never arrive at someone's house empty handed
A gift, such as fresh flower arrangement, wine, chocolate, or gift hamper is a way of saying thanks for the invitation into their home. Always come prepared!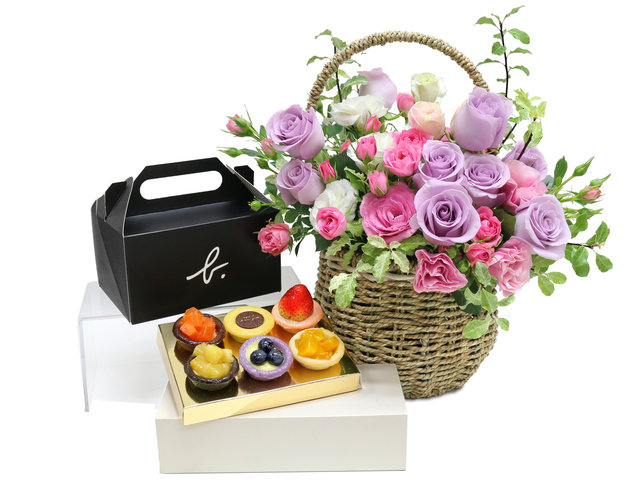 Bouquet of pink and purple roses with Agnes B cupcakes.
It is considered rude to open gifts in front of the giver
Contrary to Western culture, opening a gift in front of the person that has just given it to you is considered rude in Chinese culture. This applies to lai see, the red envelopes, given during Chinese New Year too. Unless it is insisted upon, save opening the gift in private.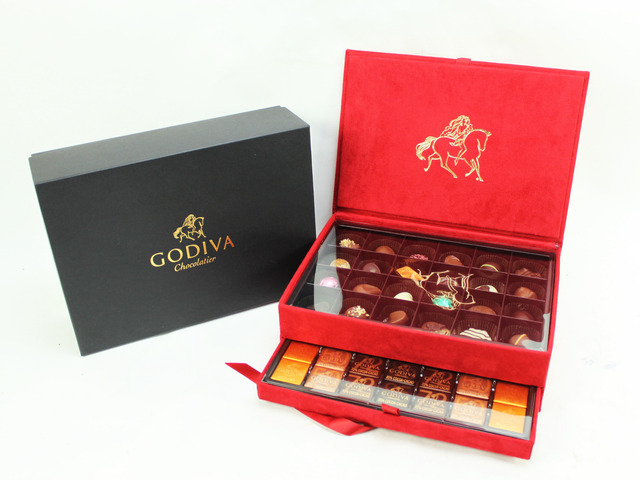 A luxury box of Godiva chocolates.
Wrap gifts in either red or gold
While there are no negative repercussions for not colour coordinating your gift wrapping, red and gold are the traditional colours of good luck and fortune and are the preferred colours for gift giving in Chinese culture. These colours are especially important during Chinese New Year or if you're giving a gift to an elder.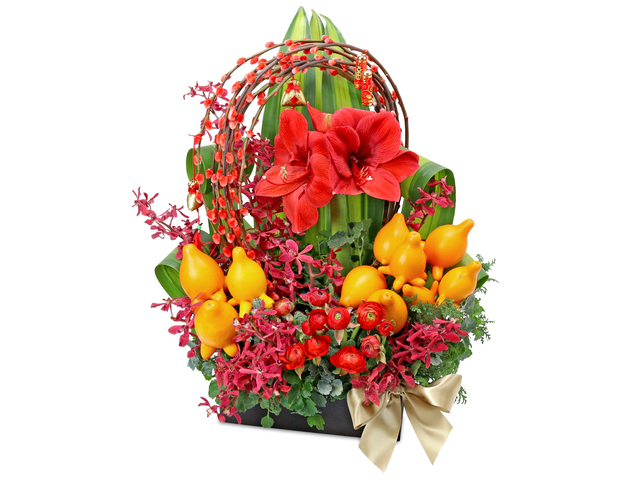 A gold and red Chinese New Year flower arrangement.
Receive gifts with two hands
If receiving or giving gifts, use two hands to indicate a sign of respect and appreciation. If you take or give a gift with one hand it can suggest unappreciation or disdain.
Related: The Best Gifts for Chinese New Year
Refusing a gift is common but shouldn't be taken seriously
Gift refusal s a common act in Chinese culture, with the premise that the receiver should initially resist but with the intention of eventually accepting after some persistence from the gift-giver. This is a form of politeness to indicate modesty when some one graces you with a gift or compliment, so the refusal is generally not to be taken at face value.
A Chinese New Year gif hamper with wine, chocolates, tea, dried goods and more.
Need help finding the right gift? Give Gift Boutique Hong Kong Florist, with their expert florists, have everything you need for every gift occasion in Hong Kong. Contact us today!
This is a Hong Kong GGB original '
A Guide to Gift Giving in Hong Kong
' blogpost.