Christmas is coming! You know what that means?! That's right, Christmas gifts, Christmas decorations, Christmas festivities, and giving our family and friends seasonal well-wishes and greetings. It may feel a bit overwhelming when it comes to trying to decide and write a sincere Christmas greeting but here at Give Gift Boutique Hong Kong Florist, we've got a few good suggestions to get you started on your Christmas messages, Christmas cards, and Christmas greetings.
Related: Christmas Traditions in Hong Kong
General Christmas Greetings
Seasons Greetings and a Happy New Year! May you be surrounded by all the things that bring holiday cheer.
Wishing you peace, joy, and all the best this wonderful holiday has to offer. May this incredible time of giving and spending time with family bring you the joy that lasts throughout the year.
Wishing you a joyous Holiday season and a happy and peaceful New Year.
To a joyful present and a well remembered past. Best wishes for a Happy Holidays and a magnificent New Year.
Warmest greetings of this festive season and best wishes for happiness this New Year.
Seven item Christmas hamper.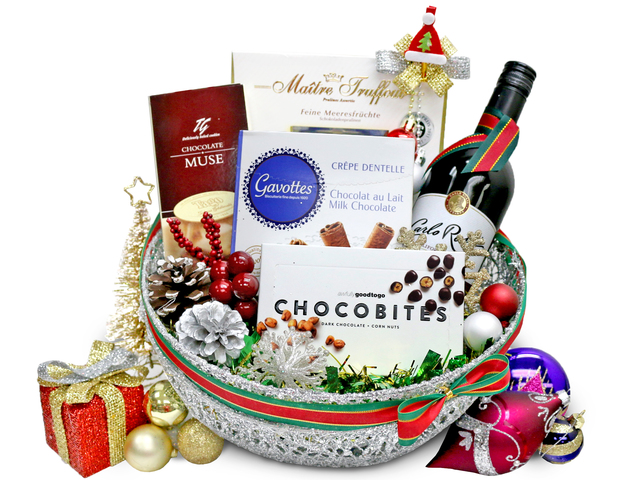 Seven item Christmas hamper.
Religious Christmas Messages
A silent night, a star above, a blessed gift of hope and love. A Merry Christmas to you and your whole family.
May God bless you with a festive, loving and peaceful celebration this Christmas and all throughout the year.
Praying you have a wonderful Christmas filled with moments you'll always remember.
Faith makes all things possible, Hope makes all things work, Love makes all things beautiful, May you have all the three for this Christmas. Merry Christmas!
May the blessings of Christmas be with you today and always.
Family Christmas Greetings
You can't choose your family, but even if you could, I'd still choose you. Merry Christmas! Looking forward to spending some time with you.
There is no greater gift this festive season than spending time with family all around the Christmas tree.
Grateful to be blessed with such a wonderful family. Merry Christmas!
To all the people who are dear to me, I wish all of you nothing but the joy and happiness that this Christmas brings!
As I grow up, the meaning of Christmas continues to deepen as I keep discovering the true nature of love, joy, and peace, not only at this time of year but all year round. Thank you for being a family that continues to teach me what these are.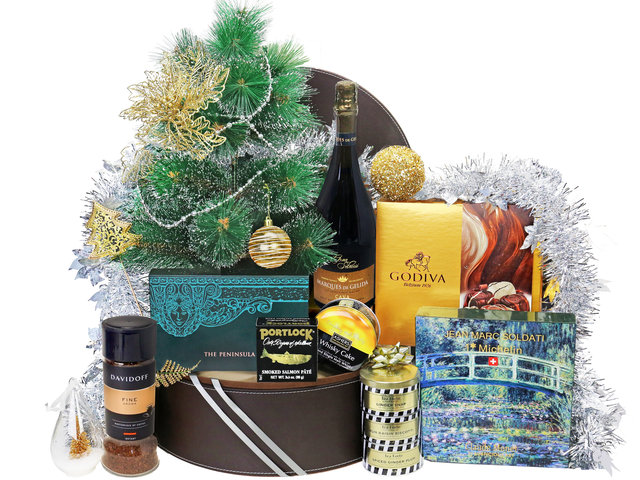 Eleven item Christmas hamper with Christmas décor.
Business Christmas Messages
It's a pleasure to work with you and a joy to wish you a merry Christmas!
Merry Christmas from all of us! Here's to a season of success and harmony.
Enjoy your well deserved rest and time with family. Merry Christmas and a happy and healthy New Year!
In this loveliest and happiest of seasons, may you find many reasons to celebrate. Have a wonderful Christmas!
Wishing you a holiday season full of fun, and a new year filled with prosperity. Enjoy your holiday break and see you in the new year.
Funny Christmas Greetings
I would write something funny to wish you a Merry Christmas, but there are some things that you just don't joke about.
Thinking of you this Christmas. "Yule" be on my mind.
If I had to choose between you and Santa, I'd choose you. I still think it's a little creepy that that guy comes in my house while I'm sleeping.
I'm trying something new this Christmas. I'm going to wrap myself up and sleep under the Christmas tree so you'll finally understand what a gift I am.
If you don't like my present, it's because you have bad taste. I'll still wish you a Merry Christmas!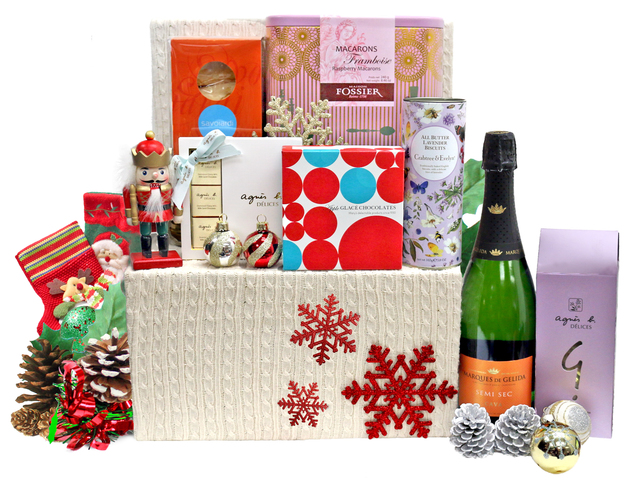 Nine item Christmas hamper.
Quotes Christmas Messages
"I will honor Christmas in my heart, and try to keep it all the year." - Charles Dickens
"Peace on earth will come to stay, when we live Christmas every day" - Helen Steiner Rice
"From Home to home, and heart to heart, from one place to another. The warmth and joy of Christmas, brings us closer to each other" - Emily Matthews
"Christmas waves a magic wand over this world, and behold, everything is softer and more beautiful." - Norman Vincent Peale
"Christmas is not as much about opening our presents as opening our hearts." - Janice Maeditere
Romantic Christmas Messages
You are my everything. No presents necessary. Merry Christmas, my love.
Each Christmas I spend with you, I grow more grateful to have you. Let's do Christmas together for the rest of our lives. I love you.
You make every day sparkle and glitter like Christmas morning. Merry Christmas, my love.
Nothing compares to the gift of your love. It's the gift that keeps on giving.
There is no present under the tree that's better than waking up and seeing you next to me. Merry Christmas.
This is a Hong Kong GGB original '
Christmas Greetings and Messages for Family and Friends
' blogpost.