When you mention the name Davidoff , people immediately record that it's a famous brand that sells many different kinds of products; but if you ask them what sorts of products they sell exactly, people tend to be a bit confused. Why is that? The reason is simple. Davidoff has lots of "hero products". Although they belong to different categories, they are well-recognized in their own areas. High quality products with exquisite packaging , Davidoff products become popular gifts for people in various holidays. These gift items include Davidoff cigars; Davidoff perfumes; Davidoff ties and watches, etc.
Davidoff was originally a small tobacco store in Switzerland. After decades of development, it has become an independent brand and has expanded continuously in the past 30 years to become a world famous international brand. Nowadays, Davidoff has a wide range of products including cigars, perfumes, watches, cognacs, coffee, leather goods and fashion accessories, etc.
Davidoff coffee ranks among the world's best coffee because of its high quality standard. Davidoff Cafe insists on using 100% pure quality Arabica coffee beans, and the individual roasting brings out an extraordinary aroma, rounded off by a pleasant body and an aromatic, gentle acidity. With Davidoff's exclusive hot air roast method, the natural coffee aroma is preserved; this coffee-making technique also helps Davidoff coffee to remain the best flavor.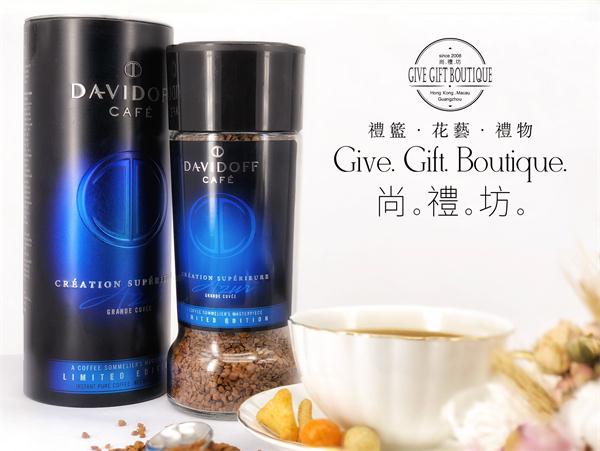 Originated from Switzerland and made in Germany, Davidoff Café is one of the best value coffee gifts for self-rewarding or to send to friends as gifts . Among the many gift baskets at Hong Kong Give Gift Boutique online gift shop , there are always Davidoff coffee in some of it. For example, the Deluxe gift hamper(B) uses Davidoff/ Cova limited edition creation superieure coffee. If you would like to add a set of Davidoff Café gift to your selected floral gifts /fruit baskets, you may purchase it from the add-on Items category to create your favorite gift hampers . For more gift ideas, please visit our Hong Kong Give Gift Boutique website.
This is a Hong Kong GGB original '
Davidoff Cafe
' blogpost.