Dragon Boat Festival Is Coming!Quite a lot of families will make rice dumplings for guests on their own, therefore, you can smell aroma of fresh leaves and sticky rice all over the place on that day and you can't resist the temptation of trying one. With the innovation and development of Sticky Rice Dumpling, we now only have the traditional salty pork rice dumpling and sticky rice dumpling, but also many other creative and brand new flavors like the sweetened rice dumpling, red bean paste rice dumpling and icy dumpling. Today, we Give Gift Boutique would like to introduce to you the most popular icy dumplings favored by young people as well as giving you a refreshing and icy yummy experience in this hot summer.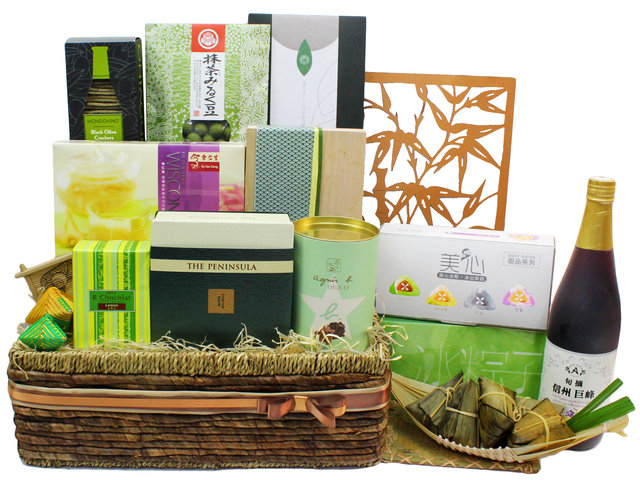 Dragon Boat Festival Ice Dumpling Gift Basket K17, which includes many kinds of mini icy dumplings, will leave you unforgettable experience for your taste bud. Moreover, the highlight feature of sticky rice cake is that we don't need to steam or heat it before eating; rather, it can be eaten right away after opening. When you unwrap the leaves of the icy dumpling, you would clearly find colorful stuffing inside penetrate the ice skin. It is mini but full of rich tastes, chewy in texture but soft with sweetens; it is even more delicious after refrigerating. In addition to these, there is a bottle of Japan Shinshu area kyoho / Yuzu Juice, a box of HK Peninsula Hotel Walnut Cookies / Egg Rolls ,a box of Royce R Chocolate and Japan Cha-no-wa Matcha Momiji Manju Gift Box as complements.
If you don't feel like making ice dumpling by yourself and would like to order a Dragon Boat Festival Ice Dumpling Gift Basket online, no problem, Givegift has prepared a variety of top-picked Dragon Boat Festival Icy Dumpling Gift Baskets to you, just like this Dragon Boat Festival Ice Dumpling Gift Basket K17. it is not only suitable and elegant for the festival, but can also satisfy everyone's need. Besides, there are more Dragon Boat Festival gift hampers designed by Hong Kong Give Gift Boutique available online for pre-order, please visit our website for more information.
This is a Hong Kong GGB original '
A miracle food in Dragon Boat Festival: Rice Dumpling
' blogpost.