Fresh cut flowers have a way of making any room more pleasant and enjoyable with their lively fragrance and appearance. These delightful décor additions however will eventually wilt and die, so what can you do to get the most out of your flower arrangements? By taking care of your flowers you can prolong their life and appearance and have fresher flowers for longer. Here is a guide with some tips on how to best to care for your cut flowers.
Clean the vase and make it floral friendly
Before you even unwrap your flowers make sure you have a vase and that it is clean. Wash out the vase with warm soapy water before placing flowers inside to slow the spread of any microorganisms that will decay your flowers. Be sure that all the soap is rinsed out beforehand as well. When you're ready to fill the vase put room temperature filtered water inside and let it sit on the counter for a little bit to let any air bubbles dissipate from your plumbing.
Cut the stems
Flowers rely on the surface tension of the water to absorb water into their petals and leaves and have an easier time getting water to the flowers if the stems are shorter. So before you put your flowers in the vase, give the stems a little snip at a 45 degree angle but be sure avoid crushing them but using a sharp knife or pair of shears. If possible, cut them underwater as well. Cutting the stems also helps ensure that the flowers have a fresh and healthier opening to absorb the water too. Re-cut the stems with every water change.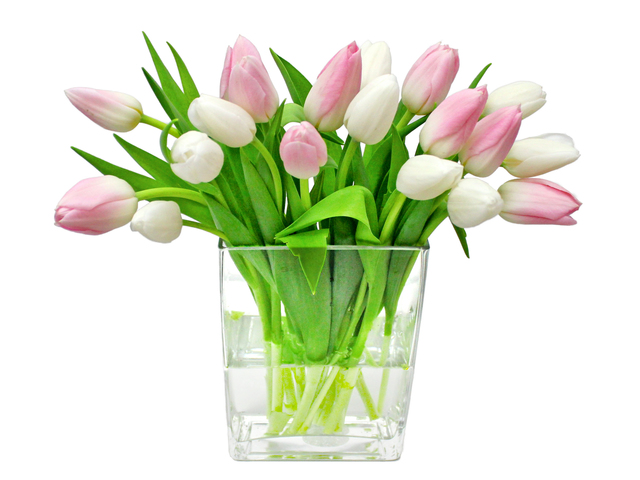 Flower food
Many flower shops provide their own flower food, which is great as the food works best on freshly cut flowers! But even flowers that are few days on still need new food with every water change. You can make your own flower food with a variety of home remedies that include an acid and some form of sugar.
Lemon-lime soda: Pour ¼ of the soda into the water of the vase. The sugars in the soda help the flowers last longer and it smells sweet too.
Vodka: A few drops of vodka, or any clear spirit, will help inhibit the production of ethylene which makes the plant mature.
Copper coin: A copper coin, like a penny, works as an acidifier that fights the bacteria growth in the water.
Vinegar, sugar, and bleach: Add 4 teaspoons of each to 1 litre of water. The bleach acts as an antimicrobial agent to keep the water clear and free of bacteria. The vinegar can also be replaced with lemon.
Prune and remove any petals or leaves that have fallen into the water
After the flowers are in the vase be sure to remove any leaves or petals that have fallen into the water because as they decay it will encourage microbial growth in the water that will hinder the life of your flowers. Keep an eye on the arrangement and remove any as you seem them. Don't leave any leaves sitting below the water line either for the same reasons, prune as needed to suit the arrangement.
Cull any dying flowers as soon as possible
You want your flower bouquet to put all its time and energy into the fresh and lively blooms, not the ones dying off. The decay from these flowers can spread onto the fresh blooms as well causing your flower arrangement to fade faster.
Change the water
Keeping the water fresh in the vase is very important as it reduces the amount of microorganisms that can cause your flowers to wilt earlier than they should. Change the water every day and top up with new flower food.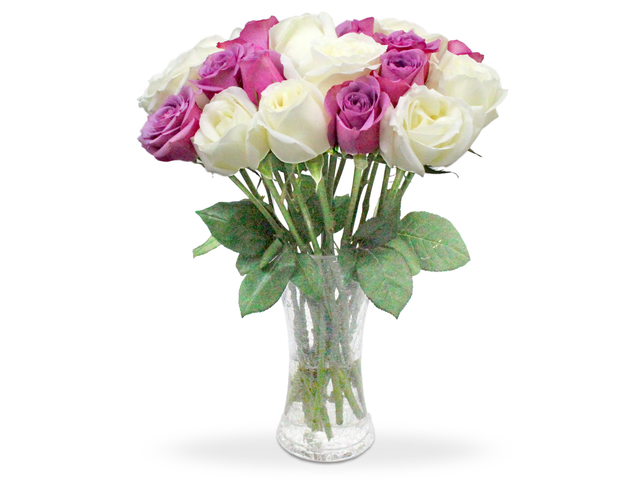 Use the fridge
If you've noticed, a lot of flower shops keep their flowers in a cool refrigerated area and that's because flowers keep better under these conditions and help slow the aging process. We can't admire our fresh flower bouquets while we're asleep so before you go to bed place your arrangement in the fridge and bring it out again in the morning. These will help your flowers stay fresh and new for a really long time!
Keep your flowers away from these areas
Any type of drafts (even fans)
Away from fruit and other plants as other flora can cause them to wilt prematurely.
Keep them out of direct sunlight as it encourages microbial growth.
Away from appliances which give off heat and can cause flowers to dehydrate.
This is a Hong Kong GGB original '
How to Make Your Flowers Last Longer
' blogpost.