People like to use flowers to express their feelings, a single flower takes the meaning of I love you one and only. A flower represents true love, an appreciation, and even gratitude.
Flowers are the messenger of people's emotional communication, and because of this, "flower language" becomes such a beautiful "language" for humankind. When you have a crush on someone, you will give flowers to her/him to express your feeling. A flower means that you are all I have in my heart.
Single Flowers Design Concept
The single stem flower packaging of Hong Kong Give Gift Boutique Flower Shop adopts light and simple, compact and exquisite design concept, using imported high-quality flowers, matching heart-shaped two-color translucent wrapping paper, and finally tied on a gentle and elegant light color ribbon to the mini rose bouquets for decorating, which adds more romantic atmosphere.
This flower gift box includes two Ecuador imported red roses, imported dried leaves and delicate gold stamping wrapping paper. This flower gift is made to express the 'only you' love to your significant someone. The customized black silk and satin gift box with the poem double the love.
Single Flowers Advantages
The single branch flower is in petite size, low-key and convenient to carry around. Flowers are elegant gifts, colorful and natural floral fragrant touches people's heart. Combined with the Gourmet food hampers from Hong Kong Give Gift boutique Flower shop to send to your loved one that shows double love and creativity.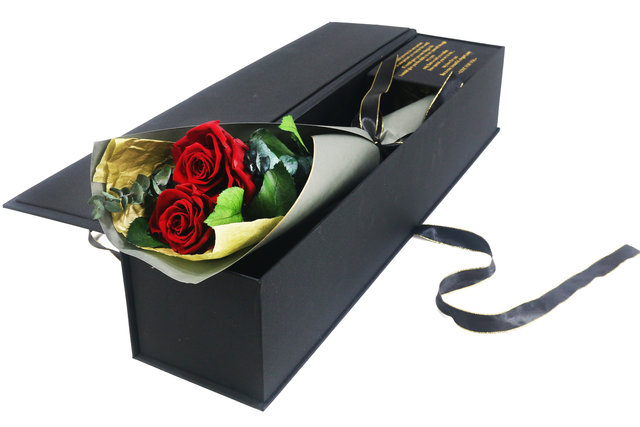 Why Choose the Single Flowers?
For loved ones: Different floral arrangement shapes bring different visual and tactile experiences. The packaging style of single stem flower is flexible, tiny and convenient to carry. You can send a romantic surprise to your beloved anytime.
For events and occasions: Mini-exquisite single-flowers can be used for a variety of activities and occasions, such as wedding scenes, festival celebrations, event celebrations, etc. The graceful single flowers can make these occasions looks more formal and elegant.
Home and Business: Flowers have already become a part of people's daily life. Lovely flower decorations add a touch of high-quality life taste to the home. And for elegant venues like coffee stores and western restaurants, placing a fascinating flower on the table top is definitely a plus.
Want to surprise someone?
Flowers can brighten someone's day; we can use a "unique" flower to give others a secret surprise.
The simple and stylish single flower is a popular floral arrangement of flower delivery in Hong Kong in recent years. Not only suitable for couples, but also for families, friends and even strangers. For example, give flowers to customers who dine at your restaurant, give flowers to guests who come to your wedding celebration, and send flowers to your employees at meaningful festivals (Women's Day, Secretary's Day, Mother's Day, etc.). Flowers gifts for your employees, customers who are shopping in the mall and cinema, surprise flowers giving and so on, in which flowers to convey your love and happiness!
This is a Hong Kong GGB original '
Beautiful Single Flowers | My one and the only love
' blogpost.