Death and loss are one of the universal truths that connect every single person on this planet. However, it's still hard to know what to say or do to bring comfort to the grieving. This is why flowers have long been a tradition in human history in consolation of sympathy, grief, and funeral rites. Funeral flowers bring comfort and beauty to a delicate and solemn occasion and often are able to express what we're not able to put into words. Flowers, themselves, are beautifully symbolic of the fleeting nature of life. There is an etiquette to giving flowers during times of grief and Give Gift Boutique Hong Kong Florist has compiled all you need to know about giving flowers to express your sympathies.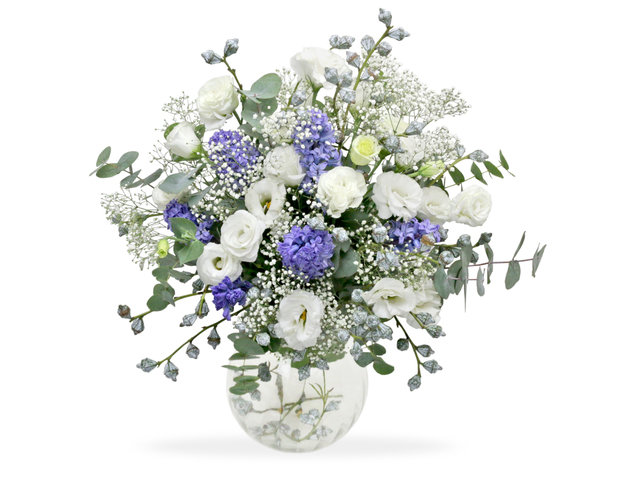 White eustomas, hyacinths, and eucalyptus in decorative flower vase.
What Flower-Types and Colours to use for Sympathy Flowers?
Traditionally, lilies, roses, carnations, orchids, chrysanthemums and gladioli have been used in sympathy flower bouquets as many of them have traditional symbolic meanings within floriography that related to sympathy or sincerity. In terms of colour, generally sympathy flower colours range from white, yellow, pink, pale blue or lilac but are necessarily restricted to this range provided the flower bouquet still carries a classic and solemn tone.
Related: Language & Meaning of Flowers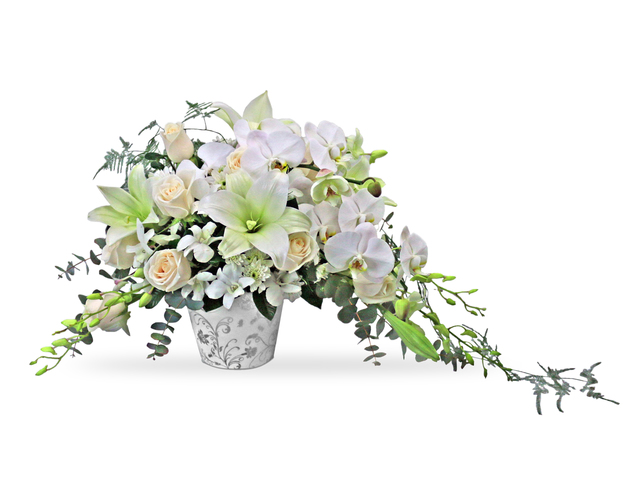 White lilies and orchids with cream roses and matching greens in a decorative vase.
The Difference between Sympathy Flowers and Funeral Flowers
Sympathy flowers are meant to be sent directly to the loved one of the deceased. Sympathy flowers are usually smaller in size, like a flower bouquet, vase, or décor, and are meant to be adorned within the bereaved's home. Funeral flowers serve as a tribute to the deceased at the funeral service and are usually much larger arrangements that come in wreathes, baskets, or stands. It would be inappropriate to send funeral flowers to someone's home.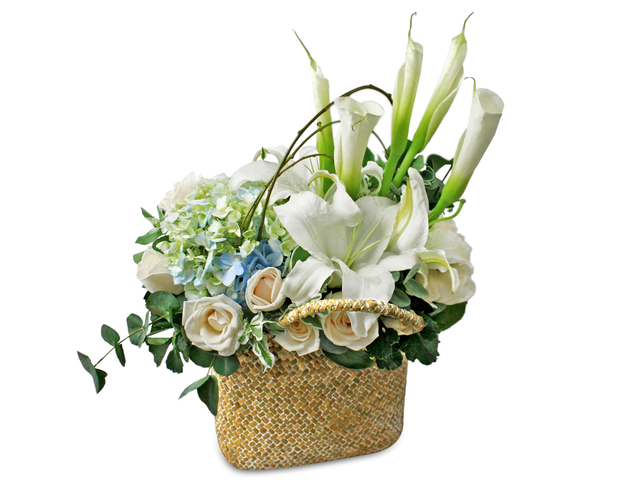 Related: Memorial and Commemorative Funeral Flowers
Sympathy Flower Messages
When it comes to sympathy messages, keep them short and sincere, as the flowers are they to express and convey all the difficult feelings that are hard to put into words. Also, be sure to avoid clichés or anything that might minimise a person's feelings in the message. Need some suggestions? Read Give Gift Boutique's post on how to write the perfect flower message.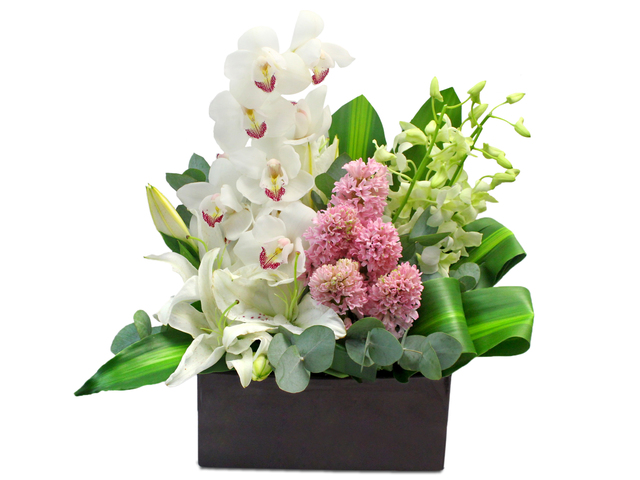 Orchids, lilies, and hyacinth in a decorative vase.
Consider the Religious Background of the Bereaved
While it's generally safe to give flowers for sympathy, there are times where it is inappropriate. For example, if the deceased was Jewish, it is customary for friends and coworkers to come by the home and pay their respects to the family for seven days in what is called shiva. Sympathy flowers for this instance are not appropriate, instead, desserts and fruit baskets are the traditional gifts that are taken to or sent to the home. Within Buddhism and sometimes within the Islamic traditions too, it may not be inappropriate to give sympathy flowers. If you are unsure about giving flowers, check with a friend or family member to ensure proper funeral and sympathy etiquette.
When to Send Sympathy Flowers?
It's generally never too late to send sympathy flowers. Flowers can be sent as soon as you become aware of the person's passing or right at or around the funeral. Even weeks after the death or funeral is still more than appropriate and might make a much needed impression as the bereaved attempt to reassemble their life without their loved one.
This is a Hong Kong GGB original '
Sympathy Flower Etiquette: How to Express Sympathy with Flowers
' blogpost.