With the increasing popularity of HK online gift shops and the rapid development of temperature-controlled freight, more and more people in Hong Kong decide to purchase frozen hampers/chilled hampers online. Just a few steps on the website and you can enjoy delicious chilled food with friends and family without going out in the crowd. Give Gift Boutique has selected the following imported chilled Hampers for your reference, read more and see if there are any chilled hamper gifts that you like.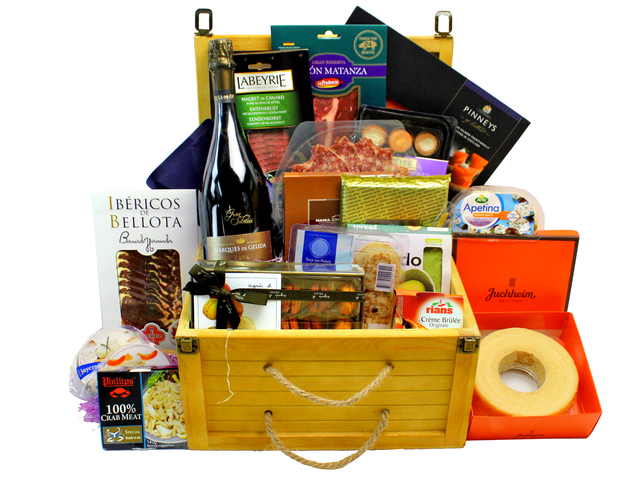 This chilled gift basket contains all sorts of delicious chilled food that you can imagine. If you are a sweet food lover, the following desserts in the chilled hamper shall be able to capture your heart! Agnes B / LGB Macrons Gift Set; Japan Juchheim Hand-made Honey taste Baumkuchen Cake Gift Box; Apetina Danish Feta Cheese with Black Olives; Rians, France, Creame Brulee, and other desserts. In terms of staple food includes Pinneys, Scotland, Smoked Salmon / France Labeyrie Smoked Salmon; Spanish Cured Ham Gift Package; Marten, Germany, Salami and other foods. These foods give your taste buds different enjoyment and they can be shared by friends of different eating habits.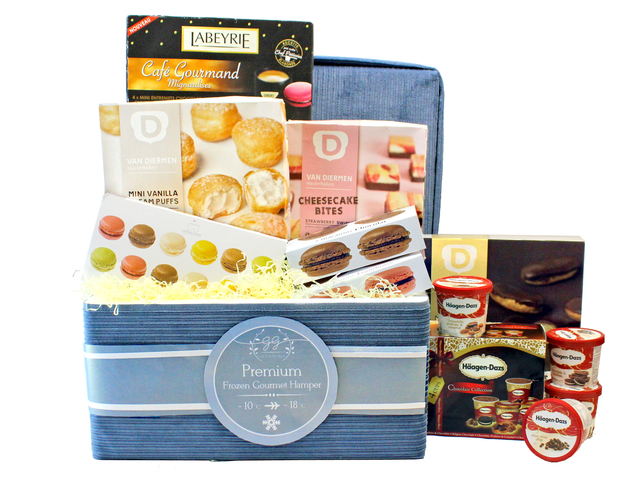 The Frozen Hamper F57 contains 8 items (including container)
1. Labeyrie, France, Cafe Gourmand Mignardises 12 PCS
2. Hagen-Daze 4 min-cups gift Set 100ml x 4
3. Van Dierman, Netherlands, Cheesecake Bites
4. Van Dierman, Netherlands, Mini Vanilla Cream Puffs
5. Van Dierman, Netherlands, Mini Eclair
6. Chateau Blauc, France, Mini Assorted Macarons
7. Chateau Blauc, France, Large Macarons x 2
8. Hand-fitted fabric Styrofoam freeze gift box
Labeyrie is a famous French local food brand. This cafe gourmand mignardises has four flavors and can be combined with original recipes to form an irresistible food alliance, which is suitable for sharing with family or friends. The food of the Dutch Van Diermanm is gluten-free and rich in taste. The exquisite French Chateau Blauc macaron is delightful and full of colorful combinations. Hagen-Daze is one of the ice creams brands that a lot of Hong Kong people love, the cold ice-cream is the best dessert to share with friends!
The Chilled Hamper F71 contains 10 items (including container)
1. Carina, Japan, Jelly Wine/CC, Hong Kong, Bird's Nest x 2
2. Royce, Japan, Mild Chocolate
3. France, Labeyrie,Wild Smoked Salmon 75G
4. Rians, France, Creame Brulee
5. All Natural, New Zealand, Avocado Spread
6. Grange Peak, Australia, Apricot & Almond Cream Cheese
7. Apetina, Denmark, Danish Feta Cheese with Black Olives
8. Labeyrie, France, Cocktail Blinis 20pcs
9. Reusable Premium Ice Pad
10. Wooden Box gift Basket with gunny bag
There are mild chocolate and creame brulee for children; cheeses and pancakes for young people as well as bird's nest and healthy butter jam for mothers. These gifts are packed in a beautiful wooden gift box, and it is a decent gift to give whether for dear ones or personal use.
There are several food gift hamper collections available in Give Gift Boutique. Choose your favorite one and order now!
This is a Hong Kong GGB original '
Give Gift Boutique Imported Chilled Hampers
' blogpost.