Orchid is one of the most eye-catching indoor landscape flowers in the world; it has elegant appearance and various colors. Moreover, orchids have the symbolic meaning of beautiful, pure, innocent and graceful, so they are always loved and appreciated by many people. Generally speaking, orchids have tens of thousands of species; some orchid plants are suitable for indoor breeding, like the phalaenopsis and oncidium. Cultivating and caring for orchids requires some skills, so how to care for orchids correctly?
Tips1: How to choose high-quality orchid potted plants?
The growth period of orchids is quite long. If you start to grow an orchid from seeds, you can wait for more than 5 years before you see its beautiful flowers. Therefore, it is more practical to buy blooming orchids from the flower shops. When purchasing orchid gifts, you need to make sure if the roots are strong enough, because strong roots mean healthy orchid which will have longer life. On the other hand, look at the leaves. If the orchid leaves are smooth and shiny, it means the orchid has enough water and nutrition to stay healthy and vice verse. Last but not least, check if the flower petals have black spots, strange colors or even poisonous insects as well as the smells of flower mud in the pots, sometimes the earth in the pot can have rotten smell if they are not changed for a long time.
Tips 2: How to water and fertilize orchids?
Watering:
Orchids are tropical plants, but most of us can't provide the same environment for them to grow in our home. Therefore, knowing when and how to water the orchids is important. It is best to use the tap water or rain that are collected and store for a day or two to water the orchids. When is the best time to water orchids? In summer, when the temperature goes up, it's best to water the orchids in early morning or late evening; in winter, when temperature drops, it's best to water them before noon. In short, more water in summer and less water in winter. One of the good ways to keep the orchids healthy is by spraying water, it we avoid watering the petals, the flower won't wither so quickly.
Fertilize:
Apply orchid fertilizer once a month, because the mud of orchid flower is not as thick as ordinary flower mud, a thin layer of orchid fertilizer is enough, and suspend fertilization after flowering.
Tips 3: What kind of temperature and sunshine are best for orchids?
Temperature:
As mentioned earlier, orchids are tropical plants. They like high temperature and humid weather. The temperature during the daytime is best to maintain at 25 to 28 degrees while at night time is 18-20 degrees. But remember that, too high or too low temperature will inhibit the growth of orchids.
Sunshine:
One of the most important elements to make orchid bloom is sunshine. Orchids prefer indirect sunshine, so the early morning and late afternoon sunlight are the best. Although the growth of orchids requires sunshine, direct sunlight is actually harmful to them as it can burn orchids and leave black spots on the petals. Then how do you know if your orchid receives sufficient sunlight? Check the leaves to get an answer. Light green leave means healthy; dark green leave means lack of sunshine; yellow, brown or red leave means excessive sunshine.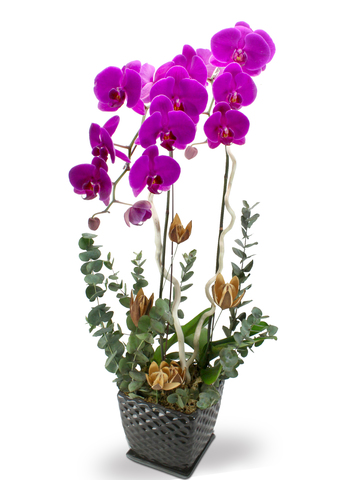 If your orchid has similar symptom like we mention in the article, try the above methods. For beginners who are planning to buy orchid gift pots, this article should be of some help for you!
Do you want to buy high-quality orchid potted plants; Give Gift Boutique Flower Store orchid page has a lot of gift choices for your reference.
This is a Hong Kong GGB original '
How to Care For Orchids? 3 Tips for Caring For Your Orchids
' blogpost.