Kikkerland is an American design company that sticks to creative original designs. The gift products of Kikkerland are fun and practical. Since the establishment of the company in 1992, Kikkerland employees have visited many places around the world to find more inspiration to make more novelty gifts in the hope of bringing more happiness to the gift recipients.
The name "Solar-Powered Rainbow Maker" reminds me of Doraemon from childhood; Doraemon's treasure bag always has a lot of magic things, If Doraemon really exists, he is sure to have a Solar-Powered Rainbow Maker inside his treasure bag.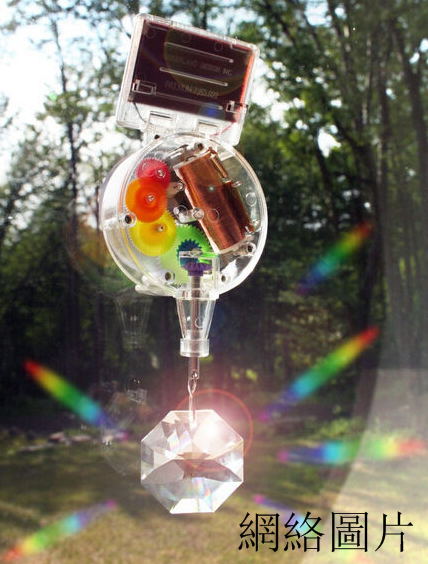 There's no need to charge the Solar-Powered Rainbow Maker, as long as you put it under the sun, it can work perfectly-such a practical and environmental friendly gift. Together with the rainbow maker, there hangs an exquisite Swarovski crystal; when exposed to the sun, the crystal will refract light with the sunlight. At the same time, the solar power moves the motor and the crystal rotates with beautiful rainbow color. It is indeed a creative and meaningful gift.
The rainbow effect around the room is not to be overlooked; it's a gift great for cheering up a room. Each Solar-Powered Rainbow Maker comes with suction cup, just hang it facing the sun, the Swarovski crystal creates rainbow effect in all directions, which makes the whole room different-it's like a rainbow dream come true!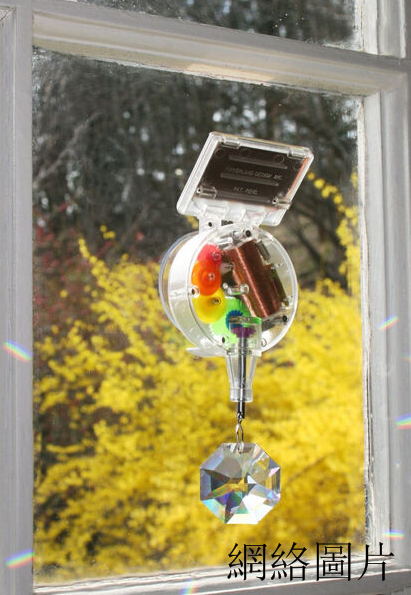 I believe that anyone who sees the Solar-Powered Rainbow Maker will be attracted by its novelty and creativity. If you want to own one of this, you can have it right here, right this moment.
Hong Kong Give Gift Boutique Flower Shop has introduced this special creative gift to our more than 2000 gift collections. We carefully chose the imported Japanese Yuzu Sake, personalized preserved flower arrangement as well as a beautiful house-shape plastic box and GGB folded gift card to accompany the Solar-Powered Rainbow Maker to design the Relax gift box R11.
This gift basket is suitable for a wide range of gift recipients. For example, gift for friends, baby gifts, and gift hamper for colleagues. This Solar-Powered Rainbow Maker is not only creative but also practical. It can be ordered now on Give Gift Boutique website. No registration is required, one click online and you could start shopping. Order directly online and our staffs will contact you as soon as possible and arrange quick delivery service to send this special gift to your doorstep.
This is a Hong Kong GGB original '
Dreamy Gifts-- U.S.A Kikkerland Solar-Powered Rainbow Maker
' blogpost.