It wouldn't be Chinese New Year without an abundance of food to ring in prosperity for the coming year but if you're not familiar with the tradition it's hard to know what to eat or to bring if you're attending a dinner, let alone the significance or the meaning behind the dish. So here are some popular Chinese New Year foods that are consumed and enjoyed here in Hong Kong during the Spring Festival.
Poon Choi (盆菜)
This is a dish that has its origins in the New Territories in Hong Kong. This dish was often served and shared within walled villages during festivals and celebrations, such as Chinese New Year. The dish has been eaten in Hong Kong since around the 7th century and is said to have originated during the Song dynasty. Poon Choi consists of a large amount of seafood and meat that is served and eaten out of one large basin. Villagers would bring their best meat, seafood and dried seafood to be eaten and shared with the village and after each dish is cooked, the food is arranged meticulously in one large basin, often with the delicacies on top. Poon Choi can now be eaten just about anywhere in Hong Kong from high-end Michelin star restaurants to fast food.
The foods included in the general Poon Choi are:
Main: pork, chicken, goose, duck, dace fish, shrimp, crab, abalone, sea cucumber, glue, etc.
Side: oysters, fai choi, pork skin, dried eel, squid, lettuce, Chinese cabbage, etc.
The reason to eat Poon Choi: because the symbolic meaning of Poon Choi is good. It is related to a congratulatory message which means to wish you earn "a full of pot'' of money in the upcoming year. Originally a traditional delicacy from the walled villages in New Territories, poon choi now has become a must-have dish for people in Hong Kong during the Chinese New Year.
Rice Cake (Nin Gou 年糕)
This sweet and sticky treat is a must have for Chinese New Year, I mean, it's right there in the name: nin gou (年糕 ) which, literally translates in English as "new year cake". Nin gou (年糕) also has a double-meaning, as it also sounds exactly like nin gou (年高), meaning "year high", adding another element of prosperity to ring in the year. This is a widely eaten dish across China and Hong Kong with a variety of different styles. Traditionally Cantonese-style rice cake consists of rice flour mixed with hot water and brown sugar (in Cantonese this translates as hung tong (红糖), "red sugar" and red is an auspicious colour for this time of year). The dish is then steamed to a chewy and gelatinous perfection and is often topped with dates. This delectable treat is a must try if you have never had it before.
Fruit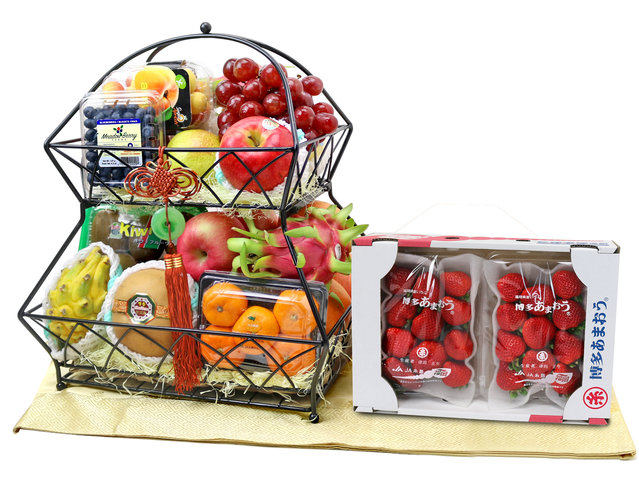 Fruit is a popular gift and item to have in your home or business during the Chinese New Year. Mandarins, tangerines, apples, grapes, pomelo and oranges are the most popular fruit as they symbolize gold or wealth. Many businesses in Hong Kong will lavish their entrance ways and reception areas with this vibrant fruit, though I would not recommend eating from these plants as they are grown purely for decoration! Pomelos and grapes are another favourite as they symbolize abundance while apples symbolize wisdom or peace.
Turnip Cake (Lok Bak Go 蘿蔔糕)
Now bear with me, for those Western readers that may have had some bad experiences with turnips in Western-style dishes (like ones you might see at Thanksgiving) I beg you to try a turnip cake as the name is deceiving. The dish does not use Western-style turnips but is actually made with a Chinese radish called daikon(白蘿蔔/大根). This savory and fried cake is unlike any radish you've eaten before. Shredded radish is mixed with rice flour and water along with a variety of other savory seafood spices. In Cantonese-style, the cake is then sliced thin and then pan-fried so that it has a thin crispy layer on it. This dim sum staple becomes popular during Chinese New Year as they symbolize the radish "Be promoted to higher and higher positions" (步步高陞).
Candy Box (Cyun Hap 全盒) - Tray of Togetherness
These beautifully decorated boxes are brought out every Chinese New Year and are never supposed to be empty during the 15-day celebration. These lacquered boxes will usually have six or eight (lucky numbers) compartments in them and are filled with dried fruits, nuts, seeds, chocolate coins and other sweets, each with their own symbolic meaning. Cyun hap 全盒 translates as candy box or candy case and cyun 攢=全,means to "to bring together and perfect" so this candy box is often referred to as the Tray of Togetherness.
Sweet Rice Balls (Tang Yuan 湯圓)
Traditionally these glutinous rice flower dumplings are filled with either sugar, sesame paste, sweetened red beans, sweetened tangerine peel or osmanthus flowers and then served in bowl of sweet syrup, like ginger syrup. Modern sweet rice balls can now include fruit pastes and chocolate. This dish is often consumed during Chinese New Year, weddings and other celebrations as its name is a homophone for union (團圓).
What foods do you want to try? If you're looking for great gift ideas for Chinese New Year, Give Gift Boutique Hong Kong has been providing New Year's hampers and delivery, online flower delivery, same day flower delivery and rush flower delivery in Hong Kong, Macau, and Guangzhou for both Western and Chinese clients since 2008. For questions, orders, and requests please contact us!
This is a Hong Kong GGB original '
Mouth-Watering Chinese New Year Eats
' blogpost.