Hong Kong Give Gift Boutique flower shop always likes to share flower knowledge with those who love flowers; today we would like to share with you the noble and elegant tulips. Tulips have the symbolic meaning of women praise; therefore they are suitable as flower gifts for mothers to help sons and daughters to express their gratitude. What's more, Tulips can be used as romantic gifts to send love and praise to your loved ones. Is Tulip simply a kind of flower? Definitely not! There are many interesting stories behind it. If you want to know more, please continue to read the following information.
As we all know that tulip is the national flower of Netherlands, and there was a legend about it from long time ago. Once upon a time, there was a beautiful and kindhearted girl who was pursued by three excellent men at the same time. Each man was full of confidence that the girl would choose them as they brought her the most precious treasure to win her heart. The heroic knight took out his sword; the wealthy merchant took out his gold; and the prince used his crown to express his love. However, then kindhearted girl didn't know which one to choose and she didn't want to hurt any one of them. So she asked the fairy of flowers for help. After the fairy of flowers learnt her problems, she decided to turn her into a Tulip. The sword was turned into a leaf, the crown became a flower, and the gold turned into a rhizome. This is the origin of tulip.
The Tulip flower meaning is: loving, considerate, elegant, rich, capable, intelligent and kind.
White tulips - pure and innocent romance.
Pink tulips - love forever.
Purple tulips - endless love, loyal love.
Yellow tulips - cheerful.
Red tulips - love confession, joy, passionate love.
Black Tulip - the crown of mystery, nobleness, unique leader power, honor.
Bicolor tulip - beautiful you, happy together.
The origin of tulip is quite controversial, it is generally recognized that the origin of the tulip is Turkey, and the tulip is also the national flower of TurkeyThe biological name of the tulip is Tulipa, which has the same beautiful meaning as a Turkish girl with a turban in Turkish. And tulip became the national flower of Turkey earlier than the Netherlands. It can be concluded that the Turkish people's preference for tulips is no less than the Dutch people.
The bloom time for tulips is early, basically they bloom from March to April each year, and the flowering period lasts for three to five months. Each flower can last for about 7 to 8 days which is exciting. For those who want to go to the Netherlands to see the flowers, you will be happy to know that you won't miss the tulips as they have good flowering periods.
Tulip is a suitable floral gift for mothers to express you love, but it's also a unique and exquisite gift to give to wives, girlfriends or friends. The Tulips Box Flower 1 from Hong Kong Give Gift Boutique is made up of purple tulip, vtwo tone hydrangea/green hydrangea and white Ammi Majus; all the flowers are nicely placed in an elegant heart-shaped purple gift box which showcases a sense of luxurious. This flower box will be a lovely gift to ladies from the gentlemen. If you feel that the gift box is a bit dull with only flowers, you can choose the Tulip heart with Ducd'O box flower. It's a heart shaped leather box with 18 to 20 tulips, and you may choose the colors you like; together with the renowned liquer chocolate Ducd'O in a wooden gift box, it's time to surprise your special someone.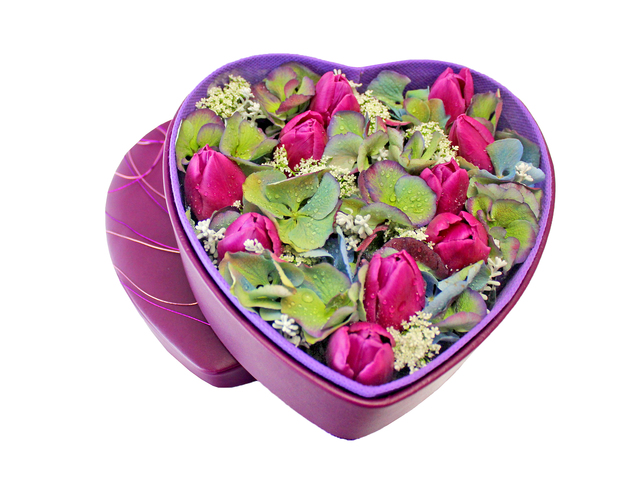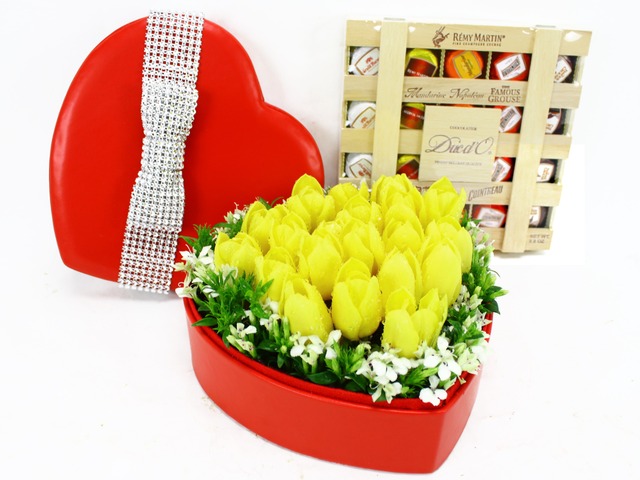 For more information about box flowers; flower bouquets; gourmet gift hampers,please visit our Hong Kong Boutique website.
This is a Hong Kong GGB original '
Tulip Facts and Stories
' blogpost.