Francfranc is a home furnishing brand from Japan. "Life is always young and fun, and so is design" is the concept of the founder Mr. Yoshio Takashima. Because of that, Francfranc is more concerned about the integration of vitality and artistic elements in daily life, which makes Francfranc highly recognized by the public. Among the many home furnishing brands in Japan, Francfranc is the most popular one loved by girls. It has a unique style and focuses on high-quality details; moreover, it combines fashion with practicality which makes the brand so well-known in Japan. There are many Japanese celebrities who are fans of Francfranc, and the Francfranc gift products are often seen in Japanese TV dramas.
Francfranc aimed to create colorful, creative home furnishings and home accessories to help customers fulfill their dreams of having a comfortable home, so it has many loyal customers who follow its trend. Hong Kong Give Gift Boutique gift shop introduced this popular brand to our gift collection for our customers and designed many beautiful packaging gift hampers, which makes it easy for people who love Francfranc to give their favorite gifts to those who also love this brand. GGB sincerely recommends you this Francfranc skincare gift basket S14.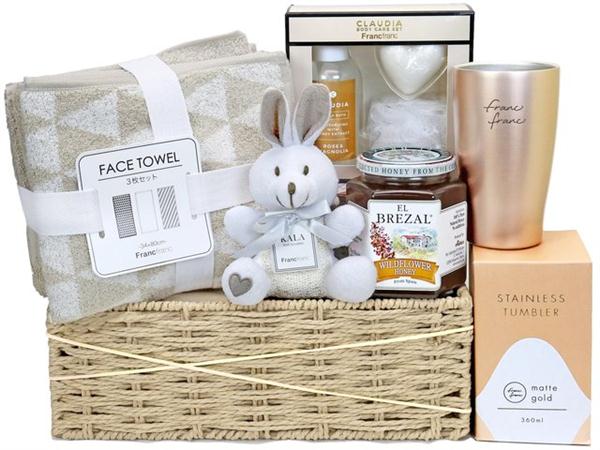 The Francfranc skincare gift basket S14 contains 6 items (including container) with brands El Brezal.
1. Francfranc Claudia body care set
2. Francfranc face towel 3pcs set (34x80cm)
3. Francfranc KALA Bath Scrubber Rabbit
4. Francfranc STAINLESS Tumbler matte gold
5. Spain El Brezal Natural Honeydew 500g
6. Brown hand-knitted gift basket
For those who love Francfranc gifts or want to send a Francfranc skincare gift basket gift basket S14 to a friend who loves this Japanese brand, please visit our HK GGB website. Order directly online and our staffs will contact you as soon as possible.
This is a Hong Kong GGB original '
Francfranc Skincare Gift Basket
' blogpost.