In our garden we have a lovely row of English lavender shrubs alongside the driveway - beautiful to look at and a delight to the sense of smell.
This species is called "lavendula angustifolia", one of about 30 species of lavender.
It is a hardy plant which can grow almost anywhere except in extremely cold damp climates, as well as hot humid climates, as it has a tendency to mildew if damp.
The only watering ours gets is from the rain. The flowering season is very short, at their peak of beauty for only about 2 or 3 weeks from late December to the middle of January. During that time I gather the flowers for the home and for drying. The perfume wafts through the house and is absolutely delightful.
Many wonderful uses have been attributed to lavender and was known for medicinal uses back to Roman times 2000 years ago , (maybe even earlier) - many claims made but not all proven!
The English variety such as ours, is the only one that can be used in food, and the dried flowers are sometimes added as a flavouring in tea biscuits, cakes and ice-cream.
Years ago we owned a farm on which we grew a large variety on lavender which we put to many uses, the most important being lavender oil.
Lavender oil is an essential oil used largely in the cosmetic industry. We extracted the oil by steam distillation.
To extract the oil, the freshly cut flowers, stalks and leaves are put into a steel drum. From a large steam bath, steam is passed through the container of flowers it rises through the plants and the oil is released. The steam and oil pass through it into a pot where the oil is separated from the water as it rises to the surface. The precious oil is then stored for some months to mature, later to be put to various uses.
The oil has a calming effect - just a drop on the temples or on the pillow is relaxing as one retires to bed for a good night's rest.
The dried flowers are a lovely ingredient to potpourris, and if put into sachets to be placed amongst clothing and linen they perfume the cupboard as well as a deterrent to moths.
I make soap, and like to put a few drops of oil in it to give it a pleasant smell. Sometimes I also add a few dried flowers.
When we had the farm I also made candles which I decorated with pressed dried lavender set into the wax they were very pretty.
Lavender oil is also nice in hand cream and widely used in the cosmetics.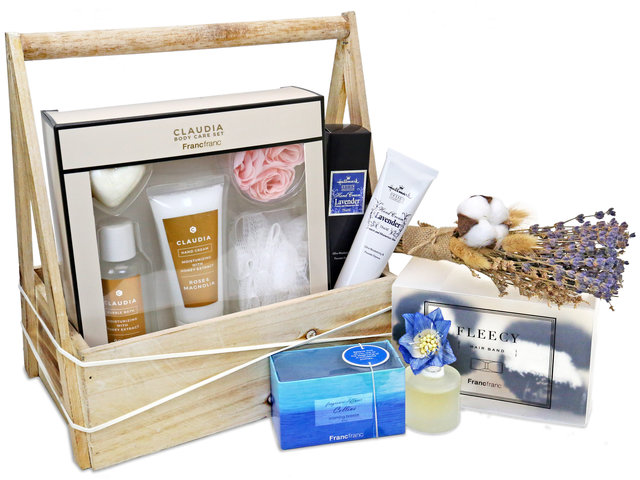 I still have some of the oil we distilled which I have shown in the videos.
Heat packs are very popular for soothing aching muscles. I like to make them with a length of fabric sewn together into squares and rectangles. I fill them with dried wheat and lavender. Warmed up and placed on the aching area is very nice as well as enjoying the perfume of the warmed lavender.
In the video the heat pack is green underneath and white and green check on top. The cakes of soap are in front of it. They are all a pleasure to share as gifts so I always keep some on hand.
This is a Hong Kong GGB original '
Here is my little story about lavender
' blogpost.