If you've ever walked down a street in Hong Kong it's hard to miss the occasional large and beautiful flower displays on stands or baskets in front of a businesses on its first day of opening. Having grand opening flowers is a long standing tradition in Hong Kong as they are used to send grand opening flowers messages of congratulations, best wishes, and to bring good fortune to the business owner and their new business. Typically these grand opening flowers are larger and more elaborate than your standard bouquet and they are placed either on a wood or metal stand. Accompanying these lavish flower arrangements are congratulatory messages and sometimes elaborate fabrics or ribbons that can be used in a ribbon cutting ceremony.
Having an expert florist plan and put together the perfect grand opening stand is an essential if you want top-notch, fresh, and colourful flowers that are perfectly catered to the business and their ventures. Bringing the best quality gift sets a great precedence for the business going forward. Give Gift Boutique Hong Kong has a wide variety of unique and popular grand opening flowers that are ready to bring in the celebration.
This grand opening flower stand is perfect for any spring business opening. Lush spring flowers make up this stand including pink roses, pink lilies, Gerber daises, purple icicles, and more with accompanying greens. This grand opening flower stand is about 6ft in length and will come with a custom message board.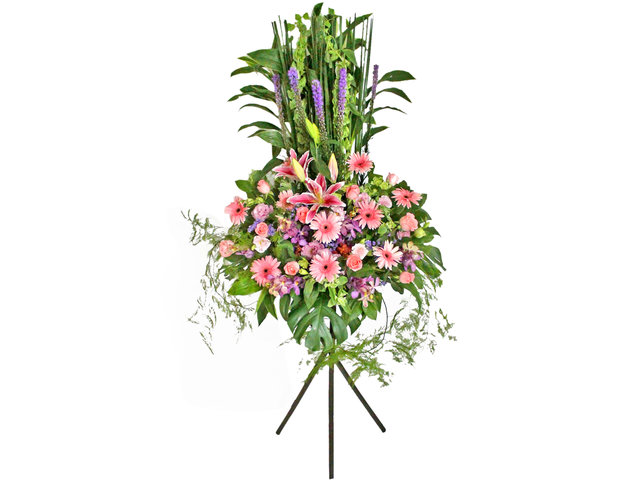 This Japanese-styled grand opening arrangement focuses on the bright and auspicious colour of yellow making it appropriate for all Chinese businesses. The stand includes the beautiful birds of paradise flower, along with green anthurium, yellow dancing lady orchid, Gerber daisies, and eustomas. This stand is approximately 5ft in height and can have custom message board attached.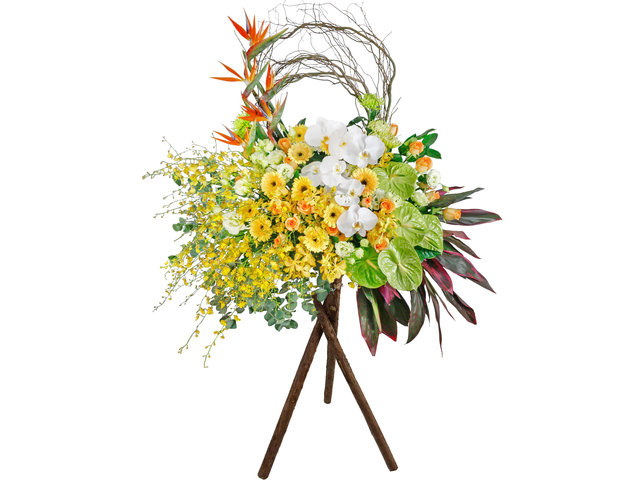 This congratulatory basket is approximately 4ft in height and contains lush arrangement of pink hydrangeas, green anthurium, pink oriental lilies, avalanche roses, liatris, eustoma, and accompanying greens with a circular arch which would look lovely adorning the opening of a fresh new restaurant or café.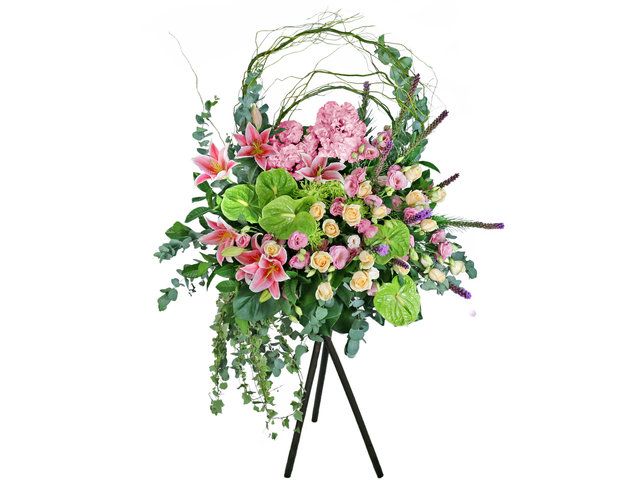 This large congratulatory stand is perfect for elaborate openings and celebrations with a large basket of flowers on the top and an accompanying smaller basket on the bottom. This arrangement would look fantastic in front the opening of a formal business like a bank, lawyer's or doctor's office. This congratulatory stand includes, hydrangeas, sunflowers, roses, alstroemeria, Thai red orchids, and matching greens.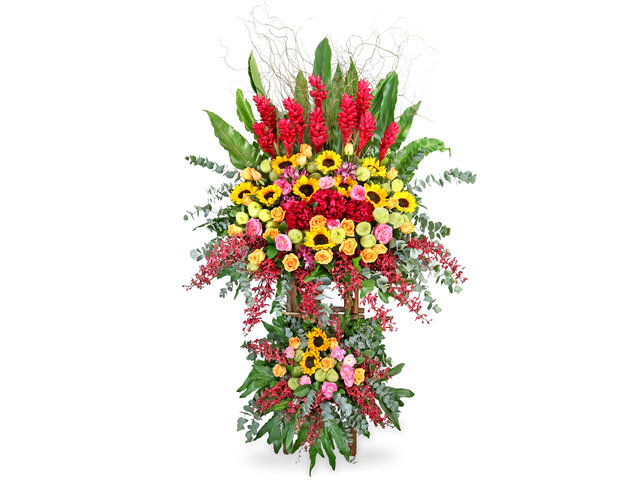 Vibrant pinks and reds are the focal point of this congratulatory basket which is made up of overarching orchids, Gerber daises, roses, and Leucadendron which would be suitable for opening of luxurious types of businesses such as a hotel, beauty parlor, or spa.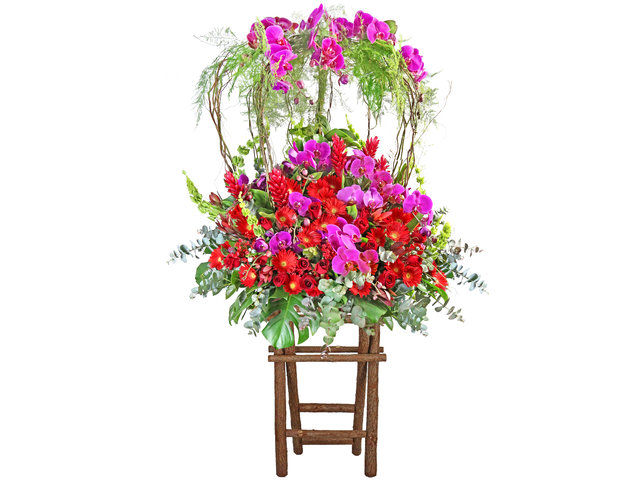 The champagne anthurium in this grand opening flower stand is really unique and adds a flush of wonderful pastel colours that would appropriate for beauty and feminine inspired businesses. The stand also comes with phalaenopsis Aphrodite, roses, mokora, and matching greens.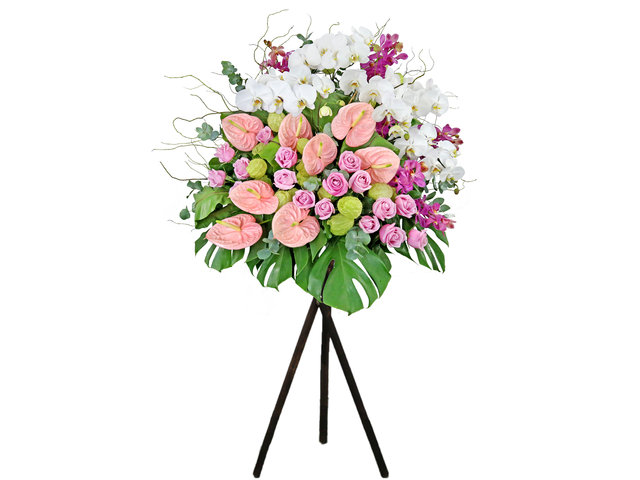 This is a Hong Kong GGB original '
The Best Grand Opening Stands
' blogpost.