Sending flower gifts is one of the methods modern Hong Kong people use to socialize with others, however, for different occasions we should send different style flower gifts. It's important to understand what floral gifts to send for different social settings. This time GGB Flower Shop takes the opening flower basket as an example to explain the dos and don'ts of sending flower baskets.
What do you need to consider when sending a grand opening floral stand?
People in Hong Kong like double numbers, because they have the saying of "good things come in pairs and double the happiness". If the gift recipient is our close family members or friends, we can choose to send a pair of flower baskets to them to express our heartfelt wishes. If it is a congratulatory gift between two companies, you may choose to send one flower gift or a pair of elegant flower baskets to them to show that you value the partnership and look forward to the future cooperation.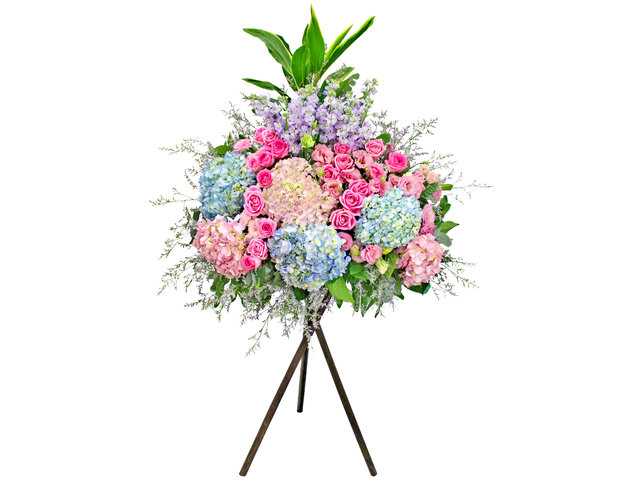 The Hong Kong Give Gift Boutique flower shop grand opening flower stand is made of Pink Hydrangea, Blue Hydrangea, Pink rose, Pink Eustoma, Light Purple (Lilac) Stock, Sea Lavender and the matching greens. The whole flower basket is natural and refreshing, suitable as gifts to send to relatives and friends as grand opening / congratulatory gifts.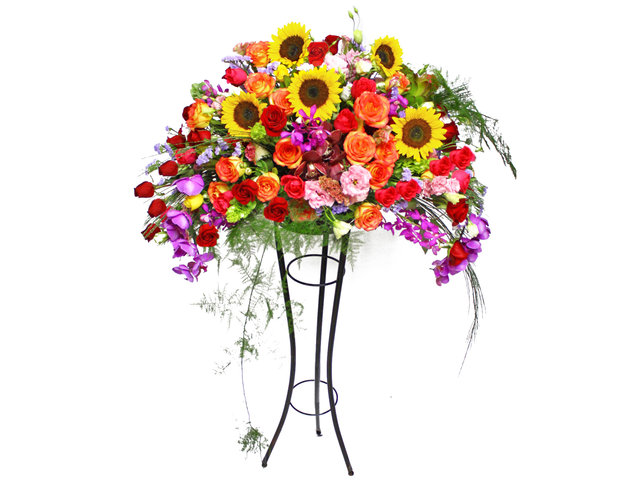 Hong Kong florist Give Gift opening ceremony flower basket stand is one of our brightest and the most colorful floral gifts. The grand opening floral stand is around 1.4 meters tall; the basket uses sun flower, roses, eustoma and carnation of various colors and the flowers are nicely arranged on a specially made metallic stand. It is eye-catching, elegant and generous- the first choice for business corporate gifts.
What kind of flower is suitable for the grand opening flower basket?
Affordable choices: Lilies; Gerberas; Hydrangea; Sunflowers; Anthurium.
Valuable choices: Phalaenopsis Orchid; Imported roses; Amaryllis.
(The specific price depends on the number of flowers and the size of the basket)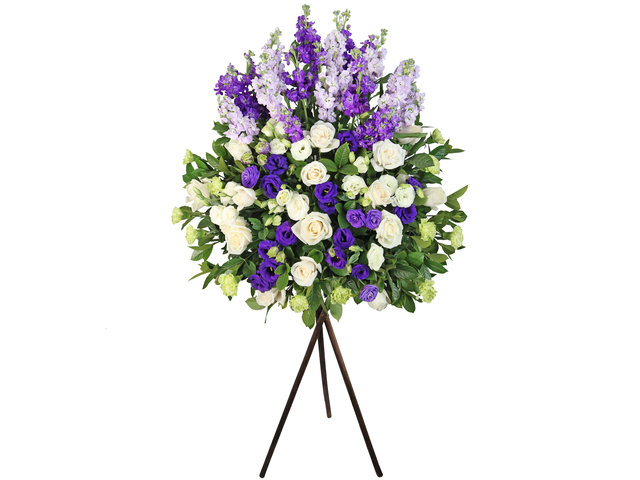 This Opening florist Basket BG21 is made of Stock flower; Eustoma; Rose; Carnation; matching greens. The elegant purple color perfectly matches the pure white color, low-key but luxurious sense.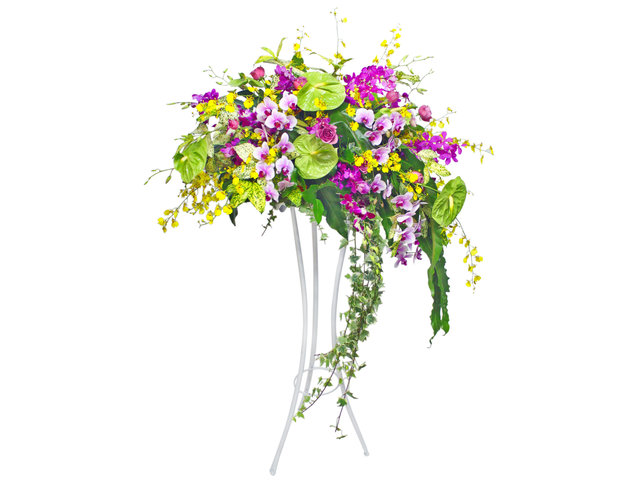 From the Give Gift flower shop neo-design flower stand collection. Embodies elegance and prosperity, this grand opening stand uses Orchids, Lanchenalia, Green Anthurium, Compacta leaves and the flowers are placed on the metallic stand. This flower gift is perfect for grand opening celebration, performance and exhibitions.
What are the taboos for sending a flower basket?
For some traditional Hong Kong businessmen, they sometimes can be quite "superstitious." As most flowers have their own flower languages, it will be a big mistake to send an inappropriate congratulatory flower basket to others with the wrong messages. Some flowers are very beautiful, like mandala and chrysanthemum, but they are not suitable to use as flowers for opening flower baskets. The language of the mandala flower is infinite love and revenge, representing unpredictable death and love, and the purple mandala represents terror. Chrysanthemum symbolizes purity and elegance, but now it is mostly used for funerals, so the above two kinds of flowers should be avoided in the joyous events like grand opening ceremony.
For more gift selection of Grand Opening / Congratulatory Flower Stands, please visit the GGB website.
This is a Hong Kong GGB original '
Taboos for Sending Flowers Baskets
' blogpost.