On festive occasions more than ever one thinks of one's dear ones far away. Mid-Autumn Festival is coming. Give Gift Boutique florist and gift shop is here to help you express your emotions by sending gift baskets.
What is Mid-Autumn Festival?
According to the traditional Chinese lunar calendar, August is the second month of the autumn. And at Mid-Autumn Festival, the moon is the brightest and the roundest which in Chinese language indicates family reunion. Furthermore, family members and loved ones who are away in other places will go back home on this day to get together and see the older ones in the family. Therefore, the Mid-Autumn Festival is also called "Reunion Festival". As for the young people, the most delightful moment is to enjoy fruits and moon cakes while appreciating the beautiful moon on this special day. Thus, GGB would recommend that enterprises send gifts to clients on Mid-Autumn Day. In fact, it's popular nowadays for companies to send corporate gifts to their business partners to maintain business relationship and express gratitude for the successful cooperation during the year.
For these reasons, our Give Gift Boutique gift shop launched hundreds of Mid-Autumn gift hampers for your selection. These Mid-Autumn gift baskets are not only nicely designed with the most popular mooncakes gift like Hotel Peninsula Mid-Autumn Egg Custard Mooncakes Gift Box and Maxim's Lava Custard Mooncakes, but also have all kinds of imported fruits as complements. Moreover, we have professional packaging masters and delivery team at your service, Give Gift flower shop deliver gifts to your doorstep and give them to your loved ones and help you express your best wishes.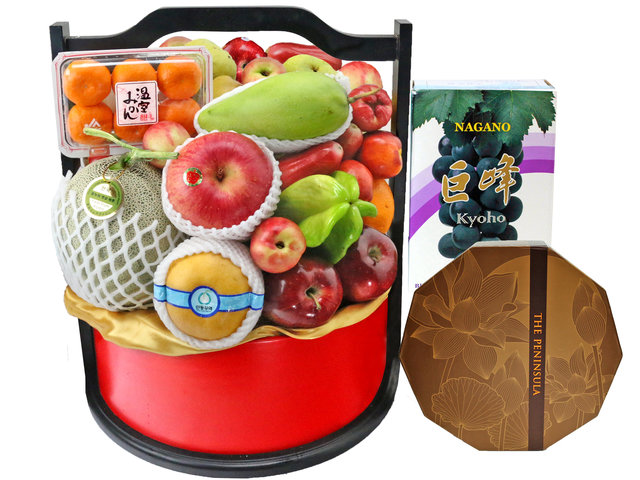 Give Gift online flower shop can not only deliver gifts to your families and friends in Hong Kong and Macau, but also to Taiwan, mainland China ,Malaysia and Singapore. If you are an oversea student or working abroad, you can order our special Mid-Autumn gift hampers and MAF fruits baskets easily on our website
After placing your orders, our customer service staffs will contact you by phone, email or whatsapp and send confirmation email for you to settle your payment. After receiving your payment, our florists and fruits packaging team will pack your gift products nicely and on schedule. At last, we will arrange trucks and drivers to deliver the gift hampers to your recipient's doorstep within the specified time.
If you are ordering a number of gift hampers to companies as business corporate gifts, you don't have to fill in the order form one by one. You may choose the bulk order form to place large quantity orders, please visit our website: Give Gift Boutique bulk order form
Are you excited about such a convenient way of sending gifts? As the Mid-Autumn Festival approaches, Give Gift flower and gift shop recommends varieties high quality moon cakes and fruits baskets for you, visit the GGB online gift shop for more MAF fruit baskets now, we offer satisfying flower delivery service and hope to help you express your love to dear ones with the unique Mid-Autumn gifts.
This is a Hong Kong GGB original '
expressyour emotions by sending gift baskets on MAF
' blogpost.