Flowers add colors to nature and sentiment to life; flowers do not bloom for people, but people will be happy because of flowers. One of Hong Kong's top 10 best online flower shops ----Give Gift florist gathers world-famous flowers to add vigor and vitality to your life.
At the time of July, Give Gift flower shop recommends the July birth flowers ---Hydrangea.
Hydrangeas, also known as Viburnum macrocephalum or hortensia; the word "tedious" is never the right description of this unique variety with dreamy colors, which are determined by the pH value of the soil in which the plant grows. For Hydrangeas that grow in acidic soil, they tend to bloom in blue colors; the ones that grow in alkaline soil will likely to have red pink color blossom. In this case, hydrangea can change colors over a rainy night due to its soil pH difference. What an interesting pH indicator in nature!
Because Hydrangea flowers can change colors due to different levels of pH in soil, it was given the negative symbolic meaning of "fickleness" and "capriciousness". However, the Hydrangea flower clusters are in ball shapes and thus related to flower languages like "unity" and "completed". Such a contradiction makes hydrangea not the flower of July, but the flower of Gemini. If you have a chance to send flowers to someone in July, we highly recommend you to choose the hydrangea bouquet, of course, attaching the correct flower language is important too.
As a local flower shop with traditional Chinese background in Hong Kong, Give gift Boutique florist sincerely recommends you this beautifully decorated hydrangea bouquets.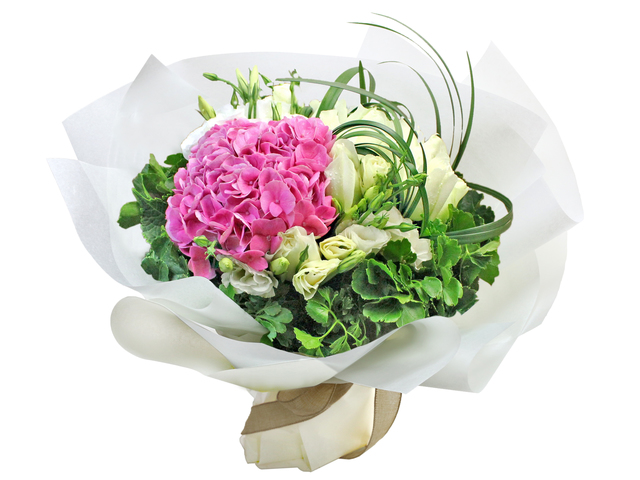 France style Hydrangea Bouquet RD33. The pink hydrangea symbolizes hope, the white roses represent pure love, and ten roses mean perfection. This bouquet is in simplicity style without losing the colorful elements- the best wishes and the first choice to confess your love to someone.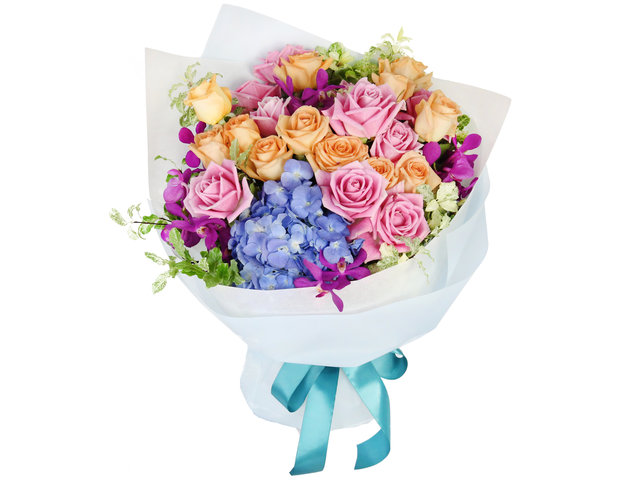 France style Calla Lilies florist gift RD43 Blue hydrangea symbolize romance, the plentiful and colorful overall shape matched with roses which represent love. It is suitable for sending to your lovely her at any time, refreshing your love journey and indicating that your love will last forever.
Visit Give Gift Boutique Hong Kong flower shop website for more Hong Kong floral delivery service. We have thousands of Fruit Baskets, Gourmet Gift Hampers, Grand Opening and Congratulatory Flower Stands for you to purchase.
This is a Hong Kong GGB original '
Flower of the month for July ---- Hydrangea
' blogpost.