The Mid-Autumn Festival is not only a good chance for family members to get together, but also the right timing for companies to strengthen business relationship with their partners. In order to say thank you to the customers for their trust and support, further impress business partners and maintain good cooperation relationship, many companies like to order Mid-Autumn hamper as the thank you gifts for their long-term clients. However, most Mid-Autumn mooncake hampers have similar styles that can cause the recipients to neglect some small details in the gifts which are used by the gift senders to convey emotions. To solve this problem, Give Gift boutique designer team creates many innovative designs in Mid-Autumn fruit hampers and mooncake hampers with more impressive and stylish appearance.
First of all, our exclusive design "PANORAMA" Mid-Autumn Moon Cake Fruits Gift Box.
Our GGB designer got her inspiration of this fruit box design concept from the high-end fruit stores while she was traveling in Europe; she found those eye-catching fruits were perfectly displayed on the slanted shelf and customers could see them in their best shape and increase the desire to purchase. After optimizing this design idea, designers made this unique "PANORAMA" gift box with environmental friendly man-made leather bound wood with slanted display-shelf design, allowing a majestic full view of all items. What's more, with the convenient movable inner layer, the wine, the mooncake, the fruits and other gift products can be placed separately, thus protecting them from getting hurt or scratched by the moon cake gift box. On top of that, traditional cellophane is replaced by special transparent gift box lid to protect the gift hamper. The size of the new fruit basket is larger than the traditional one, and its golden interior make it looks more elegant and exclusive.
In addition to that, our gift shop especially designed the luxury double layer gift box, and one of our highly recommended one is the high-end baked painting gift hamper. Apart from the upper layer to put fruits and gift items, there's a drawer at the lower layer with a surprised gift inside; when you pull out the drawer, you can see a box of moon cake, and after finishing the moon cake, you may continue to use the gift box as a storage box.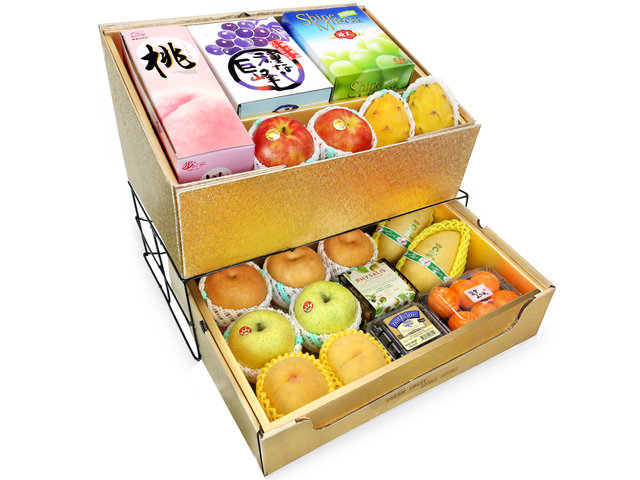 Mid-Autumn Festival is coming soon, Give Gift Boutique will keep launching more innovative Mid-Autumn mooncake gift hampers and fruit baskets to make your gift hamper more special and tasteful so as to leave your clients a good impression. To see more special Mid-Autumn festival gift baskets, please visit GGB florist gift shop. Order now for our Mid-Autumn corporate gift hampers immediately before they sold out!
This is a Hong Kong GGB original '
What corporate gifts to send in Mid-autumn festival? GGB got you covered!
' blogpost.