Hong Kongers are known for their long and hard working days. At the end of the work day, when it's time to get off the MTR and unwind at home before getting up to do it all again the next day, it's important to take the time for some self-care. No time for the spa? No problem! Give Gift Boutique Hong Kong Florist has all the at-home spa items you'll need. Whether it's for yourself, spouse, grandparent, or friend, these special spa treats are sure to help melt away stress no matter what work throws at you.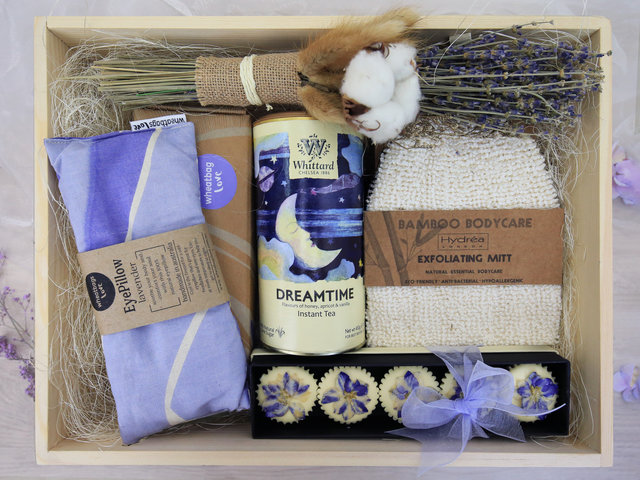 Struggling catching some zzz's? Or maybe you've got a loved one that spends too much time on their phone and can't quite seem to keep a healthy sleep routine? Then this is the gift set that you need. Start the evening with scented bath melts and an exfoliating mitt to scrub away the day, along with a nice big mug of dreamtime tea. With dried lavender by your bedside and a lavender eye pillow to comfort your eyes, you'll be sure to fall into a deep and restful sleep.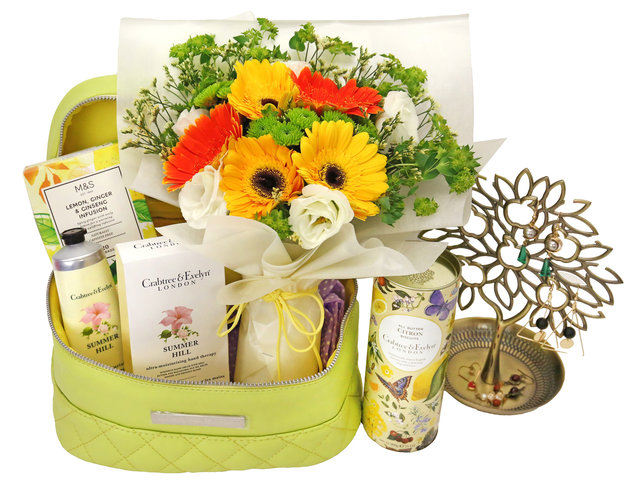 Looking for a gift for some of the hard-working ladies in your life? This Crabtree & Evelyn gift set is the perfect way to give them a much needed time out. This set comes with a lovely bouquet of fresh flowers, Crabtree & Evelyn Summer Hill moisturising hand cream, crisp vanilla flavor biscuit curls, a Crabtree & Evelyn earring stand and beauty bag, as well as tea from Marks & Spencer's.
This Francfranc skincare gift set is a cute little care package that would make a nice mid-week surprise gift, especially if delivered. It includes a face towel, a Claudia body care set, wildflower honey, a rabbit scrubby, and a matte gold stainless tumbler, all inside a reusable wicker basket.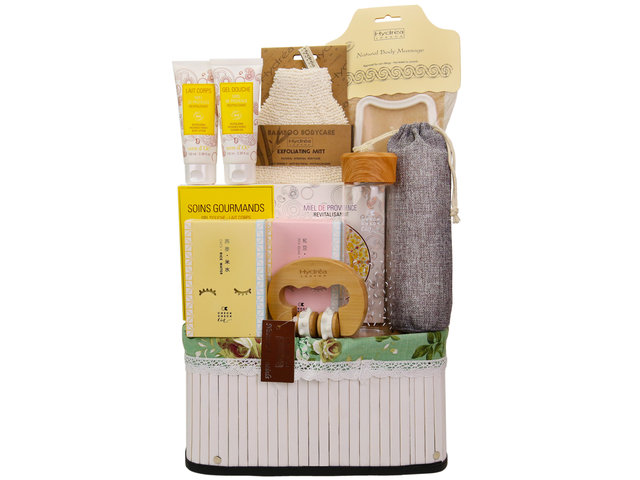 This premium relaxation set will be sure to put a smile on a loved ones face as it has everything they'll need to wash away the stress of a long day. This set includes an exfoliating mitt, a bamboo loofah back exfoliator wrap, as well as a wood hand massager to pamper the skin and muscles. This set also has a 3-piece set of shower gel, lotion, and massage balm from terre d'Oc Gourmet. To top it off, it also comes with rice water and rice bean sachets to detox and relax the inside and outside of the body.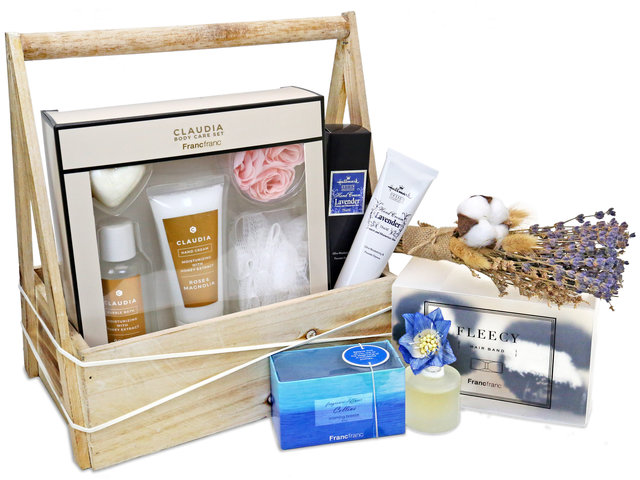 This spa and gift set will have it's recipient smelling divine! Perfect for the ladies, this set comes with fleecy hairbands from Francfranc, a small bunch of dried fragrant flowers, a Claudia body care set, Colline Room Fragrance, and lavender scented hand cream. This is gift that's sure to treat all the senses!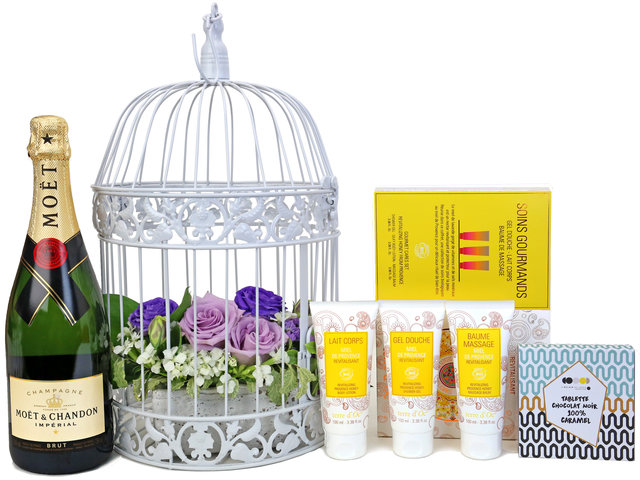 To get the real spa feel at home, a gift set needs to have champagne. This gift set comes with Moet & Chandon as well as a few decorative and relaxing items to set the mood. This set also includes a 3-piece body care set from terre d'Oc Gourmet, 9 pieces of L'Éclair de Génie Chocolate, as well as a decorative bird cage with floral arrangement inside.
This is a Hong Kong GGB original '
The Best Gifts to Treat Your Loved One to an At-Home Spa
' blogpost.