Fish maw is the dried swim bladder of a fresh sea fish. It is one of the four luxurious traditional Chinese dietary supplements, with the same popularity as abalone, ginseng and bird's nest. The fish maw is rich in collagen and micronutrient, low in fat- ideal for those who are looking for high protein and low fat food.
Fish maw is mostly used for cooking soups; the high quality ones can be used to make a nice cuisine. The fish maw soup has a special sticky and smooth texture; it is also rich in collagen which is good for both men and women. Collagen makes up 70% of the protein in skin and helps to form a healthy skin appearance. When we get older, the production of collagen begins to slow down, so the skin can become fragile and less elastic. Supplementing with collagen on time may help you improve your skin's collagen level and stay healthy. Fish raw is also a kind of food that can make your stomach healthy. For example, the collagen in it can improve digestive health and heal digestive problems like bloating, gas and constipation.
Nutritious food and health care products are the best gifts for the elders in your family. Whether it's for older family members as birthday gifts or a hostess gift, it is decent and heartwarming. It's also a nice gift for mothers on Mother's day. Hong Kong Give Gift Boutique recommend the traditional Chinese gourmet gift basket for everyone.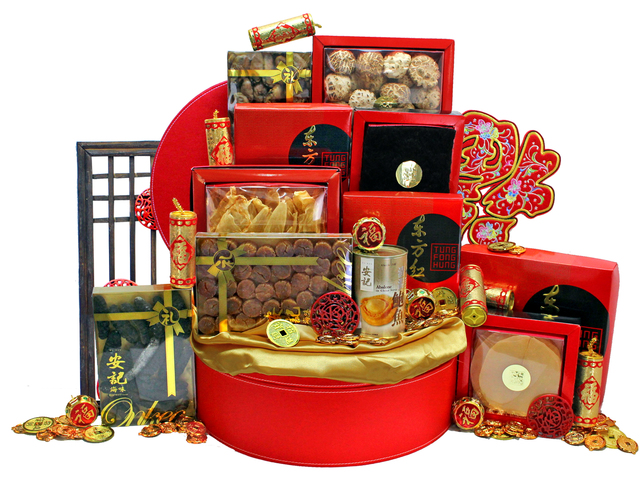 Give Gift Boutique Chinese sea food gift basket T22 is especially suitable for those who love making soup. In the gift set, there are different dried seafood selections from On Kee and Tung Fong Hung, including Fish maw gift box, Scallop, dried sea cucumber, Sliced Conch, Fat Choi and Dried mushroom. The various food ingredients are the best gift for making soup and preparing a cuisine.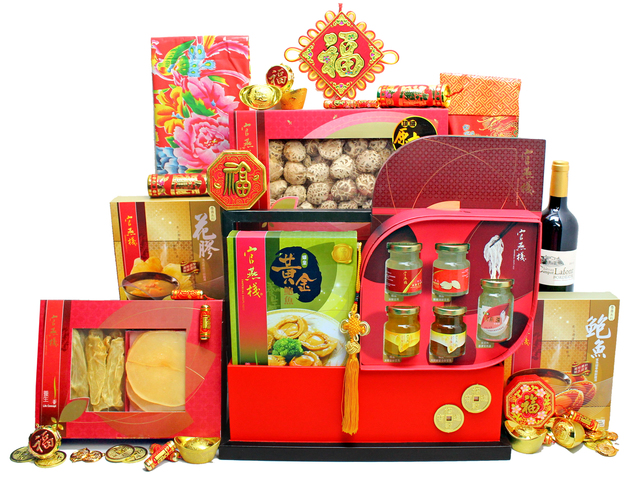 Hong Kong Give Gift Boutique Chinese Style Seafood Gift Basket T26. This gift basket is recommended to those who want to keep healthy and be beautiful. The gift hamper contains fish maw products that are rich in collagen. They are Imperial Bird's Nest premium mushroom and Swim bladder gift box; Imperial Bird's Nest Life Concept Fish Maw, Sea Coconut and Chicken Soup. The Chinese style seafood gift hamper is not only a nice gift to send to friends and families, but also a perfect betrothal gift for the pre-wedding ceremony. (We recommend the betrothal gift sets to be even numbers, to mean "good things come in pairs"). If you don't like fish maw, you could change it into Conch Slices and Selected Natural dried Mushroom gift box or On Kee Nourishing & Detoxifying Soup Mix. This gift basket also includes Imperial Supreme Royal Golden Silky Bird's Nest with Rock Sugar, Imperial Bird's Nest/Wai Yuen Tong Topshell Slices with Abalone Sauce and French AOC Chateau Campot Lafont red wine. It is especially suitable for those who have fast paced life and have no time to cook, also a sweet gift to send to girlfriend too.
If you have any questions, please feel free to contact us.
This is a Hong Kong GGB original '
The Ginseng of the Ocean—Fish Maw
' blogpost.