Natto is the traditional healthy food that can help you to live longer and healthier and has been passed down from generation to generation in Japan. It is made from fermented soybeans with Bacillus subtilis var. natto. Natto is rich in natural enzyme that can be extracted, which is nattokinase This wonderful substance can be helped to clean up the wastes and sticky substances in the blood vessels. Moreover, it also helps to block the formation of deposits, improve the viscosity of blood, and helps to activate the enzymes in the body. For decreasing the burden of cardiovascular, it is a potent vascular waste dissolving agent, an absolute vascular guardian. Its powerful antioxidant effect is also a natural anti-aging essence.
As people get older, the "garbage" in the blood continues to accumulate. If the vascular health cannot be regularly maintained, then the situation of narrowing the lumen and accumulating garbage will be getting more and more serious. At this time, you can consider eating some natto to alleviate. Hong Kong Give Gift Boutique recommends you this TYCOON Nattokinase (stronger version), it contains nattokinase and red peony extract. It also incorporates Japanese patented anti-aging ingredients: rice germ and soybean fermentation extract (rice bean extract). The scientific research has proved that the potent antioxidants can help to lower the "four high" (high blood pressure, high blood sugar, high blood fat, high uric acid), delay aging, and maintain cardiovascular and youthful skin. HK GGB uses a variety of selected Japanese healthy gifts to make into the health-care gift hamper J1.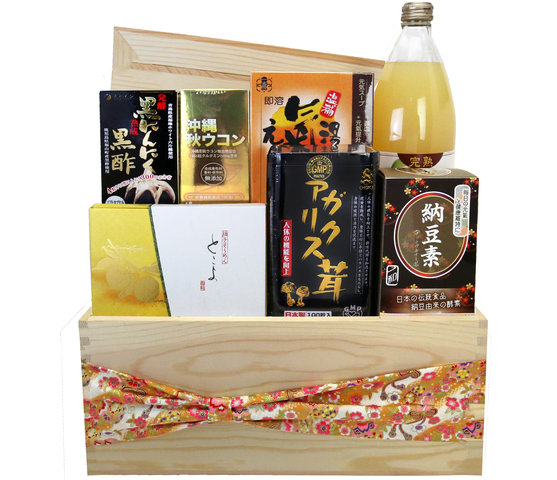 The Health care hamper J1 contains 8 items (including the gift box)
1. Japan Aomori, 100% Apple Juice
2. FINE Japan Black Garlic & Black Vinegar
3. Japan Okinawa Turmeric Capsule
4. Minamoto Kitchoan Citrus
5. Japan Genki Soup
6. CHOICE Japan Agaricus Extract Essence(100capsules)
7. TYCOON Nattokinase (60capsules)
8. Wooden rectangular Gift box with Cover
Looking for gifts to send best wishes and healthy ideas? Visit HK Give Gift Boutique Florist website to choose your favorite gifts for the important ones in your life. Order online now and we will get in touch with you as soon as possible.
Natto, A Heath Product From Japan
' blogpost.