Sunflower seeds are the seeds from sunflowers. When the sunflowers mature, we can take the seeds out from the seeded area in the flower head. After they are roasted or fried, they can be used as extra ingredients for desserts or become everyday snacks; also, the processed sunflower seeds are yummy and very appetizing. Hong Kong Give Gift Boutique flower shop has learned that in recent years, sunflower seeds have become the healthy food that is recommended by the nutritionists. Eating some sunflower seeds every day can help you absorb the daily Vitamin E you need; and the seeds can help to prevent aging cell, promote a happy mood, reduce risk for heart disease and improve your memory.
There are plenty of sunflower seeds on the market for you to choose from. They all have similar tastes and there is nothing too special about them. But this time, the Hong Kong Give Gift Boutique flower shop imported sunflower seed from Byron Bay, Australia will surprise you.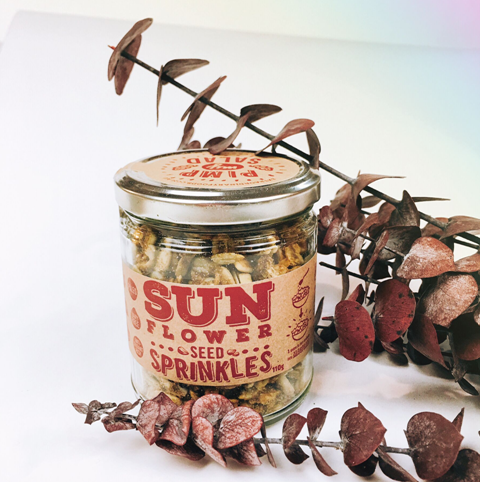 The packing of this sunflower seed is the classical one- glass jar with metal lid. The red color font letters on the cover match perfectly with the golden seeds in the glass. This sunflower seed gift is gluten free, dairy free and not roasted; it is also rich in antioxidants, which makes it suitable for a wide range of people and the strict vegetarians.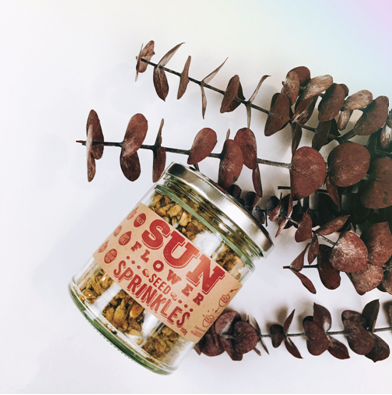 When you open the jar lid, you can immediately smell a rich flavor of nuts and spices. Each seed is wrapped with a mixture of spices, so it tastes differently from others. Just one seed in your mouth, you will be able to taste and feel the unique flavor of this sunflower seed gift.
Guess what, the one thing that surprises us most about this sunflower seed is its combination with salad. If you eat the seeds alone, it might be a bit salty; but if you add one tablespoon of sunflower seeds to the fruit/vegetable salad, you will be able to enjoy the most out of it, and it will bring the taste of salad to a new level.
If you have to eat salads to lose weight but don't like the bland salad lack in flavor, this sunflower seed gift from Hong Kong Give Gift Boutique flower shop will definitely help you.This is not just a simple snack food to recommend to you; it is a kind of healthy food that is rich in natural vitamin E. The glass jar is easy to carry around, and it can be a gift for those who want to have a healthy life style.
This is a Hong Kong GGB original '
The sunflower seeds from Byron Bay
' blogpost.