Yoku Moku is a traditional western pastry brand in Japan. It is highly respected and honored in Japan as its western cakes are considered the "treasure of the country". Yoku Moku gifts are the first gift choice when Japanese want to send gifts to others because they believe that the gifts have a symbolic meaning of identity and status. Yoku Moku has been making their desserts with hands from the beginning, so customers can still enjoy the most original taste until now. There are many gift collections of Yoku Moku brand, and Hong Kong Give Gift Boutique will introduce one of their "hero products" to you today, that is, Yoku Moku Cigar Cookies. It is been sold for more than 40 years and continues to gain its popularity among Japan and around the world.
The Origin of Yoku Moku.
The founding of Yoku Moku is an interesting story. The founder of the brand Mr. Fujisawa visited Sweden in Northern Europe in the 1970s and lived in a small town called Jokkmokk. The town is quiet and pleasant, and the people are very friendly and hospitable. In this environment, Mr. Fujisawa felt very touched and was inspired to create a kind of dessert that can bring people happiness and joy. Later, the name Jokkmokk became Yoku Moku, and that's how this unique brand was founded.
Does Cigar Cookie have anything to do with real cigars? What does a cigar cookie taste like?
Although its name is Yoku Moku cigare, it has nothing to do with real cigarettes; the only similarity could be that they are both rolled up. Mr. Fujisawa had high standards of the quality of the cigares; he insisted on using high quality ingredients like butter and cream that come from Hokkaido, as well as materials like egg white, sugar and flour. The cigare cookies taste crunchy and creamy with strong butter flavor, but they are not oily at all. When you try this dessert, try to go with a cup of green tea; because the freshness of the tea highlights the sweetness of the eggroll and makes it more enjoyable. From the materials selection to the production process, YOKU MOKU has always had exacting standards, so parents can trust their quality.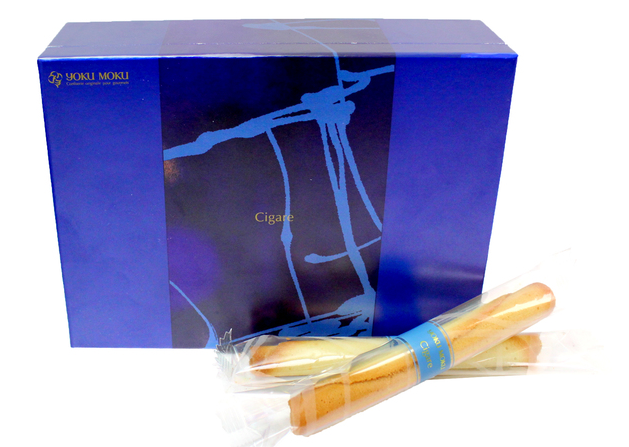 The packaging of the cigares is simple but delicate, and the packaging box is in royal blue color which represents a sense of low-profile luxury. The cigaras inside the box are packed individually; so they are beautiful and easy to carry around. These cigares cookies are made with love; they are the special enjoyment from the upper-class society, so the Yoku Moku cigares can be considered a light luxury dessert.
As a professional gift shop, Hong Kong Give Gift Boutique knows that this cigare cookie is a must-have souvenir when people travel to Japan. However, we can't always make time for a trip to Japan in our busy schedule. But don't worry. For the friends who love Yoku Moku cigare, Give Gift Boutique has made it available on our online store for you to order any time and anywhere. Whether it is a gift to friends or family; or a gift to reward yourself, Yoku Moku cigare is always a nice gift to send out.
If you want to know more about gifts in Give Gift Boutique, please visit our GGB website.
This is a Hong Kong GGB original '
Top Gifts in Japan, Yoku Moku Cigare Cookies
' blogpost.