Stuck on what to get someone for their birthday? If you've got a really difficult person to buy for, birthday sets and birthday hampers came make impressionable and appreciated Birthday gifts for that extra picky recipient or person who already has it all. Birthday gift hampers can come with a variety of birthday goodies, such as wine, chocolates, spa-care and of often times, flowers, hand-picked by some top-notch florists. You can have these birthday hampers specially delivered to the recipient to add to the birthday surprise. Give Gift Boutique Hong Kong Florist has rounded up some of their most desired birthday sets to help you make a loved one's birthday unforgettable.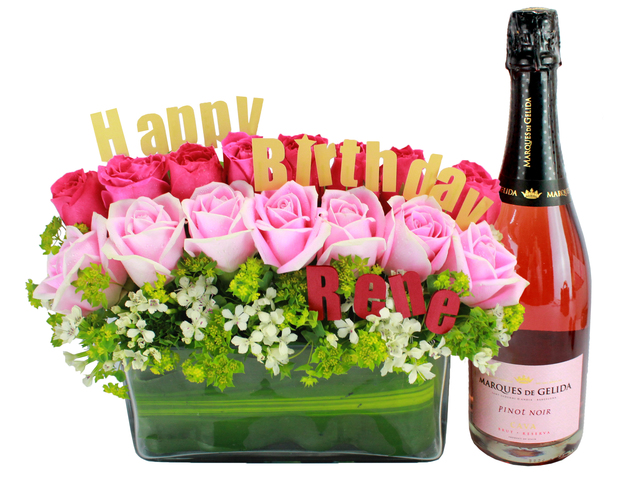 This classic birthday set is popular for a reason. Create a custom birthday message for the recipient and it will be placed on top of a gorgeous rose flower arrangement inside a reusable glass vase. Accompanying this stellar birthday flower arrangement is a delicious bottle of Marques de Gelida, pinot noir. This birthday set would do well paired with a box of chocolates or piece of jewelry too.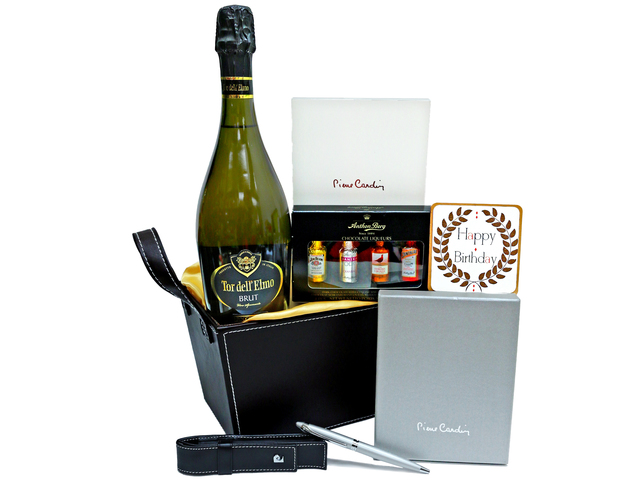 Men are notoriously difficult to buy birthday gifts for, aren't they? Thankfully this birthday set will leave both of you smiling. Inside Pierre Cardin birthday box, comes a bottle of Tor Dell Elmo Brut, a box of European chocolate liqueurs, a Pierre Cardin pen box set, a special metallic card with your custom birthday greeting, a locally handmade DIY tag, and all inside a reusable leather box with handles.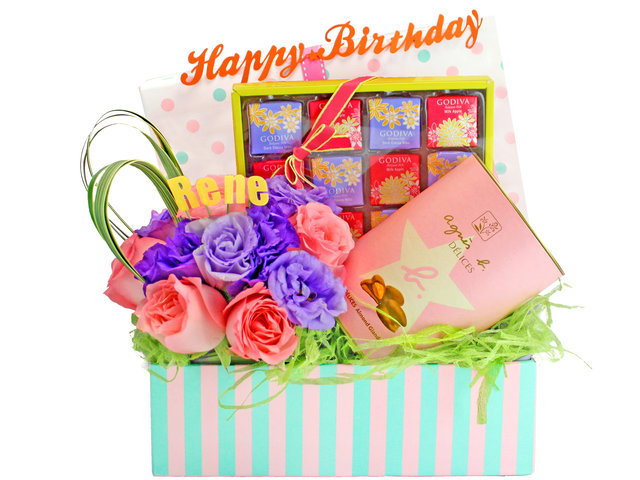 If you have a friend that is lively, bright, and sweet, why not get them a gift that matches their persona? This pastel coloured birthday set comes with a jewel coloured flower arrangement along with a delectable box of assorted Godiva chocolates, as well as some agnes b assorted cookies. You can customise the message with this hamper and have it delivered as a sweet surprise on your friend's birthday.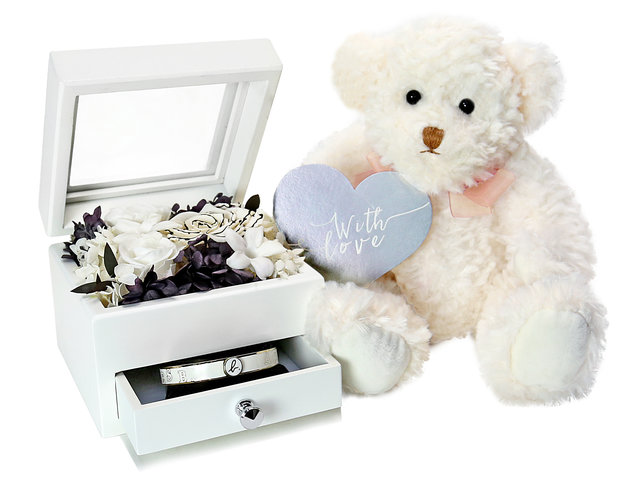 If you need a thoughtful and romantic birthday set, look no further. This elegant and cute birthday set is sure to impress. The white jewelry box keepsake comes with an agnes b bracelet that's topped with elegant black and white preserved flowers. Alongside the box, is an adorable Barnes & Coleman teddy bear. Any recipient of this romantic birthday gift set will be sure to squeal with delight!
If you need a refined birthday gift for a mom, grandmother, boss, or mature friend, this classic and elegant flower box is an excellent choice. Avalanche roses in creamy shades, along with eustoma and matching greens, fit perfectly inside this elegant flower box. Customise your birthday message with a personalised and handmade card that's ideal for surprise birthday flower deliveries.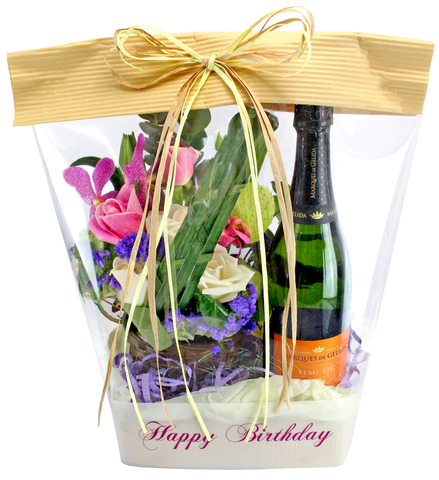 Showing up to birthday party and need quick gift? This classic, on-the-go birthday set is great for bring to a party or picnic and is a thoughtful gift for someone you may not know that well but would like to. It comes with a bottle of Marques de Gelida Semi-Sec, a desktop flower arrangement, inside a birthday greeting decorative bag.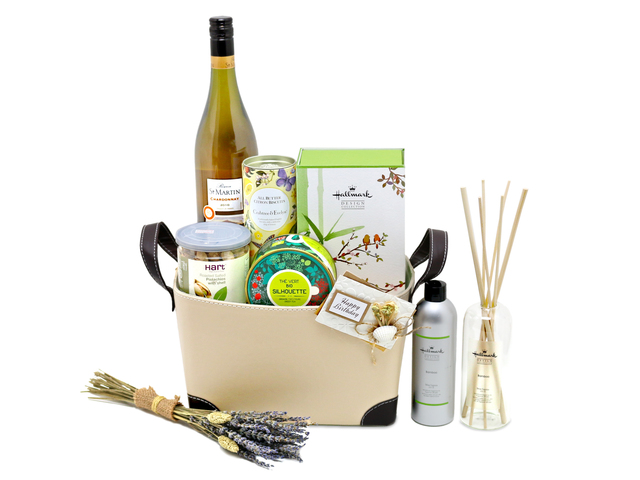 Sometimes we all need a break but it isn't always easy to take one with how busy most of our lives are. Birthdays are one of the few days of the year where you can stop to take some time for yourself. If you have a stressed out friend or loved one whose birthday is approaching, this is the perfect gifts for them. They'll unwind with this Hallmark fragrance set that comes with a reed diffuser that slowly releases a pleasant scent, a bottle of St. Martin Chardonnay Reserve, vanilla flavoured biscuit curls for a tasty treat, roasted salted pistachios, organic tea leaves, a dried bundle of lovely smelling flowers, and all inside a reusable tote with handles.
This is a Hong Kong GGB original '
Unforgettable Birthday Sets, Hampers, and Gifts
' blogpost.