About 200 years ago, Madame Clicquot innovated and re-created the process of making Rosé Champagne. Madame Clicquot loved the red-wine grape from the Bouzy region of Champagne and elaborated her own red wine from this area. She believed that the color, taste and aroma are essential to the quality of the red wine. And she thought that the traditional process of making rose champagne with elderberry added is not satisfying. In 1818, Madame Clicquot was inspired and decided to carry out her bold idea: to blend red wine with champagne. This creative idea resulted in the first known blended rosé champagne: Veuve Clicquot Rosé.
The blended champagne was a stronger rosé champagne with a fruity and full-bodied expression of the Veuve Clicquot style.
Veuve Clicquot Rosé Champagne is the representative of the House's blending savoir-faire. In order to bring out the flavor and characteristic of Veuve Clicquot Rosé Champagne, the cellar and his team of experts choose the outstanding red wine blended with still white wine. The blend was made using 50 to 60 different crus, the cuvee is based on Brut Yellow Label's traditional blend, 44 to 48 % Pinot Noir, 13 to 18 % Meunier, 25 to 29 % Chardonnay. As Madame Clicquot's favorite saying goes: ONLY ONE QUALITY, THE FINEST.
The Veuve Clicquot Rosé Champagne is now available on Hong Kong Give Gift Boutique online store. Here's the tasting note: coppery-orange color; expressive aromas of strawberry and very ripe wild strawberries- a full-bodied, structured, vinous palate which stays fresh.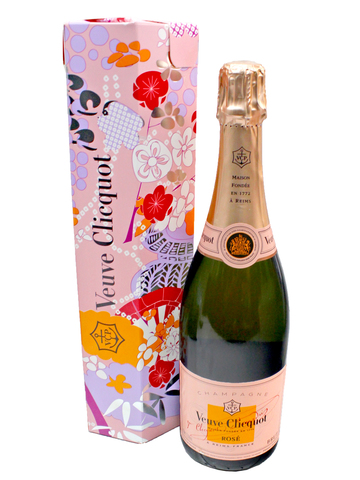 The full-bodied and fruity Veuve Clicquot Rosé Champagne goes perfectly with red fruits, cold cuts, duck, shrimp, smoked salmon or tuna. You may select fresh flower bouquets or fruit baskets together with this rose champagne as gifts for different occasions.
This is a Hong Kong GGB original '
Veuve Clicquot Rosé
' blogpost.