For casual and informal gift-giving, French styled bouquets are the perfect choice. They're thoughtfully arranged but also hold a relaxed and informal air that is perfect for those 'just because' gifting moments, making them very popular arrangements by florists and flower shops. What is it that really defines this flower design style and how did it come about?
History and Tradition
The flower style is rooted in French culture and tradition as flowers are generally given frequently and casually. French floral design has also been highly influenced by its history and politics. From the symmetrical but informal style of the Baroque period, the arched-designs of the Rococo period, the cool and delicate colours of the late 18th century under Louis XVI, as well as modern day influences. One thing that hasn't changed, is the minimal fuss approach to its simple, classic, and timeless flower bouquet appearance, and of course with its unique hand-tied technique to finish off the flower bouquet.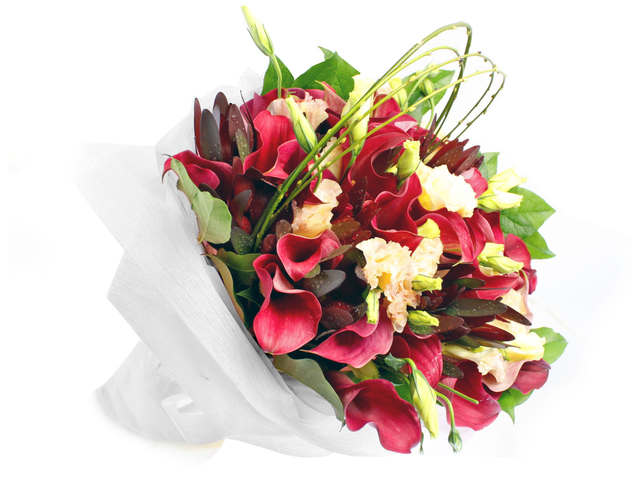 A French-styled flower bouquet with a red focal point of calla lilies, red Leucadendron, eustoma and arched greenery.
Modern French Technique
Modern French flower bouquet designs begin with an overarching theme or concept, which may be inspired by a season, a region, nature, textures, or a color. All of these elements must be considered when planning the bouquet so that it all comes together as a cohesive whole. French flower bouquets are dense and flower-filled but still appear light and with movement. Generally, French flower bouquets have one focal flower type, traditionally it has been the rose, with around two or three other flower varieties and sparing foliage. Colour selection is an essential component of the design with tonal, monochromatic, analogous colours, pastels, or bright colours being popular choices.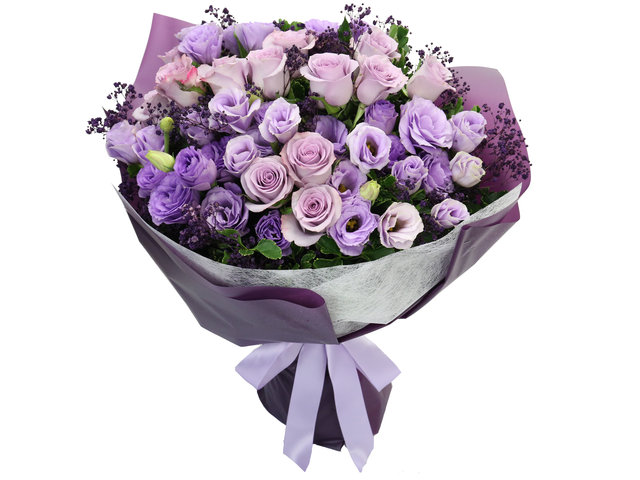 A French-styled flower bouquet of roses in monochromatic purples complete with matching hand-tied riboon.
How a French-Styled Flower Bouquet is Made
One the most distinguishing features of a French styled flower bouquet is its round hand-tying technique. Before the flowers are arranged and tied all the leaves, thorns, and stems are removed from the flowers for a nice clean appearance. After the stems are cleaned and trimmed, the hand-tying technique is accomplished by starting with some of the focal point flowers, generally the largest flowers first, and placing them in between the thumb and index finger and spinning the flowers in between them as additional flowers and foliage is added. Flowers are added at similar angles to achieve balance, for both colour and shape, on both sides. This twisting technique makes for a beautiful twist, or 'X' shape, of the stems. The bouquet is complete when it is just large enough to hold in one hand without being uncomfortable.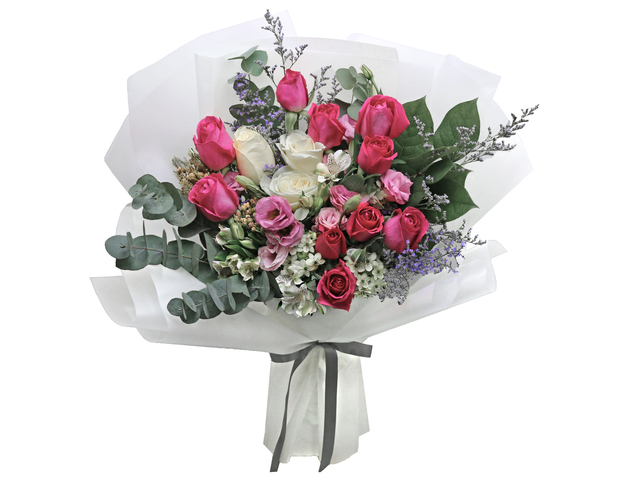 A French-styled bouquet of pink and white roses, white ornithogalum and alstroemeria with accompanying greens and tied-ribbon.
Need flower-giving ideas? Why not bring a classic French-styled bouquet to a party or a gathering of friends, or have a bouquet specially delivered to brighten someone's work day. Or even better, plan a romantic week-day dinner with a French-styled flower bouquet as a table centerpiece.
Order flowers today from Give Gift Boutique Hong Kong!
This is a Hong Kong GGB original '
What are French Designed Flower Bouquets?
' blogpost.