Summer is a good season for flowers to grow and bloom, wherever you go, you can enjoy sea of flowers with its pleasant fragrance. In this season, lovers, couples, admirers or other people like to purchase flowers in the flower shop or order flowers online to their significant half and express their love with the unique flower languages. However, do you really know about these flowers languages? Take bouquets of roses as an example, champagne rose has a symbolic meaning of "I love you only", light pink rose is the first love and pink rose is eternal love. There are many different kinds of flowers with a wide range of flowers languages. Therefore, our Give Gift Boutique florist would like to recommend two of the top-pick flower gift choices for you to send flowers in summer. The first bouquet is the two tone rose which can add to your sweetness in this summer.
Florist Roses Bouquet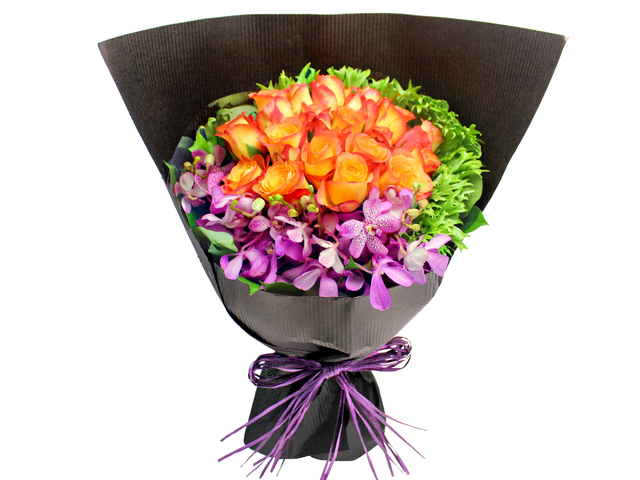 Compare with the single tone rose, the biggest difference of Kenya two tone rose is their orange petal with red fringe edges. The flower bouquet uses red as the main tone which gives you a sense of warmth, together with pink Mokora, it also conveys vitality and enthusiasm. The flower language of Kenya two tone rose is happiness and "my heart beat is moving with you." It is an adorable flower gift to women who are cheerful and positive, expressing that you are attracted by her charm.
Florist Decor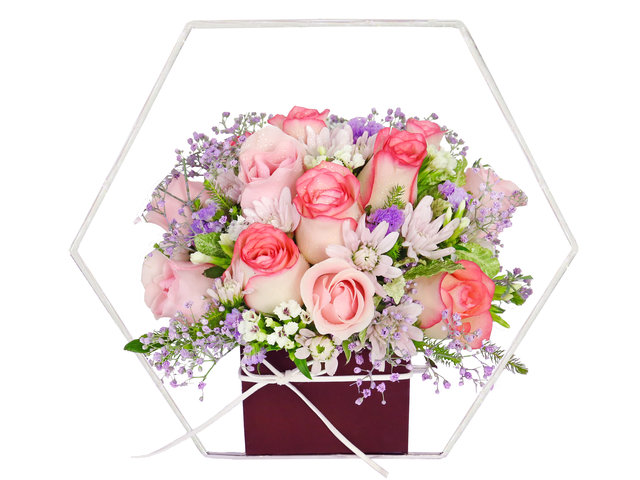 Apart from the commonly seen red roses, GGB professional florist brought in a brand new rose variety- the light pink rose, which is also named Miss-grass; it means you are so thoughtful and understanding and have a great connection with each other. This kind of rose sometimes has light pink petals and sometimes light yellow with dark pink fringe edges which looks pretty. Our florists would use pink Avalanche rose daisy, sylvatica and Gypsophila to offset the light pink rose. After that, the florist adds a metallic hexagon frame around the vase to make this Florist Decor RX02 flower decor more of an amazing artwork with unconventional style, innovative design and unique shape to draw customers' attention.
If you still have no idea what flower gift to send to your gift recipients, why not take a look at the two rose bouquets that we recommended. The more you know about the symbolic meanings of the flowers, the more precisely you can express your heartfelt feelings. In the following articles, Give Gift Boutique flower shop will continue to share with you more about the language of flowers and the information about buying the best flower gifts.
This is a Hong Kong GGB original '
This summer, I want to send you a distinctive bouquet of roses
' blogpost.