The Greater Bay Area is composed of two special administrative regions, Hong Kong and Macao, and nine cities in the Pearl River Delta, covering an area of approximately 56000 square kilometers. It is an international first-grade bay area that promotes the upgrading and transformation of traditional industries through digital construction and is suitable for living, trade and tourism. The Greater Bay Area spans the east and west coast, gathering a group of innovative industries with international competitiveness. With the deepening of cooperation within and outside the region and internationally, trade and connection will keep increasing. We did some research on the Mid-Autumn gift giving custom of different cities throughout the Greater Bay Area and the business etiquette, we are so excited to share our point of view with you here.
The [9+2] cities in the Greater Bay Area include Hong Kong and Macau Special Administrative Regions, as well as nine cities in Guangdong Province, including Guangzhou, Shenzhen, Zhuhai, Foshan, Huizhou, Dongguan, Zhongshan, Jiangmen, and Zhaoqing. Various historical cities, coastal cities, and prosperously developing cities have formed their unique customs and culinary culture based on the characteristics of Lingnan culture. As commonly agreed, eating moon cakes is the Mid-Autumn Festival tradition nationwide, and understanding the diverse cultural customs in different regions can help us choose more Mid-Autumn Festival gifts that match the local festival tradition.
Hong Kong and Macau Special Administrative Region
As highly international administrative regions and deeply influenced by Western culture and Chinese etiquette, the gift giving tradition of Hong Kong and Macao has a long history. On both native and western public holidays as well as important occasions, Hong Kong and Macao citizens are used to sending gifts to their relatives, friends, and neighbors, while companies prepare gifts for the employees, customers, and suppliers. Gift hampers are preferred, which includes various category, giving an abundant impression. Also, Gift hampers can deliver the best regards yet spare them the trouble of searching for a single suitable gift. A gift hamper are generally composed of five or more items, covering various categories such as delicacies, fruits, exquisite decorations, pastries, drinks, health supplements, flower bouquets, etc. As your may know, Hong Kong nurtured the creation of several well-known new moon cakes such as the egg custard moon cake, ice skin moon cake, and ice cream moon cake. These new moon cakes are quite popular in Hong Kong and Macau. A mooncake gift hamper that includes wine, food, and more might be a great gift option for Mid-Autumn Festival.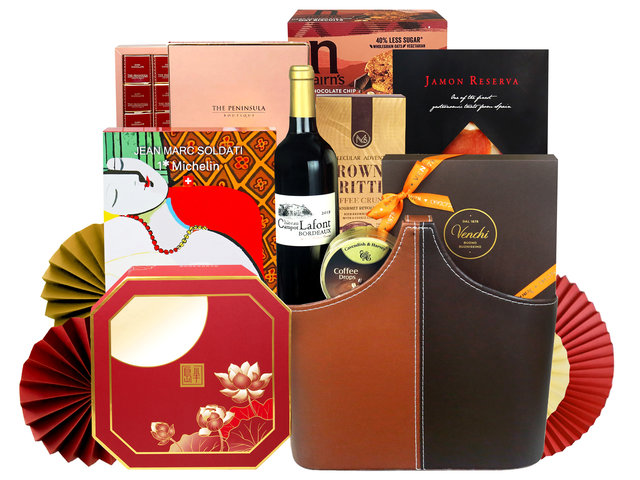 Guangzhou
Guangzhou citizens and their families gathered for a reunion dinner in the evening of Mid-Autumn Festival. After dinner, the elder family displays several seasonal fruits and moon cakes on the table and burn incense to worship the moon and pray. Traditionally, fruits and foods include pomelo, persimmons, bananas, carambola, taro, and water chestnuts. After the worshiping ceremony, the family shares the tribute and tasted stewed snails, enjoy chatting with each other till late night. Before Mid-Autumn Festival, people send their relatives and friends pomelo and moon cakes as present. The round appearance of a pomelo symbolizes reunion and completion, and "pomelo" sounds similar to "blessing", so that sending a golden pomelo means praying for the protection from the moon.
Related: Send Gifts from Oversea to Hong Kong
Shenzhen
Shenzhen is a multicultural fast developing city, where people from all over China settle here and celebrate Mid-Autumn Festival in their own way. Gradually, various customs unite into common customs of eating reunion meals, admiring lanterns, and enjoying moon cakes under the moon. Hakka makes a large proportion of the the population of Shenzhen and they like nut filling very much. The famous Hakka dim-sum "Chaguo" are made of fillings of black sesame, peanut chips, white sugar and coconut shreds. Regarding selecting gifts of Mid-Autumn Festival, the five -kernel moon cakes should be the first choice. We highly recommend the puffy and delicate dragon beard Candy dessert, it should meet the their taste and surprise them.
Huizhou, Zhuhai
Zhuhai and Huizhou are coastal cities. As an old saying goes, you live near the sea and you get your food source from sea. Thanks to the abundant seafood resources such as fish, shrimp, crabs, and clam shells, seafood is a common dish for local residents. On the Mid Autumn Festival, people enjoy deluxe seafood feast with their family and friends. White wine with fine texture and clear and thin acidity is perfect match with seafood, which augments the natural and fresh sweetness of seafood. In addition, sparkling wine and white ice wine are other smart choice to drink with seafood.
Foshan, Zhaoqing, Zhongshan
Burning a fire tower is an important tradition of Mid-Autumn Festival in many villages in Foshan and Zhaoqing. People pile up a tower to the height of 5-6m with hay, sawdust and bricks and then light it. Children sing and dance around the tower, while adults enjoy tea and desserts in the auspicious glow of fire. In Zhaoqing and Zhongshan, piggy cakes packed in "pig cages" is popular among children. It is made with the surplus ingredient of moon cakes and formed in the shape of a piggie, such a playful dessert for children. The woven rattan baskets used to pack gifts brings traditional sense and may recall great childhood memories of the recipients. The specialty of Zhongshan, Shenwan pineapple has a refreshing and sweet taste with little fiber, of which locals are so proud. When choosing cake gifts, pick a pineapple pie dessert soft, sweet&sour for your guests may make them happy.
Dongguan
The oil adding party is a Mid-Autumn Festival tradition in Dongguan. In the old days, people fill peanut oil in oil lamps for lighting. The tradition has developed and changed, nowadays shop owners hand out oil candles to children as well as blessing. Since oil candles and oil are gifts of blessing in Dongguan on Mid -Autumn Festival, be creative and add a piece of natural essential oil, avocado oil, or aromatherapy candle to the gift combination.
Business Etiquette of Preparing Mid-Autumn Festival Gifts in the Greater Bay Area
Maintaining New and Long-term Clients
Many companies consider sending Mid-Autumn Festival business gifts as a strategy to promote sales in the second half of the year. For first-time clients and intended clients, it's recommended for you to deliver the gifts by yourself. Here are two main reasons, firstly your clients will feel more surprise to see you than the delivery guy and consider themselves valued. Secondly, the meeting with clients provides an opportunity for deeper understanding and you may have a chance to invite them for lunch. As the business develops and expands, you should have accumulated a lot of long-term clients who have been supportive of the business yet it is not practical to visit everyone on Mid-Autumn festival and other festivals. You thoughtfully prepare great gifts for them on holidays and special occasions instead. The gift make them happy and feel important, in the meantime, reminds them of your reliable and delightful cooperation.
Preparation of Business Gifts for Recipients in the Greater Bay Area
A satisfying and surprising gift highlight two ways: firstly, it caters to the preference of the recipient. Secondly, the gift expresses sense of exquisite and sincerity. On Mid-Autumn Festival , you can prepare a gift hamper with mooncake and a combination of fine wine, exquisite cakes, tea, and imported cuisine, this classic option hardly goes wrong. If you could handle the cold chain delivery conditions, then seasonal fruits are welcome gifts too, but please make sure you carefully check the quality and freshness of the fruits before you send them out. When preparing gift for core clients, traditional seafood baskets can increase the value of your Mid Autumn Festival gifts with great sincerity. When you select gifts for a team, you should consider the nature of the industry. Office workers from technology intensive industries on the west coast of the Greater Bay Area such as electronics and medical equipment industry will want different gifts than those from knowledge intensive industry on the east coast of the Greater Bay Area, such as the internet and service companies. These companies handle different product and business type so that corporate culture and style varies. Gifts they don't usually see at work will more likely arouse their interest.
Create Luxury Atmosphere for your gift by Elaborate Packaging style and Design
You can create a luxury tone for your package by using different packaging materials, gift boxes, gift baskets, decorations, and display arrangement. Bespoke corporate packaging and products make your gift unique and help enhance brand recognition. GGB shared more business gift giving tips on how to enhance the quality of gifts by packaging, if you are interested, you could find our original posting| Tips&Tricks to Prepare Impressive Business Presents for Mid-Autumn Festival|.
This Interpersonal Facts Tells Whether to Prepare Gift for the Team or A Person Only
By designating the recipient on the delivery sheet and adding message on the gift card or gift board, you can easily distinguish a gift personal and a gift for the team. But more importantly, should you send gifts to the team or to individuals? There are some interpersonal fact in this matter you you should know. We suggest that when a project involves several team members, you should prepare gifts for the team and put in a standing gift board that wishes everyone Happy Mid-Autumn Festival. When you only contact a main person in charge of the project, you should prepare gift for the contact person and also the general manager of the project. Sending gifts to the residence may avoid unnecessary awkwardness. It's thoughtful to confirm the recipient's preferred receiving address before sending out gifts.
Give Gift Boutique Mid-Autumn Festival Business Gift Recommendation
Mid-Autumn Peninsula Moon Cake With Premium Chinese Gift Hamper FH117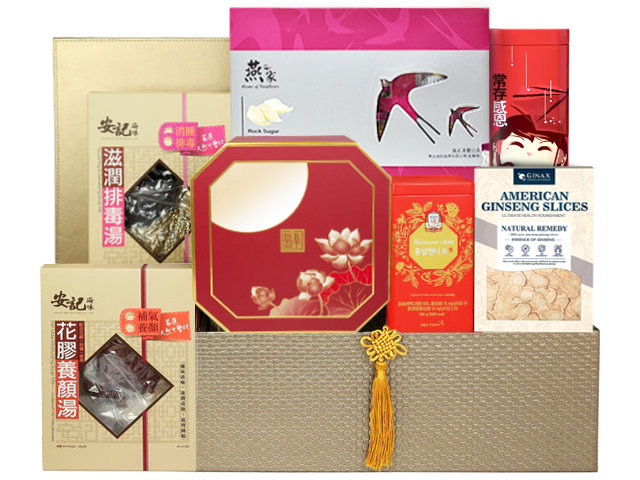 The health-boosting Mid-Autumn Festival hamper packaged with Chinese traditional style artificial leather box contains a series of precious nourishing ingredients, quite suitable to supplement in the dry&cool autumn. The items include Peninsula egg custard moon cake, Home Of Swallows stewed bird's nest In Jar, the energy and stamina boosting Korea Ginseng Corp Korean Ginseng Candy and American ginseng slices, Kee Wah traditional pear biscuits, and two Hong-Kong style stewed soup made of a number of nutritious and tonic ingredients, allowing the recipient to enjoy delicious food and improve physical fitness at the same time.
We have the honor to continue serving as the designated business partner of Peninsula moon cakes this year and deliver the HK exclusive deliciousness to 18 regions in Hong Kong, Macao, Greater Bay Area and mainland China. Our well established service center in HK, Macao and Guangzhou swiftly and flexibly respond to the needs of customers both domestically and internationally. Buyers based international go on researching for high-quality new products and add to our gift category. Over the past 15 years of service in Hong Kong, we have established a mature gift making, logistics, and customer service system and have become the prime option of gift service of many large, medium, and small corporation. On Mid Autumn Festival, we appreciate the same full moon and send sincere wishes to afar. Give Gift Boutique will give our ultimate support and help you explore unlimited business opportunities.
This is a Hong Kong GGB original '
Guangdong–Hong Kong–Macao Greater Bay Area Insights-Mid-Autumn Festival Gift Giving Customs and Business Etiquette
' blogpost.