The romantic Chinese Valentine's Day is around the corner, what gifts do you plan to send to your beloved ones? Summer Valentine's Day is sweet and romantic; even the air is filled with joy. On this special occasion, the lady must have been looking forward to the gifts that her boyfriend will give to her. Buying a gift for the girlfriend is simple, but getting the exceptional gifts full of love and affection is not as easy as that. If you really want to find the best Chinese Valentine's Day gifts to express love, the following gift guides of choosing the Double Seventh Festival Gifts from Give Gift Boutique will be helpful.
Top5 Sweetest Gifts of Chinese Valentine's Day
The sweetest gifts – chocolate and dessert
Which girl can resist the temptation of dessert?
1. Agnes B Deluxe Carré Chocolate 16pcs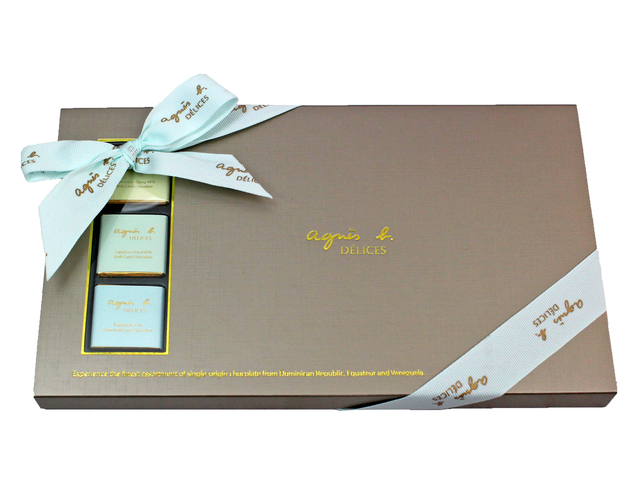 Agnes B Deluxe Carré Chocolate 16pcs
Milk Carré Chocolate 4pcs
70% Dark Carré Chocolate 4pcs
Earl Grey Dark Carré Chocolate 4pcs
Coffee Milk Carré Chocolate 4pcs
2. Paris La Maison Du Chocolat - 36 pieces chocolates gift box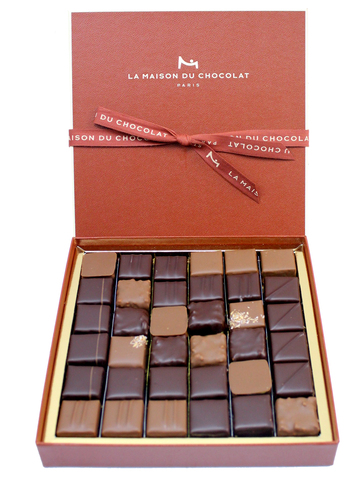 Different from Agnes B that has a wide range of business co-operations, Paris La Maison Du Chocolat is a well-known brand that specializes in premium chocolate gifts. The headquartered of Paris La Maison Du Chocolat is in Paris, so every box of Mason chocolates sold in Hong Kong market was imported from France. The delicate Mason Chocolate is called the Nobility in the chocolate world, and the founder of Mason Chocolate, Robert Linxe, is known as the greatest master of chocolate in the modern world. Mason chocolate's packaging is not fancy, but when you put one chocolate in your mouth and taste it with the tip of your tongue, you will feel the chocolate melting slowly- just like the first snow falls.
3. Godiva Carré Collection 60pcs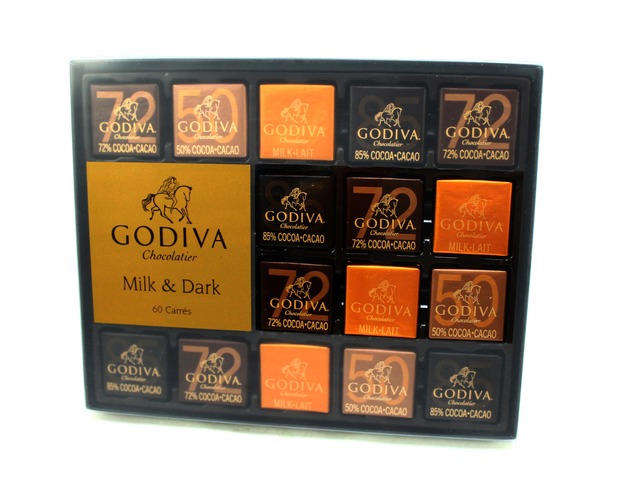 Godiva chocolate is familiar to many chocolate lovers. It is originated from Belgium, Europe and it is the royal family's chocolate brand of Belgian. The 60-piece Godiva chocolate gift set is unique; each chocolate is in a geometric square shape with the elegant golden and noble black wrapping paper, which highlights the sophisticated noble style. The chocolate gift box contains a variety of flavors, bringing unforgettable sweetness to the ones in love.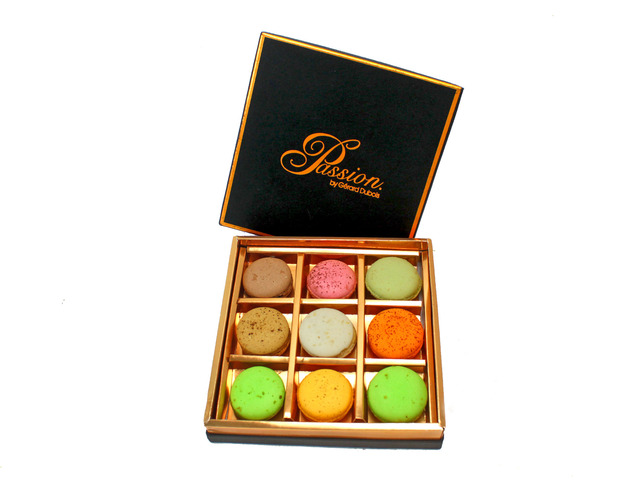 La Rose Noire is a dessert brand founded in Hong Kong by the Swiss dessert master Gérard Dubois. La Rose Noire selects the top raw materials to handmade the macaroons without any chemical additives. The aim of the brand is to bring the most original Western-style dessert macaroon to this oriental land Hong Kong. Macaroons taste soft, crispy and sweet, and the rainbow colors always touch many girls' hearts.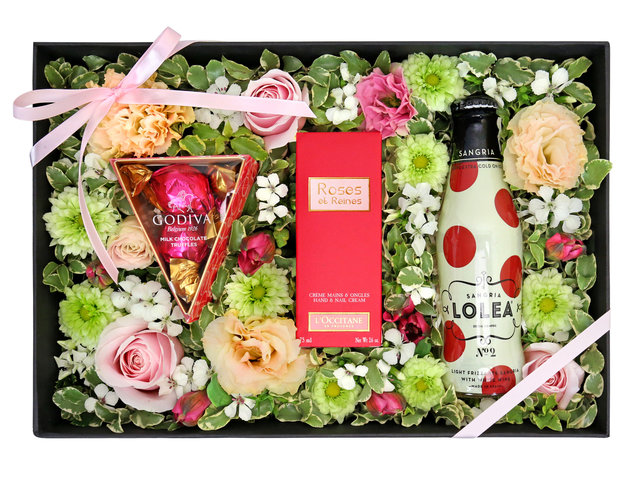 Rose arrangement gift box with the following products.
The Combo gift set 0123A1 contains 4 items (including container)
Spain, Sangria Lolea / Marina Espumante Sparkling Wine
Godiva chocolate truffles/Pretzels
L'occitane En Provence, Roses eb Reines, Hand & Nail Cream
Give Gift Boutique Gift Box in black colour (transparency cover)
Regarding the physical and mental needs of your girlfriend, this can be seen as a thoughtful and sweet gift set. The exquisite gift box is not only full of beautiful fresh flowers, but also has three practical gift items. They are the sweet Godiva truffle chocolate/chocolate butterfly crisp, the Spanish-style fruity sparkling wine and the L'occitane En Provence rose hand cream which gives your girl the tender loving hand care. Anyone that receives this considerate gift on Valentine's Day will definitely be impressed by your "well-planned gifting scheme".
The above are the Chinese Valentine's Day romantic gift recommendations from Hong Kong Give Gift Boutique Flower Shop. If you combine your gifts with fresh flowers bouquets or plush Teddy bears, you will be surprised to know that this conveys even better messages to the gift recipients. For more Double Seventh Festival gifts, please visit the GGB website.
Top10 Chinese Valentine's Day flower gifts of HK GGB
This is a Hong Kong GGB original '
Top 5 Romantic Gift Guides for Chinese Valentine's Day
' blogpost.