Did you know that there is a special flower associated with the month that you were born? The practice comes from floriography, the language of flowers, so each monthly flower is associated with different traits and meanings, similar to that of birthstones. Check out each of these associated birthday flowers to see which flower you, your family, and friends are associated with for some extra inspiration for that next birthday flower arrangement, celebratory gift, or even something sweet to treat yourself with!
Related: The Language and Meaning of Flowers
January – Carnation
Carnations represent admiration, hope, love and rebirth with each colour having their own special meaning. The carnation is a multi-layered flower, much like the distinct personalities of those born in January.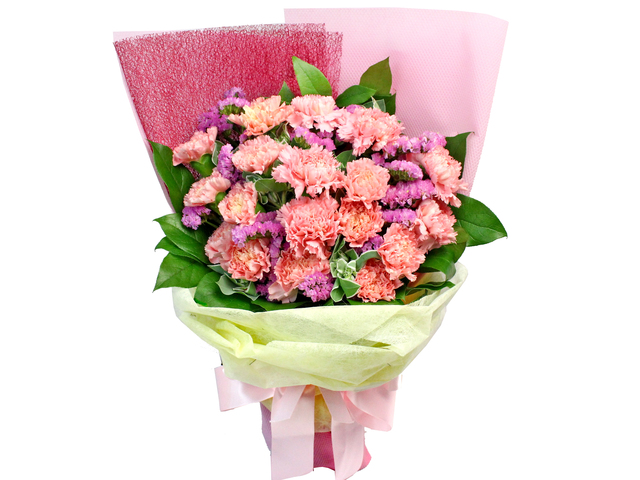 This bright bouquet of pink carnations would make a great gift for a January birthday.
February – Iris
Those born in February are associated with the Iris. People born in February are modest and loyal individuals. They petals of iris are also indicative of courage and wisdom, special traits that are closely knit with those born in this month.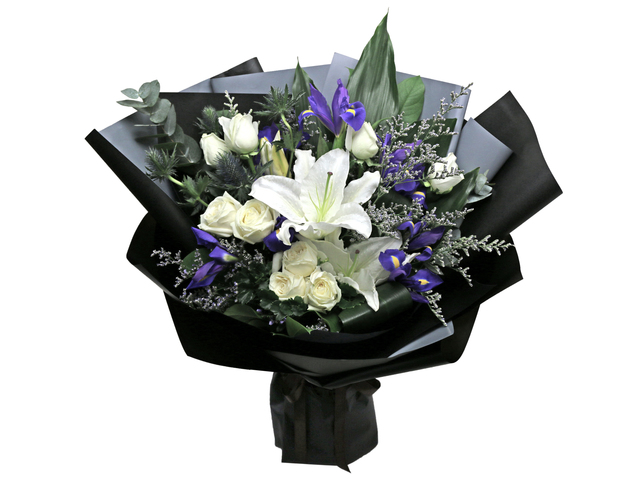 The purples irises in this bouquet are lovingly accompanied by white lilies and roses.
March – Daffodil
Like the flower, those born in March are happy and joyful individuals. Daffodils represent spring, new beginnings, and prosperity. If you're looking for something with a bit more pop, yellow calla lilies mimic the same look as the daffodil.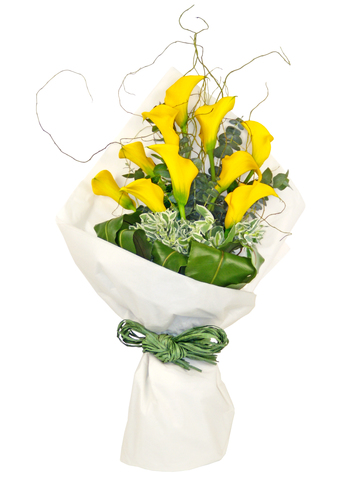 These calla lilies have the same vibrant yellow colour and freshness as the spring daffodil.
April – Daisy
Daisies are cheerful flowers, much like those born in April. They represent beauty, innocence, and blissful pleasure and it's easy to see how this open and vibrant flower came to be associated with these traits.
This quaint vase showcases the vibrant and colourful Gerber daisy.
May – Lily
People born in May are exceptionally sweet, just like the fragrant lily. The lily also represents humility and humbleness as well as motherhood and hope. Lilies not only make outstanding birthday gifts, they're also the perfect gift for mothers.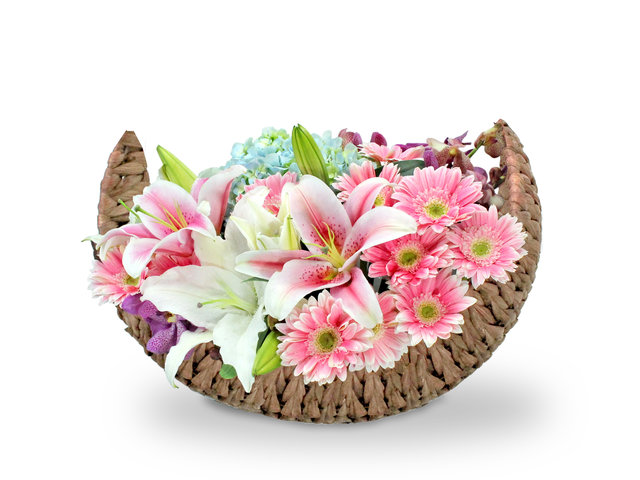 This decorative basket contains pink and white oriental lilies accompanied by daisies and hydrangea.
June – Rose
Those born in June are passionate and perfectionist individuals just as the rose often represents passion or love as well as being a perfectly remarkable flower. Roses also have different meanings based on their colour but in generally refer to happiness and love.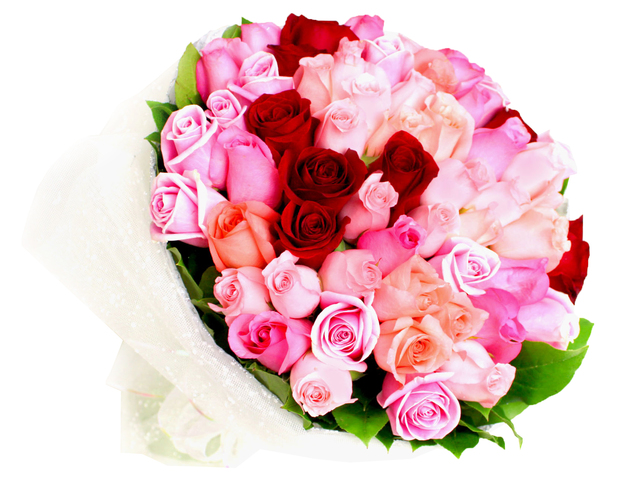 This exquisite bouquet or roses showcases the pink, red and orange varieties that roses can come in.
July – Delphinium/Larkspur
Delphinium, or larkspur as it is more commonly know as, is a dolphin-shaped flower that comes in a variety of colours. Those born in July have an open heart and are apt to make strong attachments to those they love. The larkspur embodies these qualities making it the appropriate flower for July.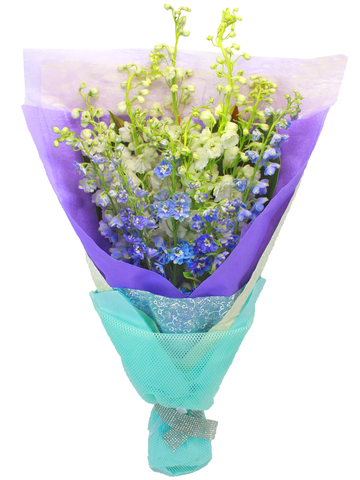 This tall and elegant bouquet of larkspur comes in two different colour varieties.
August – Gladiolus
Gladiolus represent strength and integrity, much like those that are born in the month of August. The name of this flower is derived from the Latin word for sword, "gladius" as its leaves are sword shaped.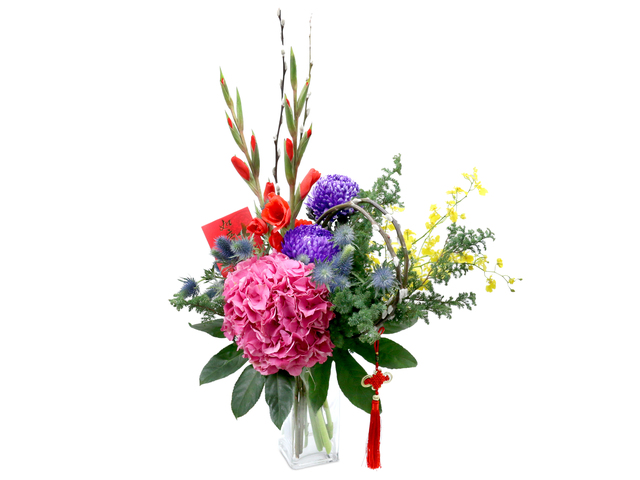 The red gladiolus stand tall and prominent in this vase flower arrangement.
September – Aster
Asters are similar to daisies but have a wildflower-type of beauty to them. The flower has long been as a symbol of enduring love, making those born in September loyal and faithful.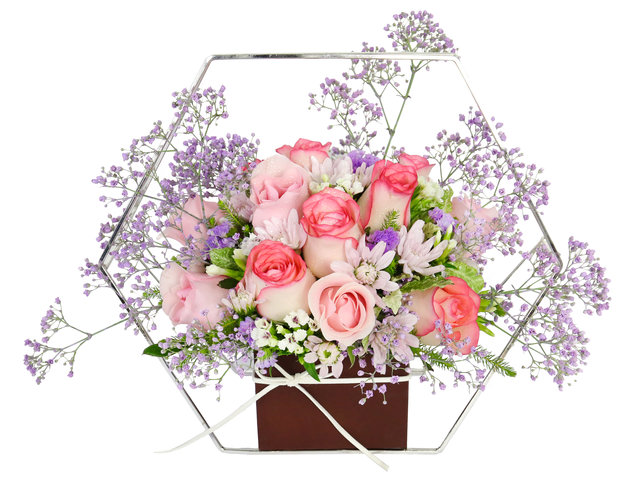 Daises are similar to the aster. The daises in this arrangement have similar wildflower qualities.
October – Marigold
This brilliantly coloured fall flower was once called "Mary's Gold" by early Christians. Like the meaning behind the flowers, those born in October are faithful, affectionate, and graceful. If you're looking to gift marigolds be sure that the flowers are not cut as they don't survive as well. Try a similarly beautiful flower like the amaryllis.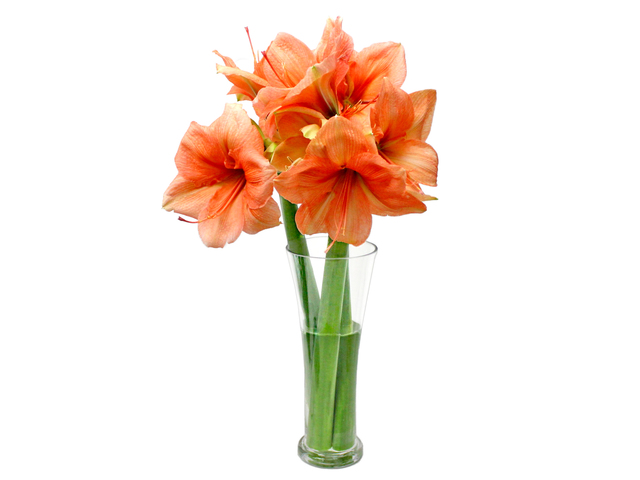 A simple orange arrangement of amaryllis, a vibrant alternative to the marigold.
November – Chrysanthemums
Chrysanthemums are highly esteemed in many cultures, from its sun-like and pristine appearance. People born in November are optimistic, happy, and full of a child-like innocence embodying the blooming appearance and meaning of this flower.
This large stand contains green and white chrysanthemums along with lovely white lilies.
December – Narcissus
Narcissus is one of the main December flowers, along with holly and poinsettias. The narcissus' daffodil-like appearance makes it a unique winter flower. Like the flower's meaning, people born in December are modest, faithful, and kind.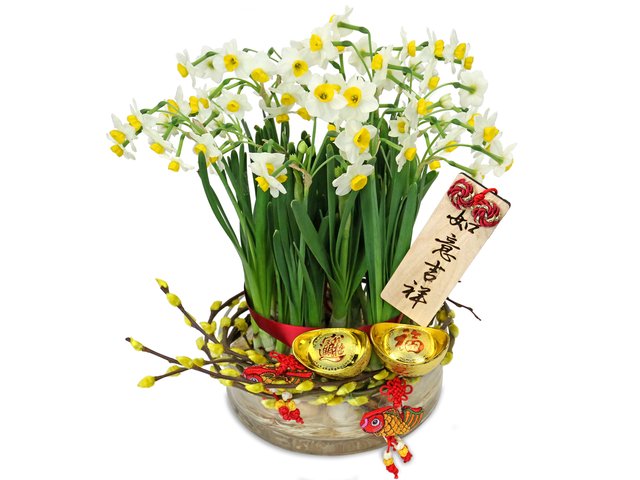 This Chinese New Year arrangement of narcissus make a great winter gift.
Want something special made up? Our expert florists can create arrangements and hampers catered to floriography, birthday months and more. Contact us to get started!
This is a Hong Kong GGB original '
What Flower is Associated with your Birth Month?
' blogpost.