Hong Kong Coliseum Information
Hong Kong Coliseum located in Hung Hom, close to Hung Hom MTR Station and Hung Hom Cross Harbour Tunnel. Hong Kong Coliseum shaped like a inverted pyramid, which is one of the landmarks in Kowloon Peninsula. Since the venue provides over 12,000 seats, Hong Kong Coliseum is one of the most popular multipurpose indoor stadium in Hong Kong for international sports events, pop concerts and conventions.
Government planned to contribute a multipurpose indoor arena with international standard since 1960s, and put into service in April 1983. Hong Kong Coliseum is managed by Leisure and Cultural Services Department at present.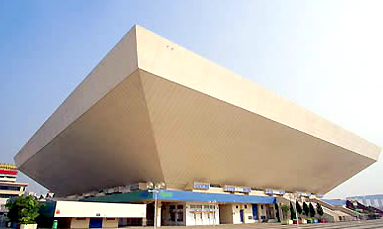 Address: 9 Cheong Wan Road, Hung Hom, Kowloon

Hong Kong Coliseum Telephone: 2355 7234

Flower/Fruit/Orchid Ordering Telephone: 2736 6670

Hong Kong Coliseum Most ordered exhibit/performance flower and gifts (last 30 days)
stand
orchid
fruit
Hong Kong Coliseum Map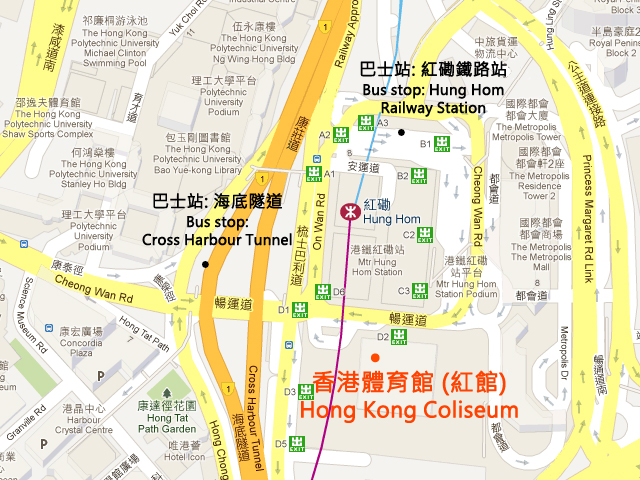 Hong Kong Coliseum How to reach by MTR
Exit D4/D5 of Hung Hom Station
Hong Kong Coliseum Directions by Bus and Mini-bus

KMB 5C

Tsz Wan Shan <> Star Ferry

via: Kowloon City, To Kwa Wan

KMB 8

Kowloon Station <> Star Ferry

via: Jordan, Ho Man Tin

KMB 8A

Whampoa Garden <> Star Ferry

via: Hung Hom

KMB 11K

Chuk Yuen Est. <> Hung Hom Station

via: Kowloon City, To Kwa Wan

KMB 11X

Sau Mau Ping <> Hung Hom Station

via: Kwun Tong, To Kwa Wan

KMB 21

Choi Wan Est. <> Hung Hom Station

via: Kowloon City, To Kwa Wan

KMB 87D

Kam Ying Court <> Hung Hom Station

via: Ma On Shan, Lion Rock Tunnel

KMB 260X

Po Tin <> Hung Hom Station

via: Tuen Mun

CTB A21

Airport <> Hung Hom Station
Hong Kong Coliseum Exhibits and Events schedule
| Exhibit/Event Venue | Exhibit/Event Name | Date | Time Details | Hall Name | Organizer/Performer | Category | Contact |
| --- | --- | --- | --- | --- | --- | --- | --- |
| Hong Kong Coliseum | FILA Presents: kay... isn't me. Live 2019 | | 9-12 October 2019 (Wed-Sat) 8:15pm | Hong Kong Coliseum (Arena) | Imagine.Nation Entertainment Limited, Sun Entertainment Concert Limited, KKLIVE Limited, Live Nation (HK) Limited, Tomson International Entertainment Company Limited, Rolemodel Entertainment Group Limited | Cultural Presentations & Film - Pop Concerts | 9222 3879 |
More about Hong Kong Coliseum
Since the opening of Hong Kong Coliseum, it became the most representative arena in Hong Kong, played host to thousands of local and international conferences, performances and events.
The arena has 12,500 seats, can be adapted for end stage and central stage configurations, giving great flexibility to different types of events. The floor of venue with special design can hold strong pressures which is 2.5 times of general buildings, allowing the set up of stages, platforms and sound equipments during concerts.
There are also 3 conference rooms, a reception room, used for holding conventions and conferences. Besides, a 22,000 sq m piazza can be used for holding exhibitions, fun fairs, receptions and other outdoor activities.