LU - Lingnan University Information
Maps, MTR/Bus Direction, Graduation Flower/Teddy/Balloons
LU - Lingnan University Information
Lingnan University (LU) currently located at Tuen Mun, New Territories, which can be traced back to the founding of the Christian College in China in Guangzhou in 1937. The history of LU in Hong Kong was started since the founding of the Lingnan College in 1967, and progressively developed to current 3 faculties and 16 academic departments.
LU hold the Congregation in October or November every year, awarding bachelor's degrees, postgraduate diplomas, master's degrees and doctoral degrees. The ceremony is usually held in the Chan Tak Tai Auditorium on the university campus, where more than 1,000 graduates are awarded for each academic year.



Address: 8 Castle Peak Road - Lingnan, Tuen Mun, N.T.

LU - Lingnan University Telephone: 2616 8888

Graduation Flower/Teddy/Balloons Ordering Telephone: 2736 6670

LU - Lingnan University Most ordered graduation flower/teddy/balloon
grad_dinner
grad_teddy_bear
grad_related_accessory
LU - Lingnan University Map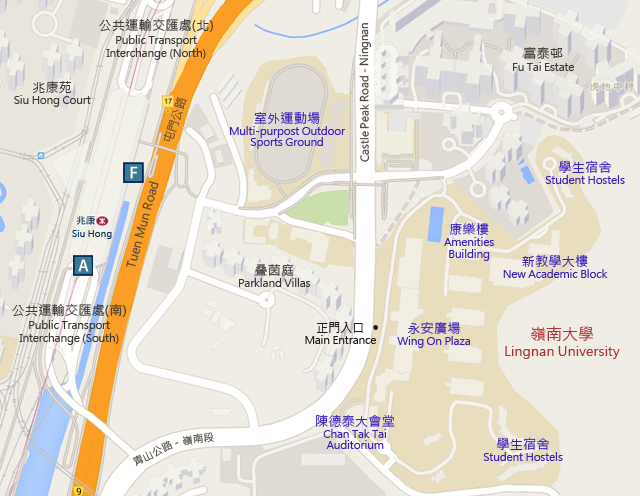 LU - Lingnan University How to reach by MTR
Interchange MTR Bus K51 from Exit A, Siu Hong Station; or
10 minutes walk from Exit F, Siu Hong Station.
LU - Lingnan University Directions by Bus and Mini-bus

KMB 53

Yuen Long (E.) <> Tsuen Wan (Nina Tower)

via: Ping Shan, Sham Tseng

KMB 67M

Siu Hong Court <> Kwai Fong Station

via: Tsuen Wan

KMB 67X

Siu Hong Court <> Mong Kok East Station

via: Cheung Sha Wan

KMB 261

Sam Shing Est. <> Tin Ping Est.

via: Sheung Shui

MTR-bus K51

Fu Tai Est. <> Tai Lam

via: Siu Hong Station, Tuen Mun Central
More about LU - Lingnan University
| | | |
| --- | --- | --- |
| --- | About Our Graduation Gifts | --- |
●
Graduation Gifts Delivery Methods
For City University, Polytechnic University and Baptist University, we offer graduation ceremony day on-site gift delivery to friend or family of graduate, right outside the ceremony hall 30 minutes before ceremony begins. For other campuses, we offer the same on-site delivery for 5 flower bouquets (or graduation teddy/balloon bunch) or more purchase. We also offer free pickup at Mongkok or Prince Edwards from 9am. In addition, about 70% of our clients also choose for us to deliver to their homes/offices the afternoon before the ceremony, and bring to the ceremony next morning at anytime (our bouquets are made fresh, with internal water pouch structure, and can keep the bouquet at great condition for days, definitely would be in top condition for next day usage ).
●
●