There is always fruit at Mid-Autumn Festival. According to the tradition, fruits are used to worship gods and ancestors as tributes and enjoyed later by the family while they appreciate the moon. Fruits with sour and sweet taste and refreshing fragrance, not only relieve the sweetness and greasiness of mooncakes, the rich biological enzymes also benefits digestion. In the season of harvest, let's follow Give Gift Boutique and get seasonal fruits suitable for enjoying Mid-Autumn Festival under the moon.
Three Auspicious Fruits Suitable to Give Others at Mid-Autumn Festival
Pomelo Represents Protection
We introduced in article |Guangdong–Hong Kong–Macao Greater Bay Area Insights-Mid-Autumn Festival Gift Giving Customs and Business Etiquette| that various regions in China share the tradition of giving and eating pomelo at the Mid Autumn Festival. Pomelo has round and plump appearance and the homophonic name with the word of protection, it is one of the most traditional gift for Mid-Autumn Festival. Pomelo tastes sweet and sour with a hint of bitter and sweet aftertaste, people eat it after meals to strengthen the stomach, improve digestion. Eating Pomelo also has the effect of reducing phlegm and calming asthma. It's surprising how the entire pomelo can be of good use. Bathing in pomelo leaves has the effect of cleansing impurities and praying for blessings. The pomelo peel makes delicious dish with saute fish intestine, it can be made candy with sugar frosting. Thoroughly sun dried the pomelo peel and put it in the fridge, it is a natural and eco-friendly air purifying kit to remove refrigerator odors.
Related: Mid-Autumn fruit baskets--the most popular imported fruit hamper recommendation.
Bag of Apples Bless for all Generations in the Family
Apple conveys the wish of safety, which is a common gift for joyful festivals and occasions such as Mid-Autumn Festival, the Chinese new year and weddings. Rich in dietary fiber, apple helps reduce visceral fat and protects cardiovascular and cerebrovascular health. In addition, the mild-nature fruit contains less sugar, elders can enjoy as well. One of the many advantages of apple is that it keeps fresh for a longer period. Among other fruits for the Mid-Autumn, you can always save apple for the last.
Eating Carambola Drives in Wealth
Slice a carambola from the side, you will get star-shaped fruit slices. As an old Chinese saying goes "The moon is surrounded by numerous stars". Carambola, aka starfruit, truly fits the moment when you appreciate the moon. The sound of carambola is similar to 'Yang', 'Yang' means currency in ancient dynasty, eating carambola is believed to bring fulfillment, wealth, and a bright future. During the period of Mid-Autumn Festival, caramola has fully ripen with a bright yellow center, tasting especially sweet and delicious.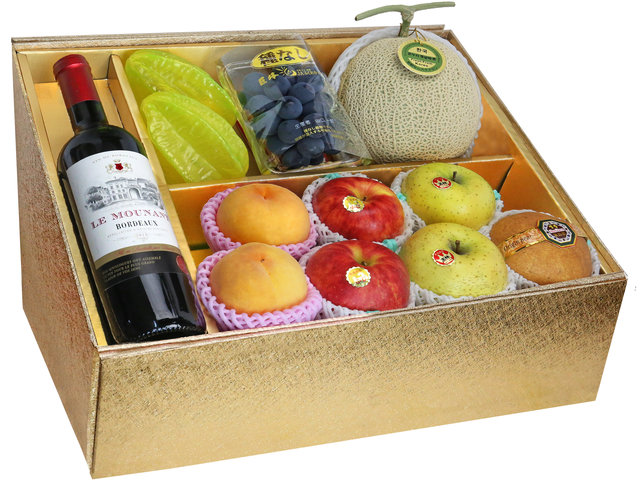 Tempting Fully Ripen Seasonal Fruits
Japanese Kyoho Grapes
Every year in August and September, it is about time that Japan's Kyoho grapes ripen. The premium Kyoho grapes are sweet with wandering sourness, infused with a thick fruity aroma, tasting just like concentrated fruit juice soft candies. You will like our elaborately selected Japanese Kyoho grapes. Being convenient to eat is one of the reasons why Kyoho grape are popular, you simply pinch one end of the grape and you can squeeze out the entire flesh easily. Even Children can peel and eat them.
Pomegranate
Every year from August to October, ripen pomegranates are launched on the market. You can get pretty nice pomegranate around Mid-Autumn Festival. Those fully ripen pomegranates have even yellowish skin with layers of blush put on by the autumn wind. The crystal clear pomegranate grains provide appetizing and juicy enjoyment.They look just like the gem for fairy Chang'e in the moon palace.
Persimmon
Persimmons are one of the traditional seasonal fruit of Mid-Autumn Festival. The hot orange ripen persimmons are loaded with joy of the autumn harvest, decorating the mooncakes so well. Eating persimmons during the Mid Autumn Festival symbolizes "things to go as wish" and its extra sweet taste is indeed tempting. If you prefer sweet and jelly texture, pick the soft kind of persimmon. And if you like crispy texture, try the FuYu persimmon with thinner sweet taste.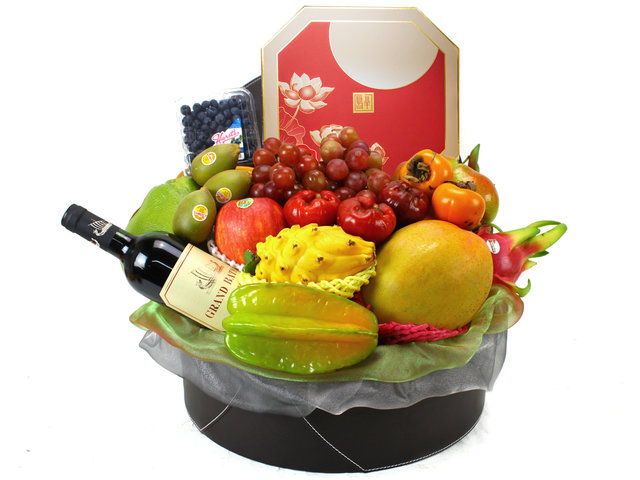 Cantaloupe in Season
Cantaloupe is a great fruit to share with the family. Korean muskmelon has thick and tender flesh with clear and refreshing fruit scent, whose sweetness varies around 13 degrees. Cut the cantaloupe into one-bite cubes and refrigerate it before serving. The cool and and sweet juicy cantaloupe helps replenish water in an enjoyable way.
Autumn Pear
The "Autumn Pear Syrup", made of pears, ginger juice, fritillaria, kudzu root, honey and several other healthy ingredients, is a famous for the relief of coughing and nourishment to lung at home and overseas. Pears, beneficial for lowering the blood pressure, moistening the lungs and calming the irritation constitution, are suitable to eat especially in autumn. Japanese Tottori pear has crunchy texture and light fragrant, with an harmonious combination of sourness and sweetness. Korean pear, with a softer and brittle texture, is sweet and juicy, they are both perfect fruit selection for Mid-Autumn Festival.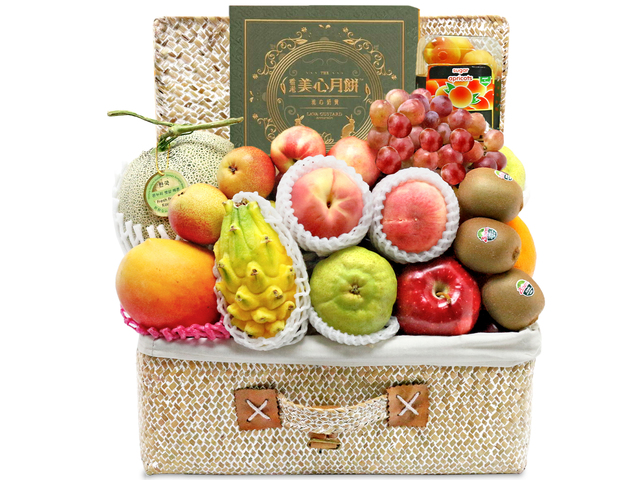 Kirin Fruit
Kirin fruit is the sweet pioneer in the dragonfruit family. With sweetness of up to 18 degrees, it is much sweeter than ordinary dragonfruit. Kirin fruit is grown in Ecuador, a country at high altitudes, rich in calcium. Eating Kirin fruit after meals can increase gastrointestinal movement and refresh the body. The filamentous and smooth flesh is similar to the texture of bird nest, so that Kirin fruit is also called the bird nest fruit.
Kiwifruit
Excess eating happens at Mid Autumn Festival. A cup of freshly squeezed kiwi juice is the perfect healthy and appetizing drink, it helps relieve greasy feeling and improve digestion. Green kiwi fruit is rich in dietary fiber and enzymes and golden kiwi fruit contains higher vitamin C.
There are so many delicious seasonal fruits for Mid-Autumn Festival, you can make such an assorted fruit platters with so many options and enjoy the moon with your family. For this Mid-Autumn Festival, Give Gift Boutique has prepared up to 200 styles of festive fruit&mooncake gift baskets. You order online, we deliver the goods to door. You could get Mid-Autumn Festival gift for yourself, friends and family without stepping out of the house. Brand exquisite mooncakes, beverages, and autumn and winter supplements are included in various hamper selections. To purchase Mid-Autumn festival gifts please visit the Mid Autumn mooncake fruit basket catalog.
This is a Hong Kong GGB original '
Fruits In Season Suitable For Celebrating Mid-Autumn Festival
' blogpost.