Sending gifts to clients on festivals and celebration is good business etiquette. You may can tap into the potential millions of profit by building connection with corporate gifts. Reliable supply and great service is fundamental in any business, but better relationship makes it easier to seize the opportunity and defeat other suppliers of high-quality products. How to make your company impressing when you prepare corporate gifts? Give Gift Boutique will discuss the skills of sending an effective corporate gift.
1.Influence of First Impression: Bespoke Gifts with Trademark and Signature on Packaging and Items
The first impression on packaging will cause conditioned reactions and continue to affect subsequent judgments. Exquisite packaging of aligned style and nice display will add to the delicacy sense of gifts and attract interest to open. Signature logo and trademark on the packaging and items links the pleasing gift to the company itself. With these useful information, the recipient will know the sender without opening the gift and when he unpacks and enjoys the items inside, he also feels the holiday greetings sent by the company. The company's refined taste and pursuit of quality are well demonstrated to the clients. The clients begin to expect for future gifts from the company, their affection grows for the company as well.
We established a special team and our own workshop to handle bespoke corporate gifts, providing packaging materials customization service as well as signature marking services with various technique such as thermal printing, embossing, ribbons with silver/gold hot stamp, laser carving, embroidery, gift card design and printing, packaging and pattern design and product sourcing&budgeting. We also undertake ESG material gift hamper customization, our one-stop service completes the project from design to door-to-door delivery, making customization so easy and convenient.
Related: HK Mid-autumn Festival Corporate Gift Guide
2. Leave Cookies in Your Gift Card
The Chinese New Year and traditional holidays both eastern and western are appropriate timing to send gifts. In addition, occasion such as opening of new company, anniversary celebrations, house warming party, birthdays and weddings banquet are suitable to send gifts as well as your best wishes. Write the recipient's information at heading of the gift card to indicating whether the gift is for a special individual or a team, for the contact person or the general manager. The sender could write blessings content by himself. As for the signature, put the name of the contact person, the company's trademark and the electronic signature of the company's senior management. Pin a personal name card on the gift card for the client's convenient contact.
3. Implant Marketing Information in the Corporate Gifts for Festivals
It feel less annoying and natural to include marketing information in the festival hamper, it could be a brochure or promotional leaflet of the new product and business. This advertisement sent to the targeted clients have more effective results. For some products, trial samples are available to put into a hamper. Cleverly printing marketing information on the calendar and CNY couplet may increase its chance to be read. However, it is not recommended to include any company promotional materials at personal venues, for instance, birthday banquets, weddings,or the party for the new born, the focus should belong to the recipient at their special moment.
4. The Company's Gift Selection Reflects Its Pursuit and Attention
Even the quality of fruits that we eat every day varies by place of origin. Some imported premium fruits only sell at certain supermarkets during available seasons. The not-so-common high-quality products, popular & trendy brands and newly launched products on the market not only reflect the company's pursuit of quality, but also helps create a good impression. The rare items delivered make the recipient feel special and surprised. Here's a trick regarding choosing gifts for clients, browse through their social media accounts and understand their hobbies and habits, you will know what type of gifts suit them better.
5. Handle Gift Delivery Arrangements With Proper Etiquette
Strictly handle the gift delivery according to schedule, the last thing a recipient expect for a corporate gift is ambush with surprise. Allow recipients to anticipate your action and respond in a proper manner, so as to maintain the sense of ease and relaxation of giving and receiving gifts. Either assign an employee to do the delivery or hire outside company, it is necessary to make delivery appointment with the recipient ahead and contact upon arrival. If there is any change of plan, notify the recipient in advance as soon as possible. Regarding delivery contact, keep your conversation brief and settle with necessary information and results, do your best to minimize the disturbance inflicted to the recipient. If there are fresh items in the hamper, transport via vehicles equipped with refrigerating facility. When you move the gift hamper, lift it and move from the bottom instead of carrying it at the handler, treat the gifts gently and carefully.
Give Gift Boutique Corporate Gift Selections
Mid Autumn Peninsula Moon Cake With Deluxe Chinese Fruit Hamper FH158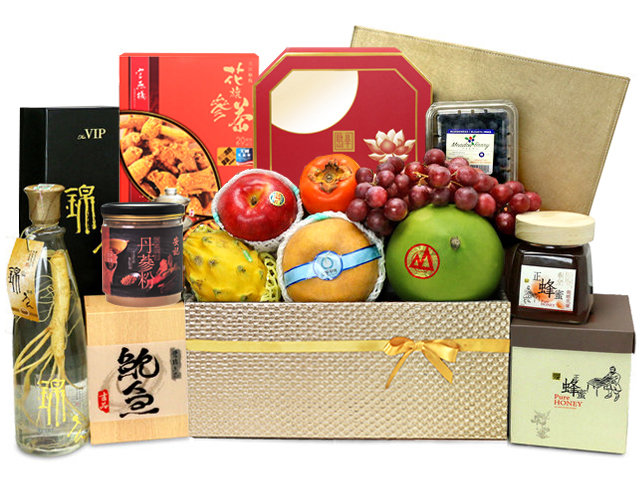 Every year at each major Chinese and Western festivals, Give Gift Boutique prepares series of festival-theme gift hampers, with various styles of packaging elements, traditional holiday decorations, traditional foods, seasonal fruits, new delicacies, seasonal tonic supplement, exquisite drinks and desserts elaborately combined and displayed to convey joy and blessing of the festival. Above recommended fruit hamper with Peninsula mooncakes for Mid-Autumn features traditional & auspicious fruits for Mid-Autumn Festival and the popular Peninsula egg custard mooncakes. Additionally, nourishing dietary supplement suitable for the season are added to the hamper such as ginseng wine, honey, abalone, ginseng tea, and Danshen root powder, suitable to take and strengthen immunity in the transitioning time, making it both a festive and thoughtful gift. We provide various customization gift services for corporate clients, completing from customizing gifts to delivery at one stop, making your own bespoke festival gifts is just simple.
Luxury Premium Champagne Gourmet Gift Basket FH28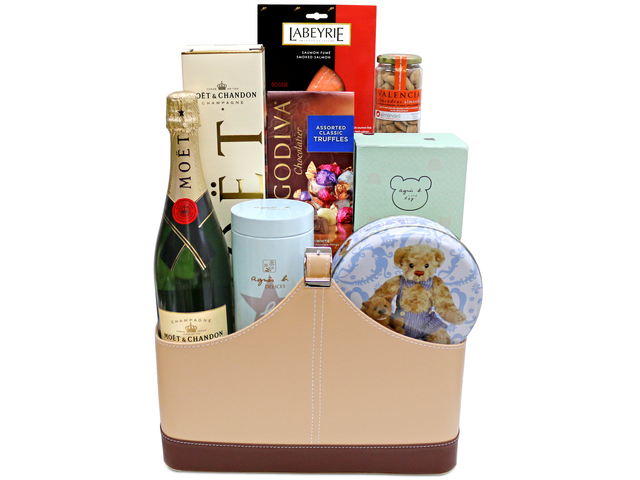 Gourmet hampers are great gifts for birthday, promotion party and and other business celebration banquet. Our global buyers continue to update the product line with top food and trendy dessert. Pairing with exquisite drinks, we create satisfaction with a wide range of gift category and premium gift selection. A variety of budget ranges is set to meet different purpose. We are the only gift company that has its own artificial leather hamper factory in Hong Kong and Macao, our artificial leather hamper has an absolute advantage. Moreover, we have designed and applied various specifications of pallets and protection boxes and double-layer films to protect our gifts from damage.
Gifts can achieve extraordinary effects. However, how the company manage every detail indirectly shows their attitude towards the recipient and also represents the company's image. Never stop being meticulous and keep pursuing for perfection when you intend to prepare an effective gift. To order fabulous gift for festival please visit Give Gift Boutique page and for gift customization service, feel free to contact our corporate bespoke gift hotline.
This is a Hong Kong GGB original '
Effective Gifts The Company Chapter - How to Leave Your Clients A Strong Impression of Your Company Through Sending Corporate Gifts?
' blogpost.