Flower bouquets are truly works of art. Florists use their creativity and knowledge to craft bouquets of flowers that look perfect and effortless but florists have to use a variety of different materials and décor in order to achieve that look. From adhesives to glitter, here's a look behind doors of a flower shop with the different types of materials that are used by florists.
Floral Foam
Floral foam is one of the most versatile and used items in a flower shop. The foam can be cut into any shape, is lightweight, and holds lots of water providing both water and support for flower bouquets, arrangements, and flower delivery.
Floral Wire
Floral wire is another essential piece of material that's used in flower shops. Similar to chicken wire, floral wire is usually green and can easy to shape, wrap, and mold in to flower bouquets either as a support or to add additional décor.
Decorative Paper and Flower Sleeves
Flower bouquets need flower sleeves for protection during flower delivery and transport but it doesn't mean that they can't be pretty too! Decorative paper and sleeves are an essential part of the whole look of a flower bouquet.
Ribbons and Glitter
Ribbons and glitter are used in a variety of flower bouquets, from wedding flower bouquets, birthday flower bouquets and even funeral flowers. They can accompany the wrapping of the stems or flower sleeves or near the blooms themselves.
Adhesives
Sometimes it takes a little florist "magic" to get the right look for a flower bouquet. Special florist glue, tape, pins, and rubber bands can be used in tandem to create amazing displays, stands, and bouquets with endless creativity.
Dried Materials, Leaves, and Flower Fillers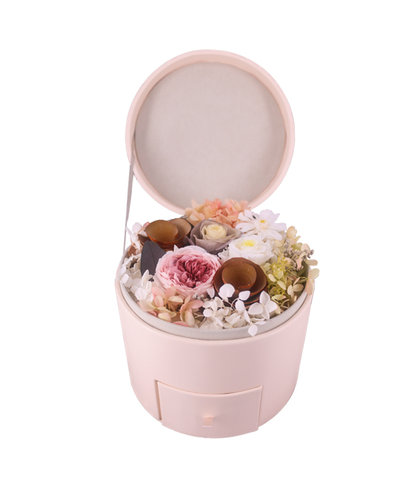 Preserved flower box with dried plant materials and leaves.
Dried flower material and leaves are great fillers for boxed flowers while fresh flower fillers are what can bring a flower bouquet all together, especially in creating a specific mood or tone.
Flower Anchors
Anchors are small heavy blocks that help to keep flower bouquets and arrangements firmly in place so that their position doesn't shift. A good florist will make sure that the anchors cannot be seen.
Flower Food
Flower food is an essential step in helping to make fresh cut flower bouquets looking their best for longer. Florists will use flower food in storing the flowers and often provide some when the flower bouquets are purchased.
Related: How to Make Your Flowers Last Longer
Decorative boxes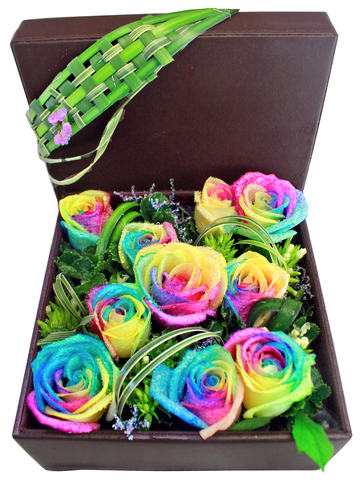 Rainbow roses in a decorative box with matching greens.
It's all about appearances and so florists need decorative boxes to accompany and flatter the beautiful flower arrangement. Decorative boxes work best for flower delivery and as gifts as the decorative box protects the careful arrangement while also serving as a sort of gift-wrap for the receiver.
Pruning Knife and Shears
The most essential tool in a flower shop! In order for florists to take the best care of flowers and arrange them as they desire, florists must use proper shears and pruning knifes to create the look while also ensuring that the flowers are healthy and look their best by the time they've reached the customer.
This is a Hong Kong GGB original '
Popular Flower Shop Materials Used By Florists
' blogpost.